Cranes over the River by Evangeline Art Photography
Second Fog Bank on the Left
Up before dawn he headed at a brisk pace down the slope toward the Bosque of the Rio Grande. Frost covered the windshields of the cars along Indian School Road and the air had a heavy stillness of humidity floating at three meters above the earth. Rings of barbed wire surrounded the bases of three Fremont Cottonwoods along the trail, which seemed to punish the trees with their arms out in supplication. Were the thorns to protect them from each other? The rainbow colored hot air balloons drifted higher and were barely visible above the river as the paved walking/bike path turned left.
Wrens chatted in the brush, as the sound of rushing water seeped from the culvert on the right. The brown and yellow leaves started to fall as the sunrise hit the tallest branches. The signs of fall quickened. The deer and coyote droppings lay on the path along with the remnants of a dead rodent, speared in its side. The runner deftly dodged the scat and blood as he advanced.
The path then curved toward the river, the first cloud bank had settled above the water, thick as starch. The air was chilled and stirred in his wake as he picked up speed. The peel of church bells off to the left were calling believers in a muffled cadence to the first mass.
At the second fog bank the temperature dropped further and the snow colored ceiling rose what seemed like a mountain high. And the balloons faded completely from view. Stopping and standing still for a moment to catch his breath, the runner was not alone. He turned slowly in a three sixty. No sound, no color, no scent. Nothing. And everything. He was suspended in a cloud. Pure white. Rays of light shot by. He was lost in midair with spirits that were radiant, transfigured, thrilling and then gone.
His secret vision.
Too cold for lizards and snakes, a rabbit criss-crossed the path and scampered into the bushes. A murder of crows clucked and cawed as each flew above. He ran again, sensing it was time to return to reality.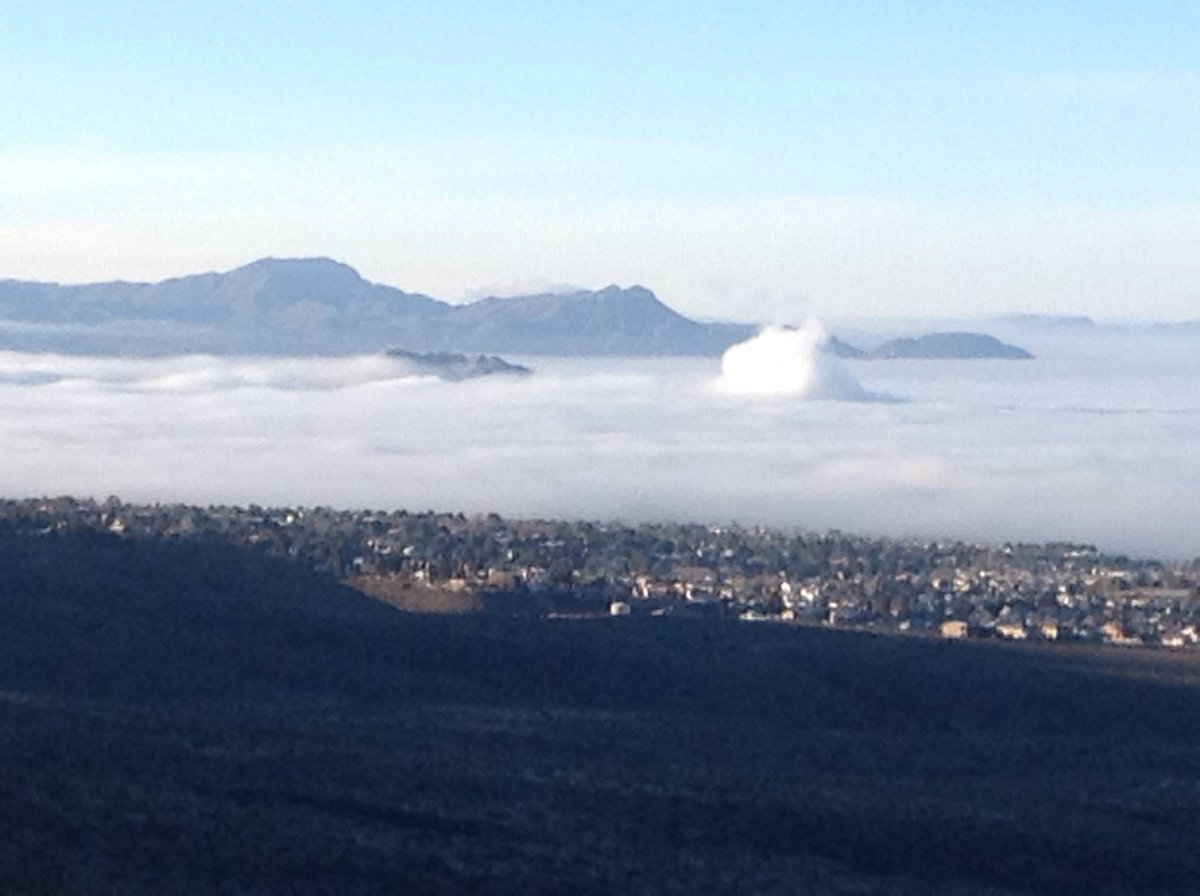 Fog bank over Rio Grande valley as seen from Transmountain
Slowly the Sandhill Cranes were heard but not seen passing overhead. Ducks of an unknown species were splashing in the river, but the fog at river's edge was still thick and creamy. The whiteness gradually became translucent and startling as the rising sun battled for dominance. Within a slow few minutes the sun won out and the fog dissipated, leaving only arid brown earth and tan-yellow cottonwood leaves.
The sun felt good on his face, though the insulated air kept the tips of his fingers, nose and thumbs frigid.
A biker zipped by signaling a knowing nod of camaraderie and understanding. He too must have felt the power, the presence, of something else. It was a good morning to witness a sacrament of the son through the senses.