Witness Post: Kroc Meets Mory
The movie theaters recently opened with the bio-pic, The Founder, starring Michael Keaton as the struggling salesman and entrepreneur, Ray Kroc. The images in the trailer, with the Golden Arches proudly supporting the restaurants, brought back memories of meeting Mr. Kroc over forty years ago. At the time, I was a member of the singing group, The SOB's (Society of Orpheus and Bacchus). We sang in honor of Mr. Kroc during and after his celebratory dinner at a lesser known restaurant and watering hole in New Haven, Connecticut – Mory's.
Mory's, a Yale Tradition since 1849
Ray Kroc was being honored for his business savvy at Yale University. He had given a lecture on the topic of Trust Banks and successful franchises to the faculty, alumni and students. The lecture discussed how a company can use goodwill activities, such as employee projects and non-profit organizations, to the betterment of the community. The activities then allow the bank to make deposits in good times. Those deposits can be drawn down in times of need, making the effort sustainable, no matter what economic climate the business may experience. It is called, Trust Banking, after all.
Kroc had given the lecture, which he formulated with Al Golin, to similar groups at Princeton, Dartmouth, Northwestern and the University of Southern California. He was speaking at Yale to the likes of James Tobin, Paul Krugman and Robert Schiller, all Nobel Laureates in later years. The brain trust was deep.
The night, however, was all about celebration.
The guests who gathered in the President's Room included Bart Giamatti, the President of Yale, Economics professor and Nobel Laureate, James Tobin, and other famous faculty and alumni. The singers surrounded the table of dignitaries and serenaded the guests with three of four songs from our repertoire.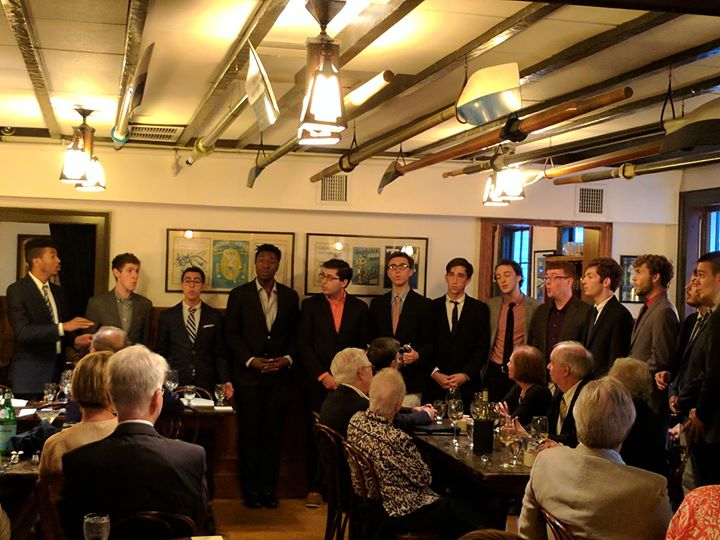 The famous Mory's Cups were being passed around, so the mood was upbeat and jolly.
As "entertainment" the singing group was relegated to the lower rooms for the rest of the evening, while Kroc and the dignitaries told more stories and lies. We went to the "dear old Temple bar" for a cold one … or two … and some stories of our own.
As the night was winding down, Ray Kroc walked down the back stairs and stopped to thank the guests and singers for their tribute. He made comments about the day and lastly about Mory's: 
"If I had known about this place 20 years ago, with the names carved in the tables, and pictures of sports captains on the walls, I would have franchised the idea. We could have had a string of these suckers all across the country!"
And with that he put on his hat, coat and left.
With the financial problems that Mory's has had over the years, the brain trust at Yale should have taken Kroc up on his idea a score of years later. It may still have merit.