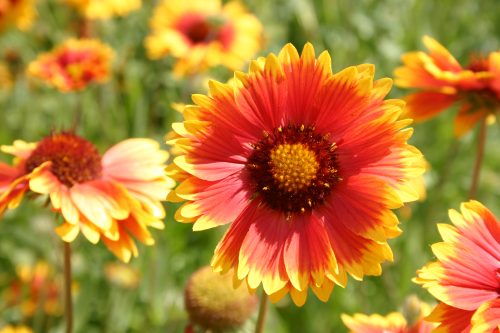 Tales from the Chautauqua: Blanketflower
Up at dawn, Kathleen ran quietly past the sleeping cabins on Gaillardia Drive [1] to the foot of the Flatirons before she headed down 9th Street, past the old Boulder cemetery to Boulder Creek. Heading west, the path meandered beside the creek. The weather was clear and cool in the canyon, but she knew it would get toasty before her run was over. Just a few years before, the canyon had been raging with flash floods that engulfed downtown Boulder and the surrounding hillsides. Hard to imagine that rampage, with the soft babble of the creek that day.
Her breathing was relaxed as she counted her strides: three per breath and steady. About half way up the 8 miler, the early July sun crested beyond the rim of the canyon and illuminated her path. The well-worn bike/hike trail stopped its cement track at the city limits and reverted to hard-packed stones and earth. Much of the rest of the trip, except for some respites of water splash breaks, the trail was dusty pea gravel and sand.
She struggled a bit on the last ascent, with the full sun accusing her of only mile high training. Still, her breathing kept up as the two strides per breath carried her to the pass.
On the descent, the shady spots were about 15 degrees cooler than the sun spots that morning and they gave her a slight chill. The sun cascaded among the cottonwoods as the creek caromed loudly off the rocks to her left. In those slightly sunny spots were pockets of blanketflower. The yellow tipped burgundy flowers made her feel warm, as they lit her path in the canyon.
She made her way back to the Chautauqua cabins in short order, although the return climb back up 9th was steeper than she had imagined. Kathleen took a quick shower and settled into the couch to read the paper. Sitting on the screen porch with the cotton blanket across her lap, sipping the freshly brewed coffee and eating her smoothie, she was glad to have started her day with a run. The hummingbirds sipped their own nectar as Kathleen pondered her day and the blanket of love in her life.
————————————————————————————
[1] Gaillardia is the Latin name for blanketflower and the street name for the cabins in the first rows south of the Chautauqua trails.