Hikes: Mt. Yale
Ever since my first extended trip above timberline (with my college friend, Forrest Berkley, in 1977) I knew that I wanted to take my children some day to that magical altitude. At the time, it was hard to believe that such a place existed on the planet Earth.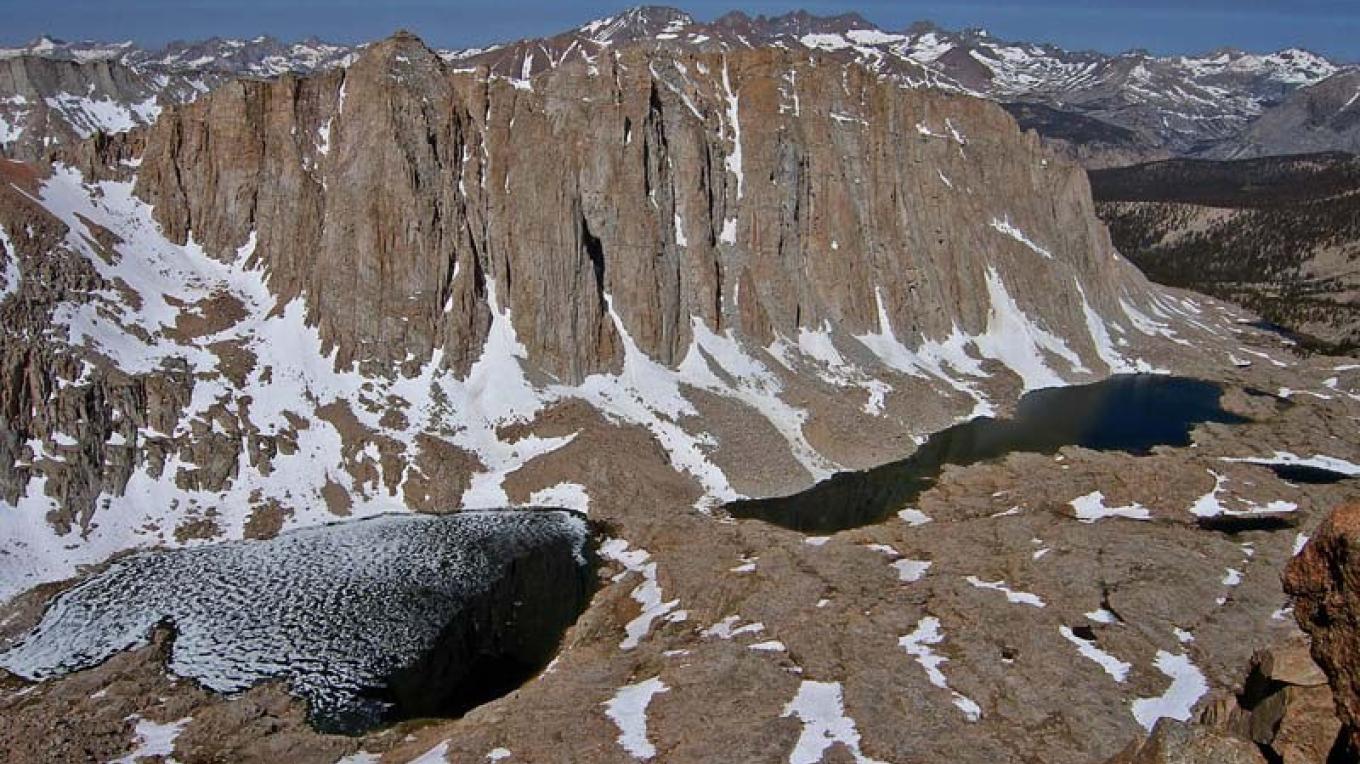 Forrest had planned a trip for a collection of Yalies and Columbia grads that took us from the Owens Valley in California up Whitney Portal to the high Sierras. It was in a word – magnificent. And it was eerie. Not married and childless at the time, I started to have this dream that I would be in such a place of stark beauty with my children – some day.
Forrest (Y'75) had graduated a year ahead of me from Yale and we often talked about scaling Mt. Whitney and other great mountains of the world. He has gone to on since those days to such summits in Brunei and Tibet, climbing in earnest. And I have since settled for hikes in the Columbia Gorge of Oregon and Washington and an occasional 14'er in the lower 48.
Scaling Mt. Yale
Mount Yale is one of the prominent mountains in what Coloradans call the Collegiates. Located in the heart of the Sawatch Range of the Rocky Mountains, the Collegiate Peaks Wilderness includes some of the most climbed and enjoyed mountains in Colorado. The surrounding forests are part of San Isabel National Forest and Buena Vista, CO (9.4 miles away) is the closest town in Chaffee County.
The first recorded climbing of the mountain was by a research team in 1869, led by Josiah Whitney, a Yale grad. Whitney believed this mountain was the tallest in Colorado! The researchers climbed a taller peak the next day, and with Yale already claimed, Whitney dolefully named this new one Mount Harvard (14,420′). There are other college names in the Sawatch Range, including Mount Princeton (14,202′), Mount Oxford (14,160′), and Mount Columbia (14,109′). Mount Yale is now measured to be the 5th tallest in the Collegiates and the 21st tallest peak in Colorado.[1]
Every year the Yale Club of the Rockies encourages grads to carry rocks to the summit and pile them high enough to quality as second tallest "Ivy League" name after Harvard among the Collegiates. The winters, with their winds, snow and gravity, foil the efforts and level the cairn. The Eli's muster a new crowd the next season to erect a pyramidal cairn to give Yale an elevation slightly taller than Princeton.
Hiking
Mount Yale is a popular climb, known as a "non-technical fourteener." The mountain offers fantastic views of the Sawatch Range and Buena Vista, and it is a favorite "training" mountain for hikers wishing to tackle more difficult fourteeners later in the season. My brother, Laurie, climbed Mount Yale, when he first lived in Colorado in 1977 and he admits it was a great first fourteener for him to scale.
The standard route for climbing Mount Yale was once Denny Gulch, but overuse turned the trail into both a safety and environmental issue. The Denny Gulch Trailhead was closed by the US Forest Service for extensive restoration. My wife, Tracy, and I had gotten lost along the Denny Gulch trail about 15 years ago (we bushwacked ourselves ragged) and did not summit the mountain. This return trip was a sweet box to check on the Colorado Rockies 14'er list.
Hikers now use the nearby Denny Creek Trailhead to begin their trek.
The climb up Mount Yale is generally considered to be moderately difficult, and guidebooks advise that the summit can be attained by any hikers in good physical condition.
Our Preparation
Despite the "moderately difficult" rating, transporting ourselves to 14,000 feet in elevation, a near three-mile climb above sea level, is not something that we took lightly. Our lungs, heart and head need to be appropriately hydrated and oxygenated to accomplish this feat. Many climbers and athletes train at high altitudes, because it enhances the body's ability to hold oxygen in the blood. Many high altitude runners return to sea level to have peak performances.
Two of us (my daughter, Margaret, and I) were coming from sea level and had minimal time (24-48 hours) to acclimate. On the road trip to the trailhead my two other daughters, Kathleen and Eleanor, took us through a series of breathing exercises to get as much oxygen into our systems as possible. We were also encouraged to drink small sips of water to get ourselves fully hydrated and ready for the hike.
Last summer (2019), I was not prepared for our trip up LaPlata Peak (14,343′) and nearly bonked from "altitude sickness." Let's just say I learned my lesson.
Margaret and I were up at 4:00am and met Eleanor and Kathleen in at their townhouse in the Highlands, Denver by 4:30 to drive to the mountains. It was a Saturday, so we knew that the trails would likely be crowded. The weather app called for no thunderstorms in the forecast for Buena Vista, but as we all know, the mountains often create their own weather.
We had a near-cloudless, beautiful morning and made the most of our time talking about our lives in New York, Denver, Portland, and Everland. Eleanor was the driver and she did a great job keeping us on time and on track with water and tunes. We spotted a ton of Black-Billed Magpies, Red Tail Hawks, Steller Jays, Scrub Jays, Red-Winged Blackbirds, Turkey Vultures, Mallards, Mountain Blue Birds and even a White Pelican along the roads around Buena Vista.
The parking lot for the trailhead at Denny Creek was full, and so was the overflow lot about 50 yards away. We parked in the last side spot and stretched our legs and backs in the space past Denny Creek.
Making it to the trailhead by 7:45am, we were off. Not long into the hike there were some hikers arriving back down from the hike, "We started about 4am," one guy said. Not sure if we were just lazy, we went back to our task of walking.

Our Hike
A 5.1 mile hike to a 14,196 foot vantage point of the scenic Collegiate Wilderness Peaks (10.2 miles round trip). A 4,400 feet of vertical gain. A trail with wildflowers every step of the way…What more could we want? Except perhaps legs and oxygen for the journey. Or a Yellow-Bellied Marmot and Pika to see and hear along the way? 
True to the weather app (at least at the start) it was a beautiful morning sky. We worked up a sweat and stripped down a few layers as we got rolling. There were squirrels and chipmunks active in the forests.
Eleanor had her binoculars ready for the wildlife, keeping her eyes out for birds this time around; however, we did not see many birds. On the ascent we did hear the Robins and a Hermit Thrush, calling us into the woods. These native dwellers are so welcoming. 
The first couple of miles were fully shaded, with trails sloping up through aspen, alder, pine and cedar forests. There were some beautiful flower patches of both yellow and red Indian Paint Brush and the trail crossed Denny Creek a few times.

Kathleen at the Brown's Pass/Mt. Yale Summit split
About 1.5 miles in, the trail split: one way going to Brown's Pass and the other heading to the Summit of Mt. Yale. We passed some hikers and others passed us. (Few were taking social distancing or face coverings seriously, which annoyed me.) The trail was well-marked, so none of us went astray, even as we spread out along the hike. We stopped at a few of the scenic creeks, waiting for us to get closer together, at least until the mosquitoes attacked, that is. For me is was time to keep moving or get dive bombed.
The trail kept cutting across the forest patches and the needles were soft and fragrant. After about 3 miles, the trees stopped and the path dissolved into an above-timberline series of switchbacks. This is the steepest part of the hike and the part where additional breathing exercises were in order. Nothing like getting light-headed from altitude to remind us of our human frailty.
The marmots and pikas were all darting around as if they love the altitude, which they do. The high alpine terrain is just perfect for them to make a startling call, then dart out of sight, only to return and sun on the rocks, when the coast was clear. We did spot some Clark's Nutcrackers (a cackling duo), Ravens (catching the updrafts), Violet-Green Swallows (swooping by) and a Common Redpoll, which were fun to identify. We also saw Hairy Woodpeckers, White Breasted Nuthatches, and Mourning Doves in the woods.
Common Redpoll (Winter Finch)
We finished the switchbacks and Eleanor found time to do some headstands, while we ate our gorp and dried fruit and hydrated with water.
The clouds started forming on the horizon, but they did not seem threatening to us. We had some outstanding views to the west, while we waited for Margaret to catch up and catch her breath.
The last 1,000 feet were the most challenging, as the summit was just past the last saddle of loose talus rocks up ahead. Taking my time up these final slopes, these stairmaster-steps took their toll on my breathing and pace. If I were walking at about a two miles-per-hour clip before the saddle, my pace was cut in half. I was within about 200 feet elevation from the summit.
These last steps were less like hiking and more like bouldering, as it takes a steady hand on the adjacent rocks, to keep from falling over. It was nice that the preferred route, which headed to a climbers' path on the right, was marked with cairns. It was possible to create our own routes to the top, but I would rather take a well-worn route than creating my own. 
At the summit we could see the cumulus clouds starting to darken. They looked threatening with the prevailing weather coming from the south. The weather over the San Juan's and Uncompahgre's in the distance was sketchy, so we knew to stay just as briefly as we could to get photos and not linger. We had conquerored of Mt. Yale. We had our photos as our trophy and remembrances. 
This slideshow requires JavaScript.
There was a boy scout leader and his wife with seven boys on their way down from the summit as we hit the peak. Noticing my Yale Management hat he asked, "Hey, man, where are they selling the MERCH?" When I told him, "New Haven, Connecticut. There's no kiosk on top," all we could do was laugh. That said, we quickly took a slew of photos and headed back down. And we are glad we did.
As much as we wanted to take in the views of all the fourteen and thirteen thousand foot peaks around us, Mother Nature had other plans. So, "Yes, the mountains were creating their own weather." Despite the wet and slick stones on the trail down, we made the final descent in about two hours.
Tired and trail-weary, we stretched, and hopped in the car. We headed back to Denver for a dinner in the Highlands neighborhood.
How do you spell R-E-L-I-E-F?
This slideshow requires JavaScript.
The goal of hiking a 14,000 footer with my daughters had been a dream of mine for over 40 years. The scaling of Mt. Yale exceeded my expectations and it was truly a dream come true. We were particularly appreciative that Margaret had mastered her dizziness to join us at the summit.
The summit certainly offered us an incredible 360 degree view of the Buena Vista area and the Arkansas River. On the hike down, we were able to enjoy the wildflowers, which were extraordinary and beautiful.
This slideshow requires JavaScript.
The car trip back to Denver and Boulder was beautiful as the rain showers and sun and clouds and mountains put on a light show. We spotted but missed a clear camera shot of the rainbows, but we can see them still in our mind's eye.
---
References:
[1] The Collegiate Peaks Wilderness has many named mountains. And not all are named for colleges, some are named for places and lakes:
Summits of the Collegiate Peaks with at least 14,000 Feet of Elevation

1

14,421 ft
4396 m

2,327 ft
709 m

14.92 mi
24 km

2

14,343 ft
4372 m

1,841 ft
561 m

6.28 mi
10.1 km

3

14,204 ft
4329 m

1,317 ft
401 m

3.3 mi
5.31 km

4

14,204 ft
4329 m

2,156 ft
657 m

–

5

14,202 ft
4329 m

1,876 ft
572 m

5.55 mi
8.93 km

6

14,160 ft
4316 m

633 ft
193 m

1.22 mi
1.97 km

7

14,079 ft
4291 m

873 ft
266 m

1.9 mi
3.05 km

8

14,074 ft
4290 m

827 ft
252 m

1.31 mi
2.11 km

9

14,012 ft
4271 m

1,403 ft
428 m

3.21 mi
5.16 km