Alvar Aalto (1898 – 1976) [3]
Finland: Aalto's Tenor
"There are a lot of famous architects who either come from Finland or who are renowned for their buildings in Helsinki, but you really only have to remember three of them: Eliel Saarinen, Carl Engel, and Alvar Aalto."
Or at least that is what I heard Aiden Barkley, our tour guide, as he barked above the street noises. We were bundled up and ventured out on our first walking tour of Helsinki. Recovering from jet-lag, I may have missed some of the finer points of Aiden's lessons, but since I had heard of one of the architects, Eliel Saarinen, I was feeling smug. Eliel's son, Eero Saarinen, had designed several buildings in Connecticut, including Morse and Styles, two residence halls, and Ingalls Rink at Yale University.
Ingalls Rink, Yale University, New Haven, CT
The hockey rink, nicknamed "the Yale Whale," looked more like something Captain Ahab in Moby Dick was chasing, than a rink. And the Morse residential college was nearly always under construction for faulty heating and cooling systems, which left the central courtyard a quagmire of mud, backhoes and construction workers for most of the three years of our residency. Aero Saarinen may have been an architectural genius, but many of his buildings proved impractical in their final renditions.
That first day in Helsinki we walked to one of the center squares and viewed the Lutheran Church at the top of the hill: Helsinki Cathedral. This city icon and several others, were designed by another architect on Aiden's 'don't forget' list, Carl Engel. We went on to see a few more by Saarinen, Engel and Aalto before the day was over.
Helsinki Cathedral, Carl Engel, architect
Presidential Palace, Carl Engel, reconstruction architect
Prime Minister's Palace, Helsinki, by Carl Engel
Eliel Saarinen, Helsinki Train Station
Urban design by Eliel Saarinen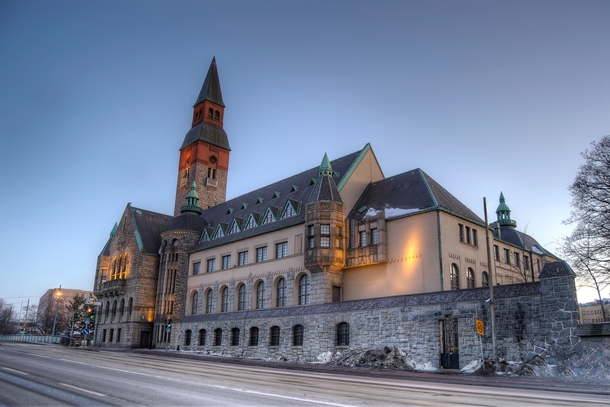 National Museum of Finland, designed by Lindgren and Saarinen
The next day, we were up close and personal with one of Alvar Aalto's works, a building where we were meeting our first teacher and students for our trip, the Stora Enso World Headquarters.
Stora Enso Headquarters, by Alvar Aalto, stands in stark contrast to Orthodox Church
Alvar Aalto's Voice Explored
Later on in the week Aiden Barkley reminded us that we had the chance to visit Alvar Aalto's residence and workshop on the outskirts of Helsinki. I had never heard of him before the trip and the tour did not sound all that interesting. Even some of the other architects from Portland took a pass, indicating that they did not find his work as important as their architect professors had claimed it to be. Aiden Barkley said it would be well worth my time, and besides is was snowing off and on, so what else was I going to do? Reluctantly, I went on the tour of Alvar Aalto's home and office. Being open to the tour proved transformational: we could hear the tenor of Aalto's architectural voice.
This slideshow requires JavaScript.
The house tour was fascinating, as it had a very private, small door, small windows street presence and a wide open, multi-windowed back garden view. I loved the design elements! The chairs, lampshades, doors, windows, tables, vases, mullions, dressers, fireplaces, bricks, floors, cupboards, radiators and other fixtures were all simple and superbly complete. The house doubled as the office for the staff of the Alvar Aalto Foundation.
In the residence Aalto had a library and personal art collection, which included a wire sculpture by Alexander Calder. Alvar seemed to have been on a first name basis with some of the most famous artists of Europe at the time; and they exchanged their work as a form of barter: "If I could have one of your paintings or sculptures, I will give you one of my designs."
After the house tour we walked up the street to the Aalto office for a second tour. Here the enormity of his work became apparent. The size of his his personal library was vast, and those were just for books about and/or written by Alvar Aalto. The displays had photographs and scale models of his famous works from around the world. The tables had squares and rulers, and other implements of the trade, sitting adjacent to news clippings and stories about the buildings. The full impact and breadth of his design touch became self-evident: he was and is a world-wide phenomenon. My ignorance was profound.
Alvar Aalto as his desk, courtesy the Alvar Aalto Foundation [3]
Aalto's voice echoes for Portland
The next section of this Witness Post was inspired by a series of articles in the Aalto museum.[1] The articles talked about his passion and life-long vision for Finland, particularly Lapland, which was nearly burned to the ground and destroyed by the Russians in World War II. It is a jumping off point for what we might learn from his intense focus on the the city of Romaniemi, and the region of Lapland, to the betterment of the world as a whole. I will attempt to relate the lessons back to our work for Portland Public Schools and the state of Oregon.
Aalto's Vision for Lapland
To dream big, you often must start small. That is what Alvar Aalto did in the town of Rovaniemi. The capitol of Lapland, Rovaniemi sits on the Arctic Circle. For centuries, the city has been a central meeting point and trading place for the population in Northern Finland. Almost totally destroyed in World War II, Rovaniemi was rebuilt with a modern touch designed by Finnish architect Alvar Aalto, who devised the town plan to resemble a reindeer's head and antlers. He described the model as an urban design resembling the human hand:
"From the chaotic urban pattern of old Rovaniemi, marked by black ruins, a center was formed according to the urban planning principle of a human hand placed on the map of the town. Symbolically one can say that a community was hereby formed, with the palm constituting a central park, and the fingers marking zones where traffic shall be located and the open spaces between fingers being parts of the town where housing and jobs are located. The Reindeer Antler Plan will be flexible enough in order to deal with unanticipated changes in all spatial functions. My Resiliency Principle is that basic structural solutions of the city have to be able to cope with all possible future changes. Main transport connections will be located in green corridors in order not to disturb the residential, administrative and business areas."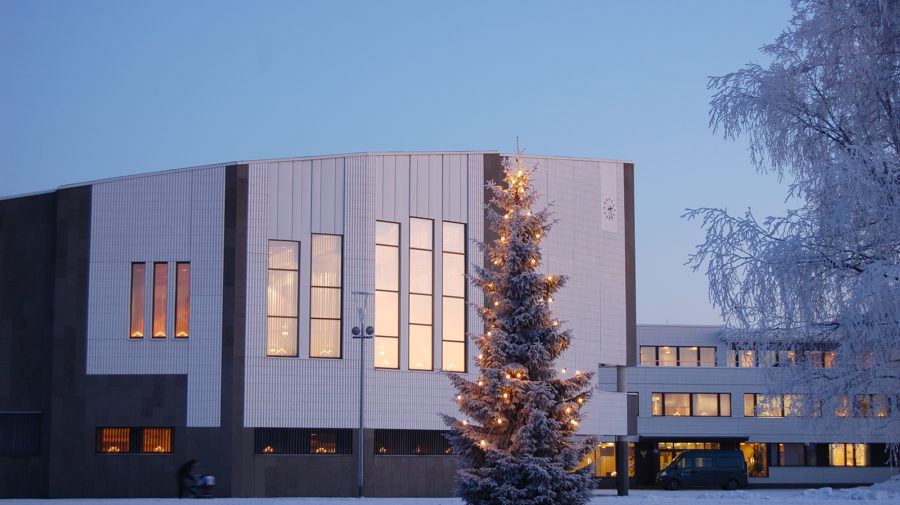 City Library of Rovaniemi, designed by Alvar Aalto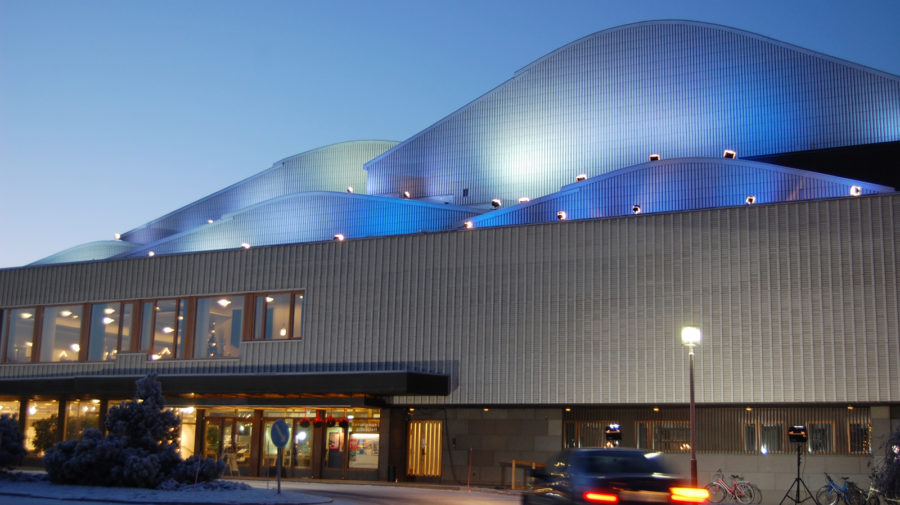 Lappia Hall in Rovaniemi, designed by Alvar Aalto as a theatre and town center
What was Aalto doing in the frigid North? Why should Portlanders care?
Aalto was developing a plan for the region of Lapland, not just the city of Romaniemi. With a total population of approximately 500,000 Lapland is close to the population of Portland.[2]  Aalto anticipated the resurgence of life to the Arctic Circle and the trade that would follow was critical to the region. The main livelihoods were from fishing, hunting, harvesting timber, mineral exploration, energy generation and tourism. Aalto was interested in integrating it all: the rivers, and the roads, and the businesses, and the schools, and the administrators, and the parks. He wanted to provide guidelines for the variety of governments the Laplanders embrace. He was not interested in regulations, he respected the individual municipalities' rights.
"The plan will respect private ownership, but we can expect responsibility towards the community; a balance would bring the best possible solution for the common good. In other words, the plan aims at guidance not regulation."
In Portland we are not fixing up the city after a war, but at the same time, there are some strong parallels for us to consider as we examine the regional work Aalto recommended for the people of Lapland. Portland has its challenges: we are on the banks of the once timber rich Columbia and Willamette Rivers, our primary energy is hydroelectric, our budgets are controlled by the power of our public employee pension plans – OPERS, we have a vibrant streak of independence and embrace weirdness, we have roads torn up for re-construction, we have dilapidated buildings in need of earth-quake proofing, we lack safe drinking water, we need radon abatement … the list goes on and on. As such, we need a comprehensive plan. We also need to find examples from other parts of the world as to how to navigate these challenges. Our reach is only limited by our beliefs. And even as we start small, we need to think big. We must be sure we are asking for far more than: "What do we do with a new Kellogg Middle School?"
Our considerations might include insights from our trip to Finland and answers to questions that we have about conditions in Portland today:
In Finland power is expensive. Passive solar is a necessity not a luxury.

Since hydro-energy and fossil fuels are so expensive today, what design elements can we adopt from Aalto and others which take advantage of passive solar, sunlight, windows, energy efficiency and public versus private spaces, to harness the realities of our 'limited sun days?' How can we use light to our advantage when daylight is visible?
The schools in Finland are designed as the heart of the community.

How can our schools become the center of culture and art and music and exercise for the city and the region? Right now the process of getting a CUB for use is cumbersome and antiquated. We need to develop a better system for everyone and every space.
Sports are de-emphasized in Finland; they are a club system, not a school system.

How can we remove the culture of sports ruling our schools in this country? There are no trophy cases in the schools of Finland. All sports are after-school activities with clubs that are of much less importance than athletics. The school gymnasiums are for exercise, and although we saw plenty of smokers, we also so more gyms and soccer fields and running tracks and bike paths than we see in Portland. Obesity does not seem to be an epidemic.
Finnish schools have no school buses. Students and teachers take public transportation, which is for everyone: all day, every day.

Do we need school buses in Portland? How much could we save if we took a different strategy? Why not cost share with Portland's public transportation and do away with the buses? A percentage of our students are commuting that way already.
The Finns are always looking for systemic solutions to urban problems.

What about lead in our water? The asbestos in the ceilings? The radon in the basements? There are undoubtedly similar problems in homes, offices, public places that have the same pipes, insulation, lower levels as our schools. This matter is not a school problem, it is a city-wide problem, so let's solve it together rather in piecemeal fashion.
Teachers in Finland are mobile from one classroom to the next, all day.

One sacred cow is that US teachers want their own classrooms. Why is that so important to us? We want a place to grade their papers, store our books, make calls to parents and keep our "stuff."
While we get "the need," Finns say there is no place for that exclusivity in the schools of tomorrow. They feel teachers must show the way that communal space can be enhanced by not having it labeled as "my classroom." One task is to prove to teachers that their "stuff" and student information can be protected in the teachers' lounge of tomorrow, even more than it is in the classrooms of today.
The arts in Finland take center stage: music, dance, textiles, pottery, song.

The arts have been slashed from the budget as less important to the education of our children. What can we do to reintroduce art as part of our core, rather than a remnant of our fringes in education?
Finnish schools are important Open Spaces for the entire community.

Public access and education must be harnessed and shared; and not gated, bricked off, or cloistered from the public.
To belabor the point about Open Spaces, public school shootings in the US challenge us to balance the need for security and protection with the need for inclusivity of our school fields, orchards, auditoriums and open space.

What can we do to make public use of facilities easier and more accessible? How can we fight the urge to fence in our students and remain open to the greater community? What can we do that is safe and secure without being guarded and exclusive?
Finns are some of the most happy and peaceful people on earth. They also are working diligently to curb teen suicide rates.

How can we make Peace and Justice and Mindfulness the centerpieces of our schools? What architectural designs and artwork would promote these important human values in our schools and other public spaces? What best practices should we embrace?
Trust in all levels of education (Admin, teachers, parents, students) are a hallmark of the Finnish system. Students are encouraged to come to school when it works for them and they are trusted to work on important matters, when in school and out.

How can be have similar areas of trust at all levels in our schools?
Class sizes and school sizes in Finland are much smaller than in Portland, and they have extensive social services for students who have special education needs.

What can we do to have more student/teacher interaction? The issues of class and school size and school aids for ORSPED students are impacted by the proximity to the families with school aged children, the number of schools that are built, and the configuration of administrative oversight that more schools and classrooms presents. We will have to put this question into future considerations, as it is too big and contentious to tackle here.
This list is incomplete but it will continue to evolve as we wrestle with the best ways to proceed for the sake of our schools.
What does this have to do with Lincoln High School? With PPS? With Oregon?
Our group visited Finland doing important thinking, vital planning and future preparation. We were purposefully inclusive of many voices, not just representing Lincoln High School and the three other schools in our district. We were architects, teachers, administrators, students, school board members and community activists. We traveled together to help develop a system of education construction that will work well into this century and the next.
The students we are teaching today will likely live beyond the year 2100 and it is incumbent upon us to build a better system for them and their grandchildren. Although the changes we recommend may not all come at once, come they must.
We are trying to be the best stewards of Portland's 2017 $790MM General Obligation Bond and the many other bond issues that will follow this one. AND we want to be visionary with how we spend these dollars. We are trying to be holistic, we are trying to be systemic, we are trying to be smart about it.
In many ways we are looking through the eyes of Alvar Aalto to see what his view would be of the best outcomes. One of greatest achievements might be to offer our readers a glimpse into what might be for us a better school system in Oregon and the Northwest.
To be continued …
Anvil and Arrow Public Art in honor of Alvar Aalto in Lapland
---
References:
[1] The text and content of articles by Jussi Rauti, courtesy of the Alvar Aalto Foundation.
[2] Population of Portland (640,000 as of 2016). Population of Lapland (500,000 as of 2011: including inhabitants of Finland, Sweden, Norway and Russia's Kola Peninsula). Some websites show the native Saami population as 100K, and the Lapland-Finland population of 180K, but others include the Kola Peninsula as 350K, and areas bordering the White Sea and the Gulf of Bothnia. And, YES, there are about as many reindeer as people in the greater Lapland region.
[3] Photos courtesy of the Alvar Aalto Foundation, Helsinki.
P.S. Short Video from inside the offices of Alvar Aalto in Helsinki:  https://www.icloud.com/attachment/8