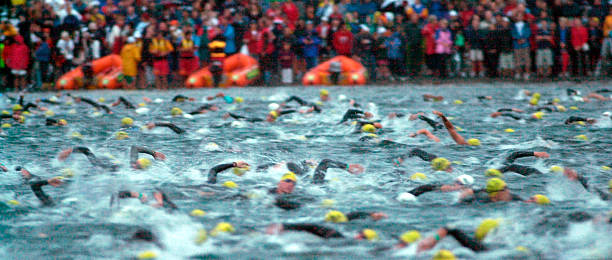 Witness Post: Swim Like My Mom
My mind was screaming, "NO!" when I heard our daughter, Kathleen, declare, "My friend Aubrey Mable and I are going to swim a half ironman in March, and its in New Zealand." How was she going to get the time off work for something like that? What about her training? Did she know what a commitment it would be to swim and bike and run all those miles in preparation? And the pounding on her body! Was she prepared for the pain, the blood, the tears, the frustration? My little girl was not a little girl anymore, and I guess I was not sure if I could take it, much less what she could withstand. She was, after all, our littlest one.
Kathleen and Dad, 1998
The mind is a tricky thing. Mine will often go to the catastrophic first, long before it hits the pleasure zone. I could have reveled in the endorphins, the second wind, the strong stroke, the flawless transitions, the smiling faces of the crowd, the encouraging Kiwi's, the emotional exhilaration of the finish … I could have gone there, but, I didn't. When in November Kathleen said that she had booked her ticket to Auckland, NZ, and rented her bike, and bought her "gear," I knew she was committed and it was better to help and encourage than to disparage.
Lake Taupo, New Zealand
RUNNING
Kathleen cranked up her usual healthy exercise routine to run 100 miles in the month of November to honor a commitment she made with some friends. We ran some of those miles together, when she came to Portland for Thanksgiving: 9 miles on Friday, and 10 more on Saturday. We even sweat through a Kayla workout or two, to keep the arms and abs exercising as well. She had about 15 miles to run, when she returned to Denver after Turkey Day. I would check in with Kathleen on her training periodically, but did not know for certain how she was doing until Christmas.
Kathleen has always had a beautiful running stride. Some kids are all knees and elbows as they learn to run, others are tight shouldered and herky-jerky. For as long as I can remember, Kathleen was a joy to watch in action; her running seemed natural, smooth and effortless.
She started running almost as soon as she could walk. Every Saturday, rain or shine, I would drag the three girls on a 1.9 miles run from our house in Maryland, up and around Circle Road and home again. At the foot of the driveway, we would have a big family hug and high fives, as the girls headed inside. I would then take off for a longer run up Bellona Avenue, back down Charles Street, and on Malvern to home again. Those Saturday's were fun for me and one neighbor called our girls "the three little ducklings" as they trudged along behind me on the narrow roads in our community. Privately the girls said they hated those runs, as did the cousins who stayed over Friday night, but they did not tell me, because I seemed to value it so highly.
Kathleen (in front), Eleanor, and Margaret on Eleanor's first day at school
Over the years, without my goading, Kathleen's stride got stronger and more assured. She had a very easy gate and she was fun to watch, no matter what pace she ran. Starting in middle school, Kathleen was an excellent lacrosse player. She also played soccer, but favored lacrosse as "the Club soccer scene" took over many other families. Kathleen had a wicked left hand lacrosse shot and even scored two goals as a freshman against her sister's team at St. Mary's Academy, the undefeated state champions that year. Kathleen kept up her running skills, joining me, her mom and friends at Bolder Boulder one year and she also ran Hood to Coast with me one August. She became my running buddy for many a long one.
Kathleen crowned with Katie Commaneche and Ellen Claussen at Bolder Boulder finish
Kathleen with Tracy at Bolder Boulder
Kathleen with Dad in Gearhart, OR, after Hood to Coast
SWIMMING
Kathleen has had a nice swim stroke for as long as I can remember. She was not the fish that her sister's were, but once she figured out the mechanics, she quickly took off the inner tube and floaties and was comfortable in the water, whether in the pool or the ocean.
We would travel to Florida every spring break to see grandparents and enjoy the Gulf waters. Kathleen was my eagle eye, shark's tooth finder on the beach. She often joined my in the ritual of a jog in the morning, followed by a dip in the water. Then another swim in the afternoon, even when you couldn't see the bottom. With our fair skin, we were likely to be burned to the crisp at mid-day, so we usually were on the beach early and late, not in between.
I did not study Kathleen's swimming stroke thoroughly when she was with me, but she seemed competent and self-assured as the years progressed. That said, a comfortable swimmer can be another thing, when it comes to open water and wet suits. She did not choke on the incoming waves, which can be dangerous. I would say that she grew to be a comfortable open water swimmer.
Kathleen on Casey Key rockin' her Foster Grants
Swimming in the Gulf was always a rush. The temperature of the water was surprisingly cool around Easter, and with the constant spotting of pelicans, you knew there were fish everywhere, even biting ones. The idea of shark's teeth also put the fear about water safety in your mind. Where there sharks in the water? There were no lifeguards on the beaches of Casey Key, but our girls got the hang of it quickly and became comfortable avoiding sneaker waves and swimming in it at an early age.
Margaret, Eleanor, Dad and Kat at Olympic National Park, WA, water at 55°F was too cold to swim
My Mom was a beautiful swimmer, having learned to swim when she was a child. Always athletic, she was a good at tennis, field hockey, dancing, hiking and horseback riding. At the age of 33 she was riding a horse in Philadelphia, which bucked hard and threw her off its back and into a tree. The blow crushed her pelvis. After four months in the hospital in traction and physical therapy, she came home with a severe limp and crutches. Part of her regime to recover was to swim. I remember seeing her with her bathing cap on swimming laps, during the adult swims at St. David's Pool in Philadelphia, College of Notre Dame's pool and at L'Hirondelle Club in Baltimore.
Mom had a strong flutter kick that would create a steady propulsion of her torso through the water. And she had a long left hand reach, followed by a shorter right arm reach that accompanied her breath. She would swim for a half mile without stopping, which seemed boring to me, so I took to sprints instead. I could not imagine long distance swimming as the best way to get a workout. I will admit to my own ignorance.
When we were in Denver for Christmas in 2017, I accompanied Kathleen to her workout. She swam a half mile at the Washington Park pool, while I lifted weights and stretched, and then we went running a few laps around park to give her about 8 miles on the trail. I spent about 15 minutes of my stretching on the pool deck watching Kathleen swim. As she glided through the water, did your turn and pushed off again, I was transported back to L'Hirondelle Pool. There was this woman in a bright bathing cap swimming steadily in the water. Her kick was constant and strong, her stroke was long with her left arm and slightly shorter on her right, while she took her breath. There was my mom right in front of me swimming in the pool, or the 2017 version of her anyway. Wow, maybe physical traits are generation skipping. I was mesmerized for those laps at seeing my mother again, through the swim strokes of my daughter!
The real athlete in the Hooper Family is my sister, Mary Klaff, who has run marathons, Hood to Coast, Ultra-Marathons, Half Ironmen, and Century Runs. I can only listen and admire. Aunt Mary gave Kathleen some terrific advice along the way. And, yes, Kathleen would PR for her race.
Mary Klaff at Hood to Coast
NEW ZEALAND?
So why Lake Taupo for the Half Ironman? The story goes back to Kathleen's semester abroad in Otago, New Zealand. She was there with Aubrey Mable and a lot of other kids from the states. It was not the most fulfilling time in her life, as the cold temperatures and constant poor insulation, made the living conditions unbearable for long. Still Kathleen went on some great tramps and walks that filled her full of Maori lore and traditions. She became a follower of the All Blacks and even learned how to do the Haka!
Images from New Zealand and Australia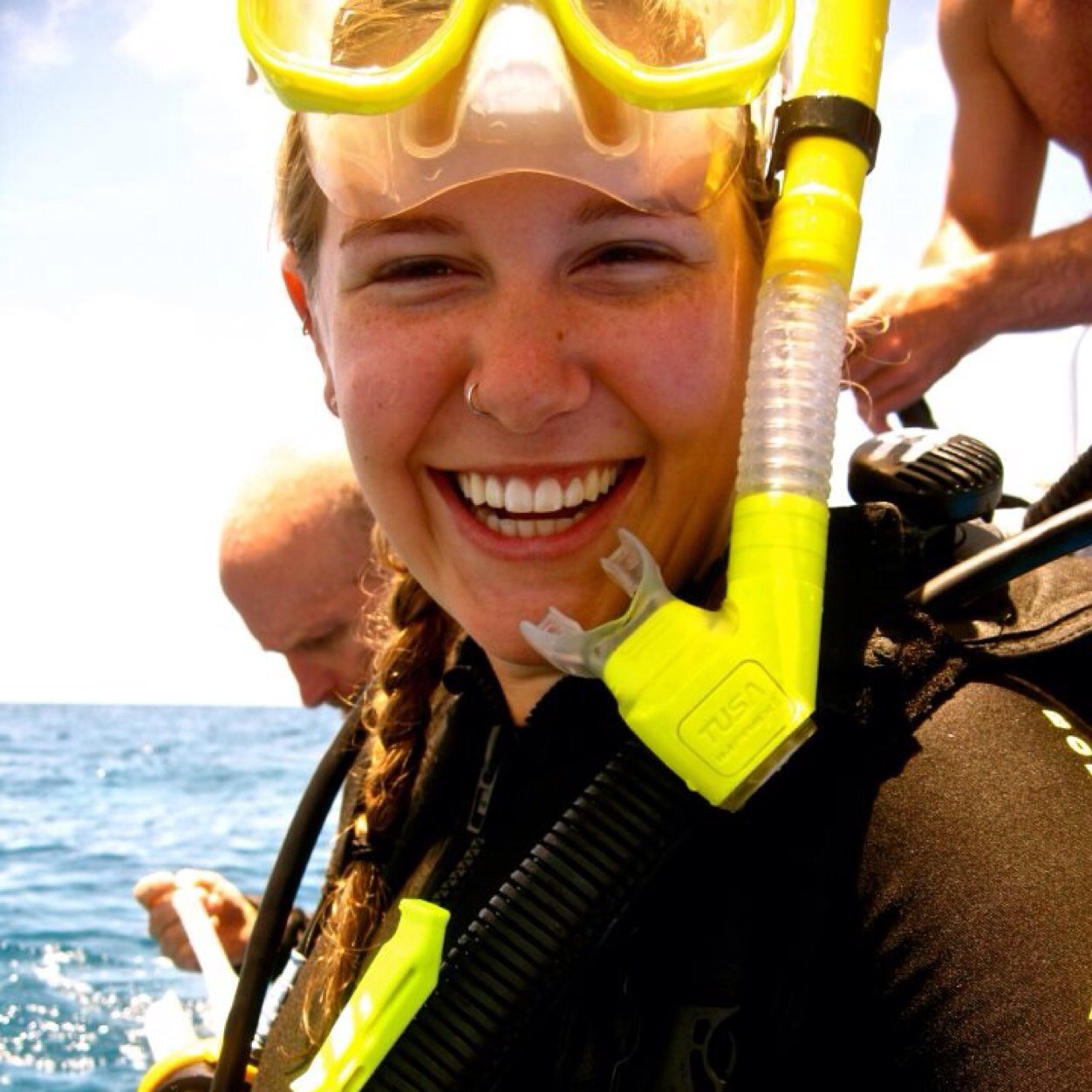 Kathleen snorkeling in Australia
This second trip for the Half Ironman was a redemption trip of sorts. Kathleen would make the most of it.
BIKING
We know how to bike, and we like it, but it has not been a family passion. Some friends, like Richard Hook, are devoted Cycle Oregon participants, and I admire them, but I have not "gotten around" to doing many long rides. Our friend, Chris Bene, took me on a century ride once, but it was pretty much torture, so I returned to running, which was enough torture for one day.
Some of our good friends have also had serious bike accidents, so I do have an instinctual reluctance to the sport. It can be dangerous. Lucy French, Dr. Steve Mayer, and Tom Brooks have all had debilitating accidents which left them in the hospital and they all had long recoveries. We were hopeful that she would get the training and the roads would be less crowded with pedestrians and cars, which adds to the general biking mayhem.
Biking indoors – 24 Hour Fitness
Over the Christmas Holiday, Kathleen and I were able to brave a brief show shower and bike at the local 24 hour fitness. We logged about 18 miles an hour and felt that, under the circumstances, that would have to do. No weather for road biking in this sort of weather. It would be clear soon enough to get back to it, but for now it was more about logging the miles
Biking around the North Island, New Zealand
Biking around Lake Taupo, New Zealand, taking it easy for 3 days
Kat crosses the line at the end of the 1.2 mile swim, 56 mile bike and 13.1 mile run
Kathleen and Aubrey taste the finish line and the ironman medal.
We could not be more proud of our daughter, our littlest one, for this remarkable athletic achievement. The mental preparation is the hardest part. And from the swim, through the biking, to the run, she proved her meddle and her might.
Kathleen, we love you, always. We followed you and Aubrey on the phone app, which we downloaded for the event. Thanks for your swim, bike and run. And you do swim just like my mom. What a blessing!