Witness Post: QD Thompson
"It was dinner time at the Klaff household; 7pm and five hungry boys were eating at the table," Arlene Klaff told me. The Klaffs, Arlene and Richard had a quintet of McDonogh students at home. Arlene continued: "After dinner and during dessert, the whole family was in the kitchen, when we spotted an uninvited guest wiggling across the floor . . . a long, fat black snake. Immediately, all of my 'men,' Richie included, jumped up on their chairs. The phone rang. I walked across the room and answered the call. I heard, 'Mother Klaff, we need to talk.' QD Thompson was calling, as he often did at night those years. When he heard the loud clamoring from our end of the line, he asked if I were OK. When I told him what was happening, he said, 'Mother, you have your hands full. We will talk later.' And we did. To this day I laugh because in all of his years as Head of the Middle School, I doubt he had an exchange quite like ours with any other McDonogh parent."
The snake story epitomizes QD: he worked long days and nights, he was understanding, and he was ready to take on anything. He was equally adept at delivering the good news and the bad. His time at McDonogh was enmeshed with the families, their stories and even their critters.
Finney Building (on right) houses McDonogh's Middle School
Background
In the 1950's McDonogh wanted a do-over in primary and secondary education and the post-war era was the perfect time to create a better program. Most private schools, which left kindergarten to parents and churches, were either elementary (1st through 8th grades) or college preparatory high schools (9th through 12th grades) or a combination of the two. Also the concept of "Junior High" had been adopted in parts of the country with mixed results, some successful and lots not. Headmaster Bob Lamborn, whose father, Doc. Lamborn, had been a highly revered McDonogh headmaster, wanted to tinker with tradition. He planned to innovate a new 4-4-4 school structure. Having earned a Ph.D. in Education at Harvard, Lamborn convinced McDonogh's Board that, more than just symmetry, the new curricula were ideally suited to educate the whole person. With the Board's green light, Lamborn spearheaded the school's effort to create classes that focused on the distinct developmental levels of the students as they matured.
The lower school (1st – 4th, adding kindergarten in the '80's) emphasized outdoor science learning, hands on instruction, number sense, art, creative play, music and reading. The middle school (5th – 8th) added intellectual insights, intramural athletics, foreign language, writing, social studies, and woodshop to the mix with emphasis on leadership, personal responsibility and commitment to values. The upper school (9th – 12th) was the quintessential college preparatory program with a heavy dose of discipline, honesty, curiosity, and rigor, all aimed at educating socially aware citizens and future leaders.
Thompson Gets Cornered
In 1953 Lamborn approached QD Thompson about considering to be the first Head of Middle School at McDonogh. On paper Thompson was the ideal candidate, fresh out of a masters program at Maryland State Teacher's College (now Towson University), he had been a McDonogh teacher for four years (1947-1950), he had served his country in the Pacific and again in Korea, and he was charming. Lamborn was impressed with Thompson and cajoled him to take the leap. As QD's son, Jim Thompson, told the Baltimore Sunpapers, "[Lamborn] literally cornered QD in the parking lot of the Thompson family church in Monkton by blocking QD's car with his. He then persuaded QD to sign his McDonogh contract right there on the trunk of QD's car." Lamborn had found a natural leader and he didn't let him escape.
In his easy-going, collaborative approach, Thompson melded the strong-willed personalities of many faculty member to create new and innovative type of education. He knew how to draw out those talents, and best ideas, to the betterment of the program. Lamborn was right, because Thompson spent the rest of his professional life and much of his family life in the Finney Building (pictured above) on campus at McDonogh, even living in a house only steps away from his day job. He was doing what he did best, guiding students to be insatiable learners, with inspired teachers lighting the pathway.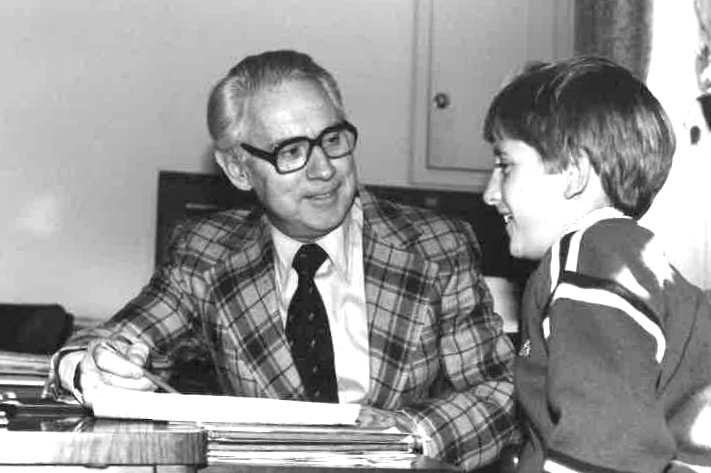 QD Thompson, at his best, one-on-one with students
The Thompson Influence
QD dove right into the new curricula and helped create the Middle School with the distinct developmental, social, emotional, and physical needs of boys between the ages of 10 and 14. He recruited and hired foreign language teachers, English writers, scientists, mathematicians, musicians, shop experts, teacher/coaches, librarians and support staff. He was looking for the right chemistry. He wanted pure educators with a zeal for teaching adolescents. Faculty like Jon Aaron, Val Curran, Lou Martin, Amy Barrett, Tom Schultice, Marshall Anders, Helen Hurst, Rick Thompson, Kathie Corcoran, Mina Wender, Toni Favazza and many others gave the Middle Schoolers the wind beneath their wings. The camaraderie among the Middle School faculty, including staff meetings, Halloween parties, and late night dancing, was legendary . . . at least in Owings Mills, Maryland. As Headmaster Charles Britton recently said, "It is no secret, QD ran a tight ship. But everyone was happy. He always kept his office door open and welcomed any student, teacher, or parent who needed a word with him."
Longtime guidance counselor and psychology teacher, Barbara Ipsaro, recalled, "I will never forget the first day that our son, Tom Bagli, went to McDonogh. After too many years at a Catholic school with classes taught by nuns, he needed a change. Arriving on campus, we were greeted by QD Thompson. Instead of walking up to my husband and me, QD walked right up to Tom, shook his hand, and welcomed him to McDonogh. Tom never looked back; he has had the nuns in the rear view mirror ever since."
Thompson's enthusiasm around middle school children was palpable. QD found ways to challenge the students, hold them accountable, prod them, and joke with them. He had just the right tone and manner. QD was also a gifted mentor for many of the students, particularly those who were intimidated in the former military school setting. As he said to Tom Klaff, one of the five Klaff graduates: "If middle school is a football game than I am the referee, striped shirt, whistle and all."
Thompson was a sneaky administrator with room assignments. My first year I taught the only academic classes (6th and 7th grade English grammar) outside of the Finney Building. At the end of the year I said that it was bad form to have a first year teacher in the basement of Rollins Hall. He agreed wholeheartedly, saying, "I'll never make that mistake again!" When he assigned me to Rollins Hall the next few years, I could  hear his reply before my protests: "Not for a first year teacher, ever again." Accompanying his basic logic with a wide smile, he convinced me to give Rollins Hall's basement another go. How could I continue to protest with QD?
Thompson was a creative thinker and a fair man who allowed failure as well as success to shape his students. He was a task master with his teachers and we loved him for his loyalty and fairness in return. The parents and students often felt the same way. When McDonogh had just transformed from all boys and military to coeducational civilian, my sister, Mary, was a seventh grader. Our parents wanted to take Mary on a trip to Europe during the school year. QD listened politely to their description of the "educational value" of the trip and he replied: "I will allow Mary to go on one condition," pausing for major impact, "You take me with you!" QD won the admiration of our Dad forever. He did the same with the middle school families for years to come.
As a middle school administrator QD showed us what he meant by the whole person. For testing and discipline, to diet and exercise, he lived what he said. He ate sensibly at daily lunches, he kept his appointments, and he expected others to honor their commitments. As to exercise, he was a good dancer who could wear out many of the other faculty. Plus very few times a year would QD miss out on a tennis match. He was a regular player with Ed Kenney, Ray Oliver, Tom Keigler, or Robin Coblentz. He held the score close with his wicked drop shot, which had that QD spin off the first bounce. Just as in his room assignments, he a sneaky opponent who was in surprisingly good shape that defied his chronological age.
QD stayed fully engaged in the role of Middle School head until his retirement in 1985, when he left to take on development work at his alma mater, Towson University. He served as a phenomenal fund raiser for the Tigers over the next two decades. Towson University Development Director, Tracey Ford, said that QD was a superlative volunteer-turned-professional on her staff, always upbeat and positive. His attitude and work ethic helped Towson successfully raise millions of dollars during his tenure.
QD Thompson giving service award to a fellow teacher's college graduate
Other biographers will explain QD's Virginia Blue Ridge Mountain family of origin, his gaggle of ten brothers and sisters, his military service in WWII and Korea, his two successful children, his two marriages, his love of grandchildren, etc. So I leave those stories to others. There are lots of tales to tell.
There is a portrait by Ed Kenney in Allen Building of 'Old Man Lyle.' In the oil painting, Lyle was screaming at boys who were wearing Hill School-like green blazers in place of military uniforms. Those students were not wearing traditional attire and they were snickering at Lyle! Old Man Lyle's tirade seems trivial today, but it points to sets of principles which he felt were vital to McDonogh at the time: service first, respect second, military traditions (not preppy jackets), and self-control. The portrait reminds me in many ways of QD Thompson.
Thompson stayed engaged in education and the politics of school policy for the rest of his life. He was a man of tradition, tempered by experience and deep knowledge. QD would send me copies of letters he had typed, stamped and mailed to Maryland Education Secretary, Nancy Grasmick, pointing out some flaw in the board's latest proposal. And he forwarded other letters he had written to the editor at the Baltimore Sunpapers. All of the letters railed against this egregious mistake or that sign of poor judgement. He believed that many "changes" were going in the wrong direction, and those innovations would lead to mistreatment of students. Most importantly, those new rules were drifting dangerously away from best practices. QD felt these matters right down to his core and his bones rattled, as did Lyle's, at any and every injustice he spotted. He lived his beliefs that deeply.
Be the Best You Can Be
One of QD Thompson's favorite poems, which says a lot about his character and expectations of his students and colleagues, is below:
Be The Best of Whatever You Are
by Douglas Malloch
If you can't be a pine on the top of the hill
Be a scrub in the valley–but be
The best little scrub by the side of the rill;
Be a bush if you can't be a tree.
If you can't be a bush be a bit of the grass,
And some highway some happier make;
If you can't be a muskie then just be a bass–
But the liveliest bass in the lake!
We can't all be captains, we've got to be crew,
There's something for all of us here.
There's big work to do and there's lesser to do,
And the task we must do is the near.
If you can't be a highway then just be a trail,
If you can't be the sun be a star;
It isn't by size that you win or you fail–
Be the best of whatever you are!
QD lived the poem's ideals and he helped his middle school students to reach as high as they could imagine.
About twenty years after I left McDonogh, I had stayed in touch with QD through letters and visits to his apartment at Edenwald in Towson. My wife and I were involved in a company and we thought their health products could be interesting to share with QD and his wife, Ruth. When we visited he listened to us intently and said, "I don't know if these are right for us, Henry, but I believe in you, so let's give it a try." Those words, I BELIEVE IN YOU, were some of the kindest words a man can hear, especially from a former boss. QD lived his life by being his best self, always.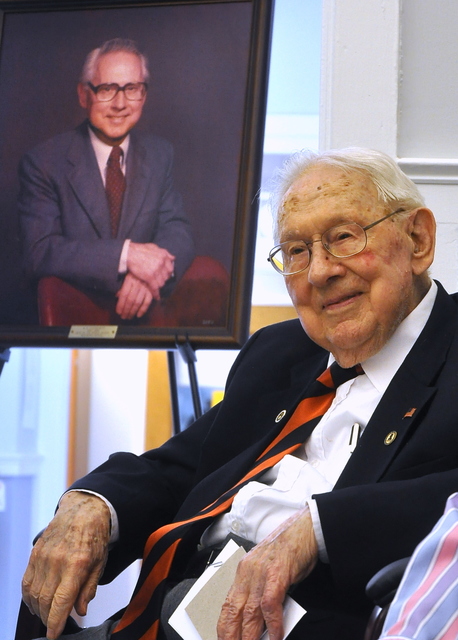 P.S. We miss you, QD, for the examples you set and for all you did to make teaching right for the compendium of children in your care.