Ipsaro's Trip down the Colorado River through the Grand Canyon
May 29 – June 4, 1995
Participants (in order as pictured): Henry Hooper,  Tom Bagli, John Nagle, Anthony Ipsaro and Tom McNamara standing in front of Elves Chasm
May 29, 1995
"From the ridiculous to the sublime…" and that switched phrase could not have been more true today. We are lounging around the pool at the MGM Grand Hotel in Las Vegas and planning for an exquisite experience of rafting down the Colorado River, thanks to the generosity of Anthony Ipsaro, through the heart of the Grand Canyon! What a thrill for me.
From time to time in this journal, I will find quotations from the journals of John Wesley Powell. His book, Canyons of the Colorado, is a classic. It is very eloquently written. Our journey, for instance, starts at Lee's Ferry, which is several miles south of the Glen Canyon Dam. Of the area Powell wrote:
"The features of this canyon are greatly diversified.  Still, vertical cliff walls at times…found to stand above great curves. The river, sweeping around these bends, undermines the cliffs in places. Sometimes the rocks are overhanging; in others curves, curious, narrow glens are found…filled with cottonwoods and willow stands…and brooklet oaks grow…in marked contrast to the general appearance of the naked rock…On the walls, and back many miles into the country, numbers of monuments shaped buttes are observed. So we have a curious ensemble of wonderful features – carved walls, royal arches, glens, alcove gulches, mounds, and monuments. From these features shall we select a name? We decided to call it Glen Canyon." 
Written about their Colorado River trip on August 3, 1869, it is with ultimate irony that none of the features so carefully searched, researched, and chronologued by one-armed Powell and his nine brave companions is visible today.
They all lie buried beneath the surface of Lake Powell. Not only did the Federal Government dam the river that John Wesley Powell explored and loved, but it entombed the Glen Canyon in a multi-million acres lake and named it after the first white man who mapped it!
Glen Canyon just prior to flooding, 1964 by Phillip Hyde
But let's not get ahead of ourselves. We flew to Nevada and roamed the Strip only to be amazed at the opulence, decadence and greed of the American landscape of Las Vegas. As a friend of mine in college would say, "Never underestimate the bad taste of the American Public!" The phase can be expanded to other countries, because it has become more universal. We saw Germans, French, and Japanese all over the Strip. The dollar-yen exchange rate seems to have attracted a particularly large number of Japanese.
A few memorable things about the MGM Grand – Yanni was playing live … and making millions for some unknown New Age reason. We made fun of him the whole trip and cut out an article in the local rags to drop in each other's laps for a good laugh. But with the dollars he was raking in, the last laugh may have been his. Another memorable event was our SPA DAY at the MGM Grand; somehow we don't feel special enough to be waited on hand and foot – "May I offer you a cold towel, sir?" Or "Would you like some water or juice with your croissant, sir?" Or "Is there anything else I can do for you, sir?" – but it sure felt nice for the day!
We met Anthony at the Las Vegas Airport and we flew from there to the small town of Page, Arizona, for the night. [Meeting some fellow rafters and crew members on the flight to Page, we already started to size them up in our own way. We will undoubtedly have some comments about them, as they will us, along the way.] The flight was outstanding. The magnificence of the vermillion cliffs and the sandstone formations and the depth of the canyon left me in awe. 
As the land has risen, the river has cut its path, on average, one foot every one thousand years. We are in for such a treat! I took nearly two full rolls of pictures on the airplane in hopes capturing the color, the texture, and the raw beauty of this place. It was thrilling to fly over the canyon and the river that we would be exploring from the raft-eye view for the next few days.
View from above Las Vegas Airport
Once in Page, we checked into the Holiday Inn and made dinner plans.  MTom Bagli brought out the Swiss Army watch he had engraved for the occasion: "River Trip, 1995, Anthony Ipsaro." Then he gave each of us a special commemorative T-shirt he had designed. Artistically rendered, the shirt depicted five business men, with ties on, paddling a raft in the Grand Canyon. We raved about the t-shirt many many times. We were much more excited about it than we were about the mediocre TEX-MEX food from the local restaurant.
After some late night brandies on our deck overlooking Lake Powell (and soaking in that special time between sunset and dusk – DA SOUP A') we prepared our packs for the next day and went to bed. The 7:30am bus ride soon awaited us for our trip to Lee's Ferry.
Sunset outside of Page, Arizona
May 30, 1995
Waking at 5:00am to read some more Powell wisdom before breakfast. The meal was a very unsatisfying fruit compote and cereal. We walked to the rear of one of the motels and waited around for the Fred Harvey buses to arrive. Fred Harvey Company was one of the long-time concessionaires at the Grand Canyon National Park and other regional locations. They controlled the food purveyors at many of the airports (Albuquerque), train stations (Gallup), and Parks in the Southwest.
Fred Harvey Post Card 
At 6:00am we assembled to get our gear on the bus, to hear the rules, to get our names checked-off the list and to return the questionnaire (Post-River Destination: Page? Or Las Vegas?).
We drove to a liquor store for supplies (cases of lemon aid and beer), before we headed across the plateau, down past Glen Canyon Dam, skirting the Vermillion Cliffs, across Navajo Bridge, and into Lee's Ferry. Here we met our guides and made final packing of our belongings. All clothes and sundries that we wanted dry, must be kept in a large rubberized sack. All "I want to use today" items were put in a military or "ammo can." In these two containers we kept all of our possessions for the next six days.
No shake-down cruise from our raft leaders. They introduced themselves quickly: Ken, Trevor, Jed and Phil. These four were our guides and they sized up the group to see who could take the rapids head-on. John Nagle and Tom McNamara were the first two to jump to the front pontoons. They took Ken's expression to "suck rubber" to heart and wanted to charge head-first into those rapids. The crew, two per raft, threw the bags into the boats, lashed them down under tarps and we were off. Even on that first morning, we knew that it would be a chilling and cold experience on the pontoons.
Marble Canyon, Arizona
Greased up with suntan lotion, life preservers on, we received a river raft primer from Ken Baker, the lead guide. Running rapids can be scary and fun. We opted for both.  Ken was also helpful when any of the geological formations appeared. Within the first few miles we came to the Toroweep Formation, which Ken pointed out and explained as the boats drifted underneath them. Then we passed under the steel Navajo Bridge. A second bridge is being constructed and will be finished this year. The old bridge will become a pedestrian footbridge. This whole area is called Marble Canyon, which is known for its sheer walls, the dark desert varnish, and its beautiful sandstone formations. As Powell wrote, "We have learned to observe closely the texture of the rock. In softer strata, we have a quiet river; in harder, we find rapids and falls. Below us are the [limestone and hard sandstone layers], which we found in Cataract Canyon. This bodes toil and danger."
Our first heart pumping danger came at the river juncture with Badger Creek. Two fishermen were standing on the banks after having caught huge trout on the edge of the river. We watched them continue to cast their lines to our left, then as their flies drifted swiftly down towards Badger Creek Rapids. The Guidebook said that Badger Creek was a Level 6 rapid (on 0 – 10 scale). We headed dead center for the tongue of the water flow, and our raft went for a bone chilling ride that soaked nearly all of us on board. Wow! Badger was followed quickly by Jackass Creek and its rapids, which were also cold, wet and exhilarating. 
Badger Creek Rapids, Colorado River
Some smooth water right past those rapids, we meandered past 10 Mile Rock, which was an enormous monolith sitting right in the middle of the Colorado.
About 1 ½ mile later we hit Soap Creek Rapid, which was formed by debris pushed from Soap Creek into the main channel of the Colorado.  Since the river does not have the millennial annual flood, which have ceased following the formation of Lake Powell, the tributaries add a lot of debris to the canyon. The amount of tributary "waste" is of concern to the rangers and those who are looking out for the overall health of the River and the Park.
House Rock Rapids, get excited!
Soap Creek proved a great rapid, as well (also a 6) and a good prelude to House Rock Rapid, which, is a 7.  House Rock drenched the entire boat, as everyone, even those in the usually dry Chicken Coop, were covered in big water.  I strapped in on the front pontoons with John and Mackey on this one and rode the bucking bronco of a rapid, loving every wave-crashing minute of it.
John was shivering by now, but put on his wet suit and kept himself in the fray … a strong effort!  We have all now developed so much respect for the power of the river, it is very difficult to describe … How can something this beautiful be that destructive?  Without both characteristics it would not be the Grand Canyon!
North Canyon Creek hiking trail
Just north of North Canyon, we set up our beach location and camped for the night.  Before supper we went on a hike up North Canyon and identified Mormon tea, slick rock, jimson weed and canyon wrens.  As a bonus we heard bull frogs resonating in the canyon pools.  The chorus of frogs was loud enough to overpower a poetry reading and made for a break in the natural serenity of the spot.  We loved it nonetheless.
Dinner consisted of Alaskan king crab appetizer, spaghetti and meat balls, salad, garlic bread, and fudge for dessert.  My hands were pretty dirty, even after KP.  I guess I have given up the usual standards of cleanliness, falling into the Trek mode of filth tolerance when in the wild.  Others will fall in line soon enough.
May 31, 1995
This morning started early and the sun was on the rock rim after breakfast.  Everyone was reporting on injuries, bruises, cuts, scrapes, sore muscles and the like.  We all shared a talk of what hurt and how it happened.  There were some major gashes and some minor bruises, some major muscle pulls and some minor rope burns, but for the most part, people were in great spirits and ready for another day of rapids.
After breakfast of coffee, pineapple, pancakes and bacon, we donned our wet suits and continued into Marble Gorge.  Hitting a good group of rapids early, we were glad we all had wet suits on, as the canyon is in the shade and it can feel really cold this time of year before the sun hits.  The water is pretty cold (about 50 degrees) since it is coming from the lower part of the Glen Canyon Dam.  Sitting next to Wolfgang, from Germany, he calculated it to be 12 degrees Celsius.  Soon into the day we hit Cave Creek Rapids, then a smooth patch before 27-Mile Rapid, just past Tiger Wash. 
Boats downriver, photo by Steven R. Miller
We were feeling pretty good as the sun came on our section of the river, as the temperature was more comfortable.  The depth of Marble Canyon dropped and the striated layers became quite dramatic with red, black, red, black, white, red, black (repeat) as far up as the eye could see and your neck could stretch. Looking straight up was dizzying. 
The guides started the engines to our J-boats as we drove through what are called "The Mile Rapids," for the mile markers they represent:  Mile 24 Rapids, Mile 24 ½ Rapids, Mile 25 Rapids.  Then we hit Cave Springs.  We were warmed up now and ready for more.  The rest of the morning was spectacular, with the walls climbing right up to the River and some dramatic stops.
Vasey's Paradise, Colorado River
First stop was Vasey's Paradise, named after a botanist friend of Col Powell's, who would have loved the waterfall, which spouted right out of the sandstone cliff.  There were 25 or so species of plants growing by the edge of the falls, seeking nourishment from the rock and mist and wind.  We spotted a Cardinal Monkey Flower, which the river guides celebrated by handing out bananas.  While we ate, they made monkey calls and ape noises which echoed off the cliffs, adding to the humor.  
Redwall Cavern, Colorado River's natural amphitheater
Our next stop was Redwall Cavern, a small cavern adjacent to the river.  At least it looked small when standing up river.  As we walked into the cavern, we were surprised at how large it was.  It seemed to be so much deeper into the side wall than we first thought.  John Wesley Powell had estimated that the cavern could hold up to 50,000 people.  Last year, Anthony told us, when his group paced off the area, they estimated that it would hold about 20,000 people standing side-by-side, which is still a handsome crowd.  It is quite an alcove!
Back in the rafts, we next came to the Unclassified Dolomites, which Tom McNamara said sounded like an ancient Amish sect, with strong silent type men.  Ken told us that we were passing from the Supai Group of sandstones mountains to the Tonto Group.  A few rapids later, we passed through the Harding Rapids, which were named after President Harding.  John Nagle, our American historian, reminded us that Harding died in office in 1923.
As Powell said, "We have cut through the sandstone and limestone met in the upper part of the canyon, and through one great bed of marble a thousand feet thick.  As this great bed forms a distinctive feature of the canyon, we call it Marble Canyon."  Rising above these canyons are huge alcoves, areas where the whole wall has carved out like a bowl on it sedge. Above these wee enormous temples, spires which rose to the sky.  I could see why Barbara Ipsaro felt it looked like a cathedral.
We passed the Nankoweep Creek Rapid which has Indian Ruins nearby.  The rapid covered a surprising long area.  The water was cold today as it splashed us.  Next came Kwagunt Rapid (a 6 on the scale) which was named for an Indian Chief who owned the territory. The Chief had asked Powell not to explore the canyon.  Powell did it anyway.
Kwagunt Rapids, Colorado River 
In the Cottonwood Gulch song entitled, "Geologic Time" by Mason Rees, Peter Abrons and Rick Madden, the author uses the expression Great Unknown.  Powell actually used that terminology in his journal.  The Powell expedition had used up all but a month's worth of rations left when they arrived at Kwagunt Rapid and they faced lots of uncertainty. They had an indeterminable distance still to go.  "With some eagerness and some anxiety and some misgivings, we enter the canyon below and are carried along by the swift river."
We went next to the mouth of the Little Colorado River, which comes in to the main Colorado as a river with a blue tint.  The calcium in the water literally turns the rapids blue to our sight and it is also warmer than the larger sister river by about 30 degrees.  We hiked up, spotting fish about 25 – 30 pounds in the depths below.  We wore our life preservers like diapers and jumped into the water, floating on the river through the rapids for a distance of about 300 yards.  We climbed out, then walked up river to do it again. 
Little Colorado Confluence with the Colorado River
A real refresher after our days of smelly arm pits and no showers!  It is lucky that my camera worked at all, because it had been jammed and wet since we passed the Bridge of Sighs and stopped working altogether.  One of the German boat mates, Elmar was his name, fixed it in the nick of time.  Great news for me.  Tommy Mac had prayed for it and it happened.  Never under estimate the power of prayer.
Below the Temple Butte we made our second campsite.  Trevor, one of our boatmen, was sick that night so we had fewer hands pitching in to help.  Dinner took longer that night: bar-be-cued chicken, salad and mom's good ol' apple pie.  We smoked some cigars, popped a few frosty cold beers and went to bed amidst the willows.  The stars are as bright as I have seen them in years; the constellations of the Dippers (Ursa Minor and Ursa Major) and Cassiopeia are brilliantly visible right above our heads.
Ursa Major in the night sky 
June 1, 1995
Eggs, sausage, fruit, coffee, and a mad dash to the latrine ("Last Call for the Groover!") did not bode well for the day.  I fumbled around trying to put my contact lenses in and was having trouble getting the dirt out and my vision clear.  Running to get my pack in the line-up, my packing job was sloppy today.  The biggest rapids were ahead and the canyon awaited, so as Trevor said, "Things are looking UP!"  Overnight there had been some water released from the Glen Canyon Dam and Lake Powell, which meant two things: cold water and lots of it.  The water rose at least a foot in the Colorado, which made it also appear slightly more brown from silt and sand. Ken Baker told us about the great series of rapids ahead and ended with, "This is the rinver runners and rafters best run in the US, and one of the best in the world!"  With lots of category 8's and 9's and one 10 in the ride, we quickly anticipated the thrill, yet those of us who were novices had to imagine what some of those water troughs looked like exactly.
Early on we passed a huge lava outcropping called Chuar Lava Hill.  At the base of it was Lava Canyon and Chuar Rapid (a category 4), which was a good tune up for us on the front of the raft.  Since it was a bigger water-flow today, even the smaller rapids were heart pulsing.  With my contact lenses in place now, I could settle into the rhythm of the river.
Desert View Watchtower, c/o Fred Harvey Company.
We swung below the Desert View Watchtower, which was built in the 1930's by Fred Harvey.  The tower is at the east end of the canyon rim drive and is accessible by car from the Grand Canyon National Park. Tracy and I had seen that tower from the road about 9 years ago, when we visited the Park.  What a different perspective we got from the River!  It was here that Ken told us we were entering the Unkar Group of geologic formations. 
In the distance was a ceremonial ruin which was apparently used by the Anasazi to predict the planting seasons.  The rising of the spring sun and moon through a certain notch in the rim designated when the new corn and beans would be planted in the Unkar Creek delta.  Called Hilltop Ruin, the former pueblo is located near Cardenas Creek, which is now full of tamarisk, willows and mud flats. 
Tanner Rapid, Colorado River
We had passed through Tanner Rapid, which dropped about 20 feet, but we did not have any major rapid feel, due to the higher water level.  Unkar Rapid, on the other hand, was our first big hit of a wave that day.  We were totally soaked, dropping 25+' and hitting a 7 on the rapid scale.  In quick succession we hurdled several other large rapids: Nevills (7), Hance (8) and Sockdolager (7).  The last one was the best so far of the trip.  It was really challenging for the boatmen and the riders alike.  We had to hold on extra tightly, sustaining some time when it felt as if we were literally under water, not just getting splashed by a wave.  Those of us in the front of the boat had to learn how to adjust our breathing and our grip in these rapids. 
With nine possible routes to take and five different pontoons on the front of the raft, there are lots of varying experiences that each of us had with each rapid.  The usual stance included placing our feet on a rope and putting our dominant hand palm up in front of us.  If we were in the very front (John and Mackey's typical place) we grabbed the rope directly in front of us.  We then reached behind us and shared a grip on the rope with the rafter directly behind us. Between rapids, which were not widely spaced today, we would able to relax our grip and shake out our arms.  Some of us sat side saddle or between the pontoons.  The position during the rapids, however, was all business and very intense.  Usually we crouched forward ready to "suck rubber," so that the jolt would push us forward and not thrust us backwards, knocking heads with our behind neighbor. Aside from getting wet the rapids could easily throw the unwary passenger into the drink, so we were all mindful of approaching turbulence and left many conversations in mid-stream.
After the first day, really, the seating arrangements, while arbitrary, became semi-permanent.  It is hard to know why, but riders felt it was their assigned seat from then on. [Anthony and Barbara's river trip was quite different, as on their trip each passenger rotated to a different seat each river segment, which gave them vastly different views of the rowing, the gear, the boatmanship, and the water.  It also gave them time to take pictures some days, hunker down some, and relax others.] 
Those of us in the front consisted of John Nagle – front, center position – Tom Mac, Larry Fambrough, Edith Wolf, and Wolfgang.  There was another woman named Jana ____ something. We gradually heard bits and pieces of their stories: The Fambrough's are from Hammond, Louisiana.  Larry is an ex-football player, who was an All American running back at LSU.  He is now a sports medicine surgeon, whose specialty is orthopedics. Edith is an international banker with UBS and although based in New York, she travels all over the world.  She paid for the trip with extra airline miles!  Wolfgang is a very strong and powerful man, whose English is good.  He has a deep voice and seems very Germanic: limber, smiling, helpful, but serious when the situation called for it.  Wolfgang had a sidekick named Elmar, whose English was non-existent and his enjoyment of the trip was hard to gauge.  Wolfgang, on the other hand was a hit with all of us.  From time to time he would try to intimidate someone into leaving a seat, but he often laughed and stayed right smack in the middle where he was the previous ride. Some infrequent visitor to the front pontoons included Ashley Fambrough, and an English chap named Richard ________ something.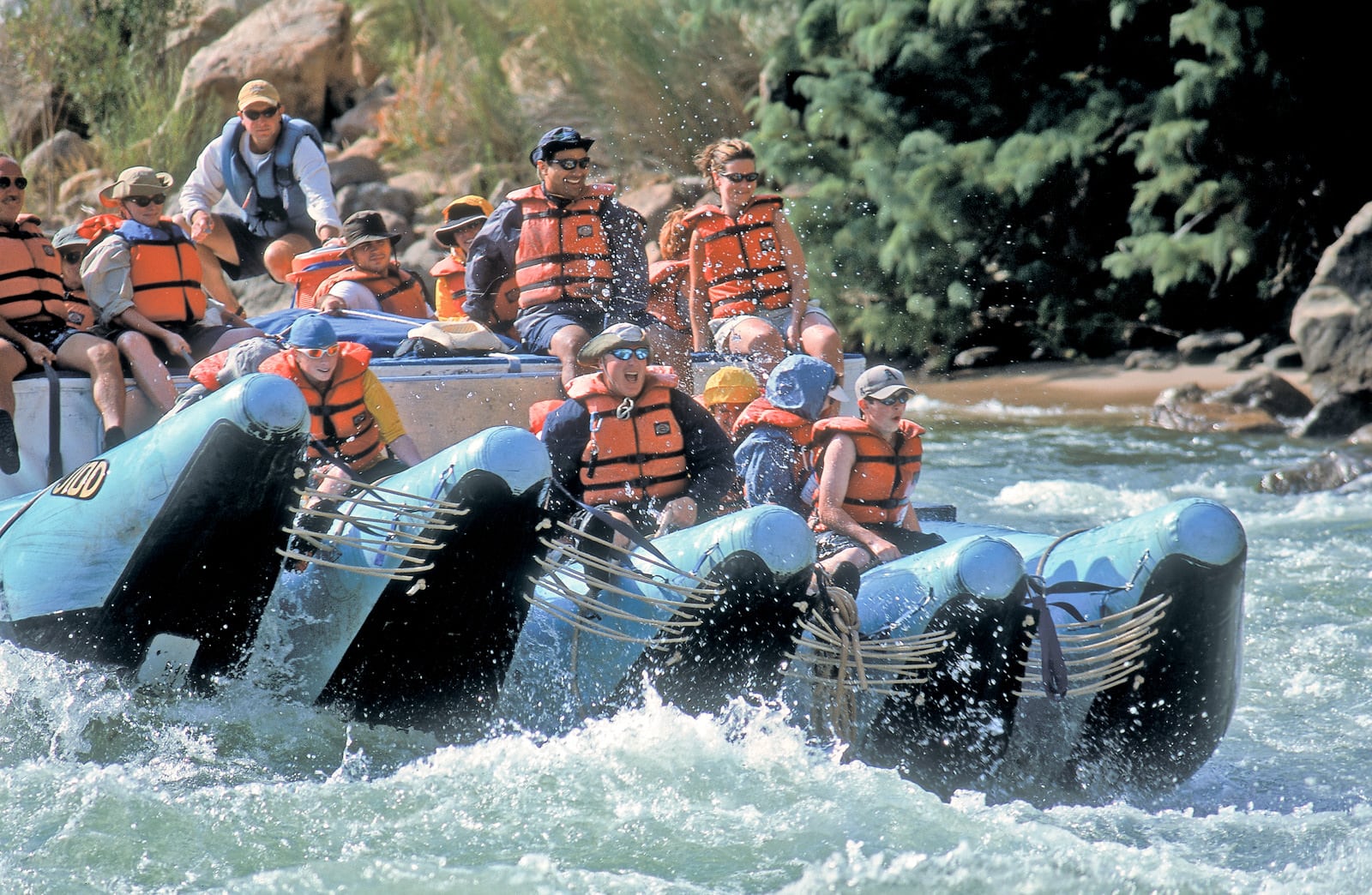 Rafting on the J-Boats through rough water
The rear of the raft, called the Chicken Coop, was were many sat to catch some sun, rest, recover from sickness (more on that topic later), or to get out of the cold water.  With the water temperature hanging at 55 degrees, it is easy to see how some people get hypothermia quickly. We coerced some others who were sitting in the Chicken Coop and rear section (including Anthony) to jump on the pontoons, but generally people sat in the same seats and changed positions infrequently.
We heard the story of a man in another raft who was swept off his raft in Crystal Rapids, which was approaching.  Apparently a wave hit the boat from the side and the water, instead of hitting the front of the raft, came up from the side, crashing laterally across the mid-section. So we took the cautionary tale to heart and made sure our side passengers were vigilant.
The raft had motor power in the back, where Ken Baker steered the craft.  He had a clear view through the middle of the passengers, past the 6 or so who sat in the Chicken Coop, around the four on the bulkhead, and among the 8 or 9 people secured on the front pontoons.  In all there were 17 of us on the raft, so it was pretty big.
Hance Rapid, worth noting, was rougher on Ken than on the passengers.  Ratings are for rapid turbulence (10 point scale) and rapid navigation (10 point scale).  Hance was an 8 for us, and it was a 10 for Ken's navigation.  It also dropped 30 feet in elevation so it covered a lot of river in that single fall.
About this time we came into two fascinating and geologically old rock formations: Vishnu Schist and Zoroaster Granite.  The Schist is a dark black color and the Granite is pink.  The colors were intertwined throughout much of the rest of the trip.  These two metamorphic rocks often intersected, creating dramatic cross sections and demarcation points.  Apparently an early geologist to the area, Clarence Dutton, had a fascination with oriental religions and he named these ancient topographical formations.  The sound similarity of schist with shit, our daily constitution, also made for a humorous reference to our morning nature call.  John Nagle loves to say Vishnu Schist almost as much as he loved to make fun of Yanni.  John would announce to us how spectacular his Vishsu Schist had been during his intimate time on the Groover.  We would remind him that Yanni, the one named, New Age, musical marketing wonder, had been watching him from the rim.  All for a good adolescent laugh.
Vishnu Schist 
After Hance Rapid, we hit Grapevine Rapid, a good one, then Zoroaster Rapid, several unnamed rapids, and then floated under a foot bridge.  Called the Kaibab Suspension Bridge, it is used by outfitters and hikers to cross the Colorado to reach Phantom Ranch.  We skirted the ranch after a brief pep talk from Capt. Baker.  The temptation of cabins, showers, souvenirs, and snacks was less powerful than the lure of rapids and more white water today, at least it seemed that way in our boat. 
 Phantom Ranch lodging and dining, Arizona
Phantom Ranch is located on the Bright Angel Creek, which flows into the Colorado from the North Rim of the Grand Canyon.  As Powell wrote, "Early in the afternoon, we discovered a stream entering from the north – a clear, beautiful creek, coming down through a gorgeous canyon.  We conclude to name it 'Bright Angel.'" Across the canyon on the South is Pipe Creek and up 1,000 feet is Plateau Point. 
Tracy and I had hiked from the South Rim to Plateau Point on our trip in 1987.  We had waited at the Mule Station to catch a mule down, but found it more expedient for us to walk, which we did down the Bright Angel Trail. The hike was about six miles each way and about 4,000' descent and ascent.  From Plateau Point I remember looking down on the rapids and thinking how small they seemed.  I did not imagine that I would be riding down the river with Anthony and my brother-in-laws these many years later.  Tracy and had passed by the Great Unconformity, which we did not recognize, and two rapids, but we were busy huffing and puffing the day away to know their names.  We were ready for a nap and dinner that night.
The Great Unconformity was a geological mystery to me. The Great Unconformity of Powell in the Grand Canyon is a regional unconformity that separates several rock groups from each other: the Tonto Group, the underlying, faulted and tilted sedimentary rocks of what is called the Grand Canyon Supergroup, and "vertically foliated metamorphic and igneous rock"s of the Vishnu Basement Rocks.  In geo-speak, "The unconformity between the Tonto Group and the Vishnu Basement Rocks is a nonconformity and the break between the Tonto Group and the Grand Canyon Supergroup is an angular unconformity." Or so that is how I heard it. The mystery is how the earth in the Grand Canyon is missing 165 million years of rock, between these rock groups, having vanished from the planet. Pretty darn amazing.
Geologist points to the Great Unconformity
These many years later, from the water view I realized that one rapid we had spotted was Pipe Springs Rapid (a 3, but felt bigger than that) and Horn Creek Rapid (a 9!).  Horn Creek was outstanding, and a far better thrill than we had expected.  We all said it was one of the very best so far.  Every river rafter hears raving reviews about Crystal and Lava, but we had had not heard anything about Horn Creek, as if the rapids were forgotten.  Not anymore!
From here we had a series of rapids that would also stay in our memory bank.  The first, in quick succession, was Granite Rapid, which dropped 18 feet and earned its 8 rating.  Next came Hermit Rapid, which was the best roller-coaster of the trip thus far.  Although only rated an 8, it seemed far bigger and wilder than that to us.  Holding on with extra endurance, we nearly lost many of the riders in the front of the boat.  We went up into the water, crested at about 10 to 12 feet, then descended the same height only to be hit by a crashing wave of white water, not once but multiple times. Jana, our New York banker buddy, lost her grip and was caught by Wolfgang, just before she was swept overboard.  John Nagle said, "I was a flea on a hot brick … my arm would have been pulled out of the socket before I would have lost my grip."  We were all whooping and cheering and counting heads as we came to calmer water.  Had we lost anyone?  No, all accounted for.
Sitting in the third position, behind John, was strenuous too.  One passenger from the Bulkhead seats, Sharon Potemkin, slid into me.  Her knee hit my water bottle, slicing a gash in her leg.  We were all still a-buzz and reeling when we came to the next rapid, Boucher Rapid (rated a 5).  Pronounced Boo-Shay', we took it well and gained more confidence in our own strength.  From here on out, no one changed raft positions more than one seat up or back. Tom Mac and I had decided at breakfast that morning to switch places half way through the day, so it was our time to do so.
Crystal Rapids, Colorado River
At this point Ken shut off the engine of the raft, as he did before every major rapid, and we drifted for a few hundred yards before he hopped forward standing in the middle of the boat to tell us what was coming next. "Next up is Crystal Rapid," he shouted, "a rapid created by a flash flood in Crystal Creek in 1966. There was no rapid here before that summer; it is now one of the most challenging rapids on the Colorado."  Second only to Lava Falls, Crystal had us praying, as Ken suggested, "Pray to whomever or whatever you consider your God that we make it through safely." We slowly approached the tongue of the rapid and had some major boat hits, but as it turned out, none of the hits was as menacing nor as violent as Hermit or Horn Creek.  We made it through with clenched fists, gritting teeth and high fives all around.  Tom Bagli gave a OWU cheer.  It was a real thrill to have ridden right into a 10 on the rapid scale, and to have come out whole and howling.  We were really pumped up by the adrenaline rushing through our veins. It was exhilarating! 
After Crystal we immediately hit Tuna Creek Rapid (a 7) and then went into what Ken called the "Gem Series of Rapids": Agate, (5), Sapphire (6), Turquoise (4), Mile 104 (5), Ruby (5), and Serpentine (7).  In the middle of that last one, Serpentine, we started to drift left and continued to drift, until we nudged the rocks, turned around, and began to drift backwards through a good portion of the twelve foot drop….not on purpose.  We had lost an engine.  Quickly maneuvering his boat, Jed, the second boatman, rode alongside us and pushed us sideways.  We needed to stay steady, so that Ken and Trevor could swap out the motor with the spare.  The stabilizing and motor swap took awhile, but failed.  The "new" motor did not work.  Wolfgang and Larry helped get out a third motor up from the hold and to foist it in place. After much exasperation, we were back in business. Larry badly cut his knuckles in the process, but as an old football back, he did not pay any mind.  Instead he rinsed off his hand and jumped back into his seat on the pontoon.
We had one more rapid before camp, called Bass Rapid (a 5 on the scale).  We were glad to hit Bass head first this time, instead of backwards.
Bass Rapids, Colorado River 
Speaking of backwards, I forgot to mention lunch.  We stopped at a sandy spot along the river, just past Phantom Ranch, called Trinity Creek.  The creek bed was not running; it was clogged by some large granite outcroppings and a minor lava formation.  Tom Mac, Tom Bagli, John and I scaled the granite ridge above the luncheon sand bank.  We waved down to Anthony to take a picture of us.  Then at the given signal, Mac, John and I flashed a full lunar on the group.  Tom Mac dubbed the picture, "Moon Over Granite," which sounded just right to me.  Only a few of our fellow boaters got a view of our antics, as they were hanging out under the tamarisk bushes and couldn't see our fleshy butts.  We hope that at least one person got a shot to include in our slideshow.
After Bass Rapid, we pulled into Shinumo Creek to enjoy what Ken Baker called ABC night, which stands for "Alive Below Crystal!"  After basic camp set-up we had the opportunity to go on a climb up Shinumo Creek, which, unlike Trinity, was full of water.  We walked into the frigid water as far as we could without getting washed away and just caught a glimpse of a waterfall.  We climbed a rock about 100 feet away and took turns getting the best view of the rushing torrent. 
Then Jed took a bunch of us, including Larry and Tom Fambrough, Tom Mac, John Nagle, Edith, Roger and me up a slope to the back side of Shinumo Creek, which was on the other side of the falls.  There was no actual path, just rough talus slopes to scurry up, trying to avoid knocking any loose rocks on those below you. The view from the top was spectacular, a full 360 degrees.  We had climbed up approximately 800 feet above the river, which was high enough to give us a view up and down the Colorado.  What a different feel than from the river bed!  After a few congratulatory photos we hiked down the back of the falls to Shinumo Creek and dove in.  Aahhh!  It was freezing and oh, so refreshing.  We found a trail from there that led us right back to our campsite.  We walked on the trail admiring the lichens and rocks and vistas.  What a great hike after a thrilling day of rapids.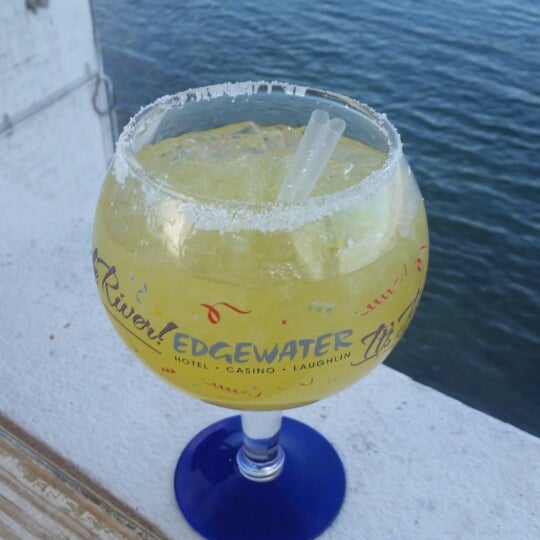 Margaritas on the river
For ABC dinner that night we had strawberry margaritas, guacamole appetizers, tacos, rice, and refried beans.  The best part about it was that all I had to do was show up, because the guacamole rivaled mine. It was a real fiesta. 
The campsite this third night proved to be problematic for several reasons.  First, it was windy that evening.  So windy in fact that a dust devil picked up and empty cot, whipped it into a whirling kite then twisted it in mid-air about 10 times before flying 30 feet in the air.  What goes up … the cot came crashing down many yards away.  I had just finished a minor bath by the boats and was preparing for dinner when the dust devil diverted my attention.  The whirlwind came directly towards me.  I covered my eyes and let it whip past and toward the kitchen area.  So much for trying to stay clean!  I had dust lodged so deep in my ears and nose, I couldn't get it all out with a Q-tip or a sneeze.
The second reason for the long night was the threat of rain.  At dusk we started to see clouds and it stayed cloudy until dark, when we began to see lightning on the horizon.  Tom Mac, Tom Bagli and I got up and struggled to set up tents.  We were fumbling around with the poles when flashes of light came scarily close.  Then came more wind along with rain.  In the process we woke up most of those who were asleep around us.  When our tents were finally erected, Tom Bagli crawled into one and Tom Mac and I climbed into the other.  Mackey was nearly asleep when I finally shoved my way into our tent.  I did not sleep well at all.  As it turned out, the rain stopped within a few minutes and it did not start up again.  All of the tent setting for naught?  So it goes.
June 2, 1995
Just as yesterday was the day of the white water and rapids, today is the day of the hikes.  Some showed a sigh of relief to be meandering into some side canyons; however, Ken warned us:  "Don't believe, however, that this is an easy river day.  Quite to the contrary, it is NOT?"  Starting first thing in the morning, we are all drenched in several rapids in a row: Shinumo (5), Katatia Rapid (5), and Waltenberg Rapid (7).  After about eight miles on the river, we came to Royal Arch Creek and Elves Chasm.  Royal Arch is located on the cliffs many miles up the creek bed from the Colorado River.  And Royal Creek was flowing well into the main river channel. A short walk from the confluence, however, brought us to a grotto of ferns and waterfalls and moss and monkey flower (no bananas this time).  It is a green haven of cold, clear water.
Elves Chasm near the Colorado River
Many of us scrambled underneath the waterfalls and climbed up to the mossy ledge from which we could jump into the water.  Totally refreshing, invigorating and wonderful.  Ken recited a poem to us written by a long-time boatman, named Vaughn Short, about the magic of the elves in this canyon. Having seen this pristine oasis first hand, it is easy to be a believer in the magic and mystery of Middle Earth, with its elves, hobbits, orcs, wizards and the like.  This place seemed touched by powerful forces and spirits which creep into your soul.
Back in the boats again, we drifted through rising canyon walls and into a narrowing riverbed.  Forster Rapid (6) and Fossil Rapid (6) are strong challenges, but the best of the rides for most of us was Specter Rapid (7) at Mile 129.  It was an excellent afternoon jolt.  A higher rated series of rapids followed with Bedrock (8) and Dubendorff (8), but they were better for some parts of the boat than others.  Tom Bagli loved Dubendorff the best and kept referring to it as Düsseldorf or "that German rapid," whenever we talked about the Day 4 rapids.
Dubendorff Rapids
When we reached Stone Creek we saw some Hatch River Expedition boats along the side.  (The Hooper family had been with the Hatch boatmen on trips down the Green and Yampa Rivers even before I was old enough (7 years old) to go car camping with my older siblings.)  We stopped for lunch on the beach adjacent to the Creek.  While the crew prepared the meal, most of us walked up Stone Creek to a waterfall for some more intense dousing.  Grinning away with a halo of water, all of "da boys" posed for pictures, just like the Japanese tourists do at vistas.
Hatch River Expeditions on the Colorado River
I climbed above the falls to get a good picture of everyone and had a short but brutal fall down the talus.  I scraped my feet, knees, arm … blood all over the place and camera and binoculars thrown to the side … it was not pretty.  Back at the boat I asked Jed for the first aide kit and he helped me get the blood to stop and the cuts covered.  Watching him as he helped, I noticed that Jed was missing a finger.  He told me it was congenital and only after of a series of operations could the doctors create a functional hand for him as a child.  Jed is very nimble with his hands and I would never have noticed if we had not been in such close quarters. He is none the worse for it now as his body has adapted.  He said that he has no other effects of what he described as a birth injury.
Pita bread sandwiches of chicken surprise (tuna fish) and fruit on the beach and we were soon off again down the river.  Within a mile and a half we hit Tapeats Rapid (5), which Ken said had "one nice POP."  Little did we realize that the POP would happen so quickly into the rapid.  It was also more violent than the typical 5.  Tom Mac was in the front, next to Larry Fambrough.  The two of them bumped heads ferociously.  Tom's bell was rung and he could not hear out of one ear.  Tom also had a Fambrough beard scrape on his shoulder that looked like a mat burn from wrestling season.  Wow, what a punch in the head!  Anthony was also in a lot of pain in his lower back, something must have nailed him, because he back had these muscle spasms that made him really uncomfortable.  He did not complain, but we could tell he had lost that easy going manner and reverted to a tight jaw of "man that hurts" tolerance.
After these rapids, we entered into the Granite Narrows.  The Zoroaster Granite (pink) and the Vishnu Schist (black) rose up hundreds and then thousands of feet on both sides of the Colorado. This is the narrowest part of the Gorge.  John Nagle took this opportunity to start a series of jokes, some rude, some crude, but all of them side-splittingly juvenile.  Just what he needed for Mackey to get his hearing back.  The motor was off for the most part here, as we laughed, looked up, saw swallows darting in and out of the shadows and just grinned inside.  What a place this is!
Zoroaster Granite and Vishnu Schist
We next stopped at Deer Creek Falls, parting our boat on a sand bar.  The falls was one of the most dramatic ones this close to the River.  The blast from the 150 foot falls created a bone chilling breeze and mist in front of the falls.  I spotted a dipper (Water Ouzel) on the rocks, so it was not as intimidating to all life forms.  We also spotted a black and white striped snake and a Chuckwalla Lizard, all within a few feet of the falls. It is amazing the life that water attracts.
After wading through the frigid clear water, we started on a hike to "the Source" of Deer Creek.  We hiked up some switch backs about ¾ of a mile to a vista point above the river.  The view was second to none.  The boats directly below, the river flowing left and right, the canyon in its panoramic splendor; we could have stayed here all day.  Jed showed us spots where the Vishnu Schist lay just below some limestone and sandstone.  There was close to 1 billion years of geology that had washed away and eroded between those layers.  The Great Unconformity was visible in many spots along the canyon, but this one proved vivid and memorable to me.  The others had not, as they had not on the Bright Angel Trail.
We took additional switch backs up the side canyon and could hear Deer Creek below.  We then lost sight of the water as it fell off at too steep an edge to view it.  We walked back into the canyon and along the ledge that was about the width of a Teva sandal. Our boatmen stood by the narrowest parts of the trail and assisted us as we inched our way through.  Across from us about 20 feet away was the other canyon wall, below us was about a 100 foot drop into the serpentine carved sandstone canyon.  Sure death to anyone with vertigo, it actually proved easier than it sounds. 
The stream above the falls went back to a cottonwood lined pool with great spots for bathing and sunning.  Beyond lay a desert canyon with a verdant stream meandering through. The area was particularly stark because a fire had raged through just last year.  Some camper had tried to burn their garbage and a wind had whipped the flames up into the dry grasses.  All of the cottonwood, willows, ash and alder trees were either charred to death or barely living.  Still an amazing abundance of weeds, grasses and other plants had grown up to give it more than a ghostly and eerie feeling.  Tom Mac and I saw a Lazuli Bunting in full view.  Its blue head was much brighter than the guidebook indicated and its field markings (wings, breast, throat) were distinct and memorable.
Lazuli Bunting
When Tom and I arrived at the SOURCE, it was already crowded with about 10 other people, including John Nagle, Jed, Emily and Larry.  They had kept a fierce pace through the charred valley, not stopping at bird sightings, and were already drinking the fresh cold water.  We could them remarking on the fierceness of the stream as it cascaded from the sandstone.  Similar to Vasey's Paradise, only bigger, the jet stream shot out from the rock face and crashed on the rocks below. I stood in the water, lazily sipping some of it, until my feet were totally numb and for some reason I did not mind it at all.  (It were as if my feet were detached from my body.)
Refreshed and renewed, Tom Mac, Tom Bagli, John and I walked back to camp together and wondered how we would describe the trip to others, like Tracy, Vince, and Joe.  John said, "This is the best trip of my life.  I'll just start from there."  Every day on the river was different, every hike in the side canyons a surprise … the whole experience is magical.  We all wanted to bottle it and take it home with us.  The feelings we each had were personal, depending on what we saw or felt about the canyon, the desert, the River.  It will be especially difficult for me to convey my feelings because they are so hard to articulate.  The canyon is both sensory overload and mystical stimulation, simultaneously.  I was so struck by the visual and the auditory that I will have to come back for additional trips to add the smell and feel of the place. I imagined the Indians living in these places centuries ago and the explorers who came here seeing the magnificent natural wonders for the first time.
When we were back down at the base of the falls, after a lingering, savored walk, I strode up to the falls to feel its force.  The water was rushing down and bouncing off the rocks, which sent plumes of mist into the air.  Atomized water droplets sprayed and diffused into the warm air with such deafening sound and tremendous strength.  I leaned into the wind and was held up at an angle.  In a matter of minutes I was totally drenched.  Taking time to pray for our girls in hopes that they were well.  I wanted them to live to the age that they could visit this place, take in the sensory experiences and enjoy the River.  It would be such a pleasure to experience it with them.  It is really special.
Atomized Water Droplets
Time flying by, it was late when we reloaded the rafts and drifted down past Deer Creek to a campsite, just past mile post 137.  This was our fourth campsite and our boat arrived second.  The drill is, as soon as you land, you rush out looking for a camping or tent site.  Throw your life preserver down to mark your spot, then go back and help in the "fire-line" of unloaded gear from the boat.  There is individual gear and group gear.  We unpacked it all and sorted it out later.  The group gear, like the kitchen items and cooking equipment was pretty heavy, but not as heavy as the Groover, which we all wanted to avoid carting at this point in the trip.  The latrine waste is carried throughout the entire trip and it gets pretty ripe.
The cooking area gets so much traffic and early morning noise, it can be a sleeping problem if you are positioned too close.  This campsite, however, was tricky…long and narrow.  Plus we were late claiming our spots.  By the time we landed and found a place to camp, we were left with NON-PALACIAL spots only.  So we split up: Tom Mac and I found a spot by the Groover and the others were closer to the shore line…I was nervous, but it turned out fine.
Steak, potatoes, salad, macaroni salad, garden salad for dinner and pecan pie for dessert.  It tasted pretty good going down.  I had a conversation with Peter and Sharon Potemkin.  It turned out that Peter was a Viet Nam vet and Sharon a former Red Cross worker.  They were both on second marriages with one child from each family.  Sharon is also a professional masseuse.  Anthony has been in agony for the past few days and none of us could loosen up the muscle tension in his back – the pain kept throbbing.  It hurt him to raft, walk, laugh, hike, lift — it was a real bummer.  I brought back word of Sharon's background and we immediately made arrangements for Anthony to get a pre-sleep massage that evening.  What we had not anticipated was that Sharon would add her own cosmic catalog of goodies and therapies to her traditional massage therapy.  The whole universe was brought to bear on the place.  And with the bright stars and moon-glow, the "eternal light" of the dash board of life was in full high beam…or so Anthony told us.
That night we heard someone getting violently sick and I assumed that it might have been a guy who had had too much liquid fun that evening.  I did not realize until the next morning that the whole Fambrough family was sick with fever, nausea and vertigo.  Larry gave them all some medicine so that they family could sleep on the raft that morning…they slept for most of the day.  So began the saga of the sickness.
June 3, 1995
I will always remember today as Havasu Day, though few of us on the trip actually made it very far into the canyon.  By the time I got to breakfast it turns out about 10 people were sick from the same symptoms as the Fambrough family.  Some had diarrhea, some had nausea, others had high fever, and still others terrible headaches.  Everyone who felt sick had a stomach problem of some sort of another, so lots of breakfast went to waste.
Havasu Falls
The boatmen recommended that everyone who felt sick to "lay low" that day and they agreed to softly take the trip further down river, lest those with stomach problems had dire consequences.
We drifted carefully past Doris and Fishtail Rapids and for the most part avoided the main channel, but five miles further we hit Upset Rapid (an 8 on the whitewater charts) and it was a doozie.  Those of us on the front pontoons held fast as we felt lots of turbulence, white water drenching waves, and lots of bouncing around.  Those in the Chicken Coop, who were praying for placid water, were disappointed.  Capt. Ken could not avoid the hits at Upset and the Chicken Coop squawked and groaned.  Just past Upset John Nagle started to feel sick and by the next pit stop, he was fully losing his breakfast.  Following Anthony's massage experience he poetically described the feeling as "communing with the universal light."

Several miles further down river that morning we hit mile 157, which corresponds with Havasu Creek.  All four of the boats in our expedition carefully maneuvered to the mouth of the Creek which was a clear aquamarine color as it hit the muddy Colorado River.  Those who were up to it took our packed lunches and hiked seven miles, with an incline of 1,000 feet to Beaver Falls on Havasu Creek.  John Nagle, Tom Bagli, Anthony, Tom Mac and I started out at a fast pace, but John and Tom Bagli slowed at the first pale blue pools and decided not to go all the way, preferring to relax and enjoy the travertine rock formations.  Anthony volunteered to stay behind with the pool sitters, and we are glad he did.  Tom Bagli and John began to feel worse on the trail and with the challenging path, crisscrossing trails, and rough terrain, they could easily have lost their way back to the boat in time for our departure. 
Tommy Mac decided that since it was not a race to the finish, he would "smell the roses" along the trip.  Besides, with the rising heat of the canyon (80+ degrees) and the coolness of the Creek (60 degrees), an occasional dunking and splash were both appropriate and exhilarating.  Tom and I followed the streambed for a few miles and it was quite slow going.  Tom spotted a trail further up the slope, which we scrambled to, finding the path much easier to follow.  We hit the trail just before it dropped down about 100 feet to a cliff's edge. 
When we got there we stood at the precipice and gawked: we were staring at a Blue Paradise!  Ahead of us was a 30' waterfall that fell noisily into an azure pool with a lip of travertine around its edge. People were jumping from a spot above the falls and into the depths.  Without hesitation Tom turned, handed me his camera and said, take a picture of this!  I thought he was going to "moon me," but instead he dropped his day pack and dashed over to the edge to jump in.  I caught a picture of him in mid-flight.  Tom came back and took a picture of me and we then swam in the pools, lazily ate lunch, sunned on the rocks, and chatted with our fellow Beaver Falls trekkers.  The bottom of the pools was sandy and the sandwiches tasted good as we took in the beauty of this sublime oasis in the wilderness.
Tom Mac followed our guide, Jed, hiking back to the boats at a very fast clip and "burning up the sandstone."  I was not feeling all that well, so I took a more leisurely pace. Crossing the last part of the creek, I started to feel ill and got sick by the edge of the trail, as the boats came into view.  Our campsite was nine miles further down river, so I held it together, barely, by concentrated breathing, like Tracy did in child birth preparation classes.  It did not help and I got sick again at the campsite.  Anthony and Tom Mac made a tent for me and I went immediately to bed, skipping dinner, which was too bad. 
Tonight was "Captain's Choice Night," and our captain Ken chose two themes for the evening: black tie or toga.  He loudly blew the conch shell calling guests to supper.  The meal started with peeled shrimp, cocktail sauce and champagne.  Corks were popping and the singing of the boaters was wonderful, even for those of us who felt wretched.  The crew was very chipper and announced at supper that despite the illnesses, they would carry forward with the campfire, featuring skits and an amateur hour.
John Nagle and Tom Bagli performed an air guitar version of "Dueling Banjo's" made famous in the movie, Deliverance, which proved brilliant!  They brought the house down with their visual and verbal skills, and the sick ones hoped we were not going to be asked to bend over like Ned Beatty.  Tommy Mac's skit, which kept with the Toga theme, was hilarious.  He was quickly transformed before our eyes into Steve Martin on Saturday Night Live (SNL).  Before we knew it, he was dancing Egyptian style across the campfire stage and singing "King Tut!"  It was especially fun, because Tom insisted on audience participation and after a little coaching, everyone came in on time to sing the chorus that started with "moved from Arizona…" perfectly.
Steve Martin as King Tut
After the campfire amateur hour, there were some impromptu awards.  Tom Mac gave one award to our Captain, Ken.  It was a piece of drift wood in the shape of the letter "L".  In his iconoclastic style, Ken took the award and shoved it down his shorts, with the bottom of the letter sticking out of his zipper fly.  It was impossible to listen to his next announcements without cracking up, but Ken kept right on talking as if nothing had changed.  The announcements were important, since he talked about the next day when we hit the second #10 rapid on the Colorado, infamously known simply as Lava.
We found out the next day that Tom Mac had gotten sick in the middle of the night and he had not slept a wink, experiencing his own communion with the "universal light."
June 4, 1995
We awoke pretty early the next day and most of us felt better, and Anthony and Tom Bagli were in the best shape, having avoided the sickness all together.  Tommy Mac, however, was in the thick of it and felt terrible.  Anthony prepped us on what we should pack and how we should prepare our bags, since this was our last day on river.  After putting all of the gear in the boats, we started down river toward Lava. We skirted Fern Glen and Gateway Rapids and the next seven miles were placid and peaceful.  Tommy Mac sat on the back part of the boat with others in the Chicken Coop, sunglasses on and hat pulled tight, just hoping not to get sick again.
The walls of the Canyon were widening from the River and outcroppings of Vishnu Schist and Zoroaster Granite began to appear everywhere: signs of volcanic activity from millions of years ago.  We also saw lots of barrel cactus, which were Anthony's favorites. Tom Bagli said they reminded him of "Cone Heads" also from SNL.
As we drifted further Ken told us to keep our eyes out for a large volcanic plug, known as Vulcan's Anvil in the middle of the river.  Legend has it that if all of the women in the boat kiss the rock, then the boat will have a safe journey through Lava Falls.  Not to tempt the Fates, we too pulled up alongside the rock and each of the women in our boat placed a lip-lock on the lava.  Ken turned off the motor after that and we floated in the narrowing Canyon, listening to the ever-increasing sound of thunder ahead.  With each quarter mile the sounds got louder and louder.  Ken told us the geology and history of the approaching falls and we were filled with anticipation.  He turned the motor back on after about a mile and powered over to the north edge of the falls so that we could get out and take a look at other rafters going through the Falls if we wanted.  Tommy Mac stayed in the boat, dousing his head with water to cool his fever.
Scouting Lava Falls on the Colorado 
From the top of the bank we saw torrents of brown water that were totally turning white as the water entered what is called the tongue of the rapids.  Ken mentioned that in some rapids little boats can skirt the big hits and not get upset, however with Lava, there is no easy route: rocks and rapids hit all boats from every possible angle, so there is no unscathed route through the Falls.  The guidebook shows that the water drops over 30 feet from start to finish, and quotes John Wesley Powell as saying, "Great quantities of lava are seen on either side and then we come to an abrupt cataract. Just over the fall a cinder cone, or extinct volcano stands on the very brink of the canyon.  What a conflict of water and fire there must have been here!  Just imagine a river of molten rock running down into the river of melted snow.  What a seething and boiling of waters; what clouds of steam rolling into the heavens!"  Jed led the first Western River Expedition boat and we watched his boat took 4 huge hits, as he skirted a huge rock and then his boat entered a huge hole and we lost it for a moment, only to see it emerge about 50 yards further down river.  "Wow, the river is running BIG!" said Ken.
Lava Falls on the Colorado
We walked back to our boat, with our hearts racing, and took our positions on the raft as Jed started to ease us away from the bank.  John Nagle, Tom Bagli and I secured our hands under the pontoon ropes and waited.  We were suddenly surprised to see Tommy Mac jump up from his seat.  He bounded our way and took a position right behind me on the pontoon. He must have been feeling better, because he blurted out: "I didn't come all this way to ride LAVA IN NO CHICHEN COOP!" And he screamed a cheer as we drifted into fast water.  So off we went, the intrepid four running BIG on the front of the boat while Anthony watched from his usual perch on the bulkhead in the back.
We took the same water route that Jed had taken and some good white water crashed over us.  We also had some wild side-to-side boat movements.  We were careful not to knock heads in the rapids when suddenly we were swallowed up in a huge hole.  Our boat seemed to nearly bend in half, as we hit the bottom and then came shooting up over the top.  The adrenaline was pumping even harder as we powered through the water and avoided boulders and plowed through huge white caps.  It was thrilling!  We did not lose anyone, which is a blessing, and immediately went to assessing the run: Tom Bagli said, "Not as good as Hermit and just as good as Crystal!"  John Nagle shouted, "Let's do it again!"  Tommy Mac shouted, "If you've got to groove, better move … OH SHIT!"  We all ducked our heads and were thankful he was joking.
A few more miles of lazy drifting … and we laughed, told stories, and relaxed before Whitmore Wash.  That spot was the exit point for our trip and the helicopter pad for our ride back to civilization.  We had travelled 188 miles on the Colorado, what a wonderful trip.  We gave a tip to our guides, said good-bye to our fellow boaters and hiked to the helicopter pad.  It is going to be hard to get back into "real life!"
Quickly exiting the raft, we repacked the bags, changed our clothes, and got in line for the tandem of flights out by helicopter.  We had time for some fast good byes with our fellow passengers.  We also tipped the crew for their extra efforts.  The crew members had done of superb job of cooking, leading hikes, telling stories, reciting poems, making camp, and running the river.  They deserved a complement for helping make our trip a thrilling, once-in-a-lifetime experience.  (We hope that we can do it again!)
The helicopter ride took us to the Bar 10 Ranch which is a spot to shower, before lunch.  The Ranch is a tourist trap, but there are no alternatives.  The shower was worth the price of admissions.  The water was a few degrees warmer than the Colorado River, but at least it worked.
Some small trinkets and videos and t-shirts later, we were still wet from the showers and barely finished making our sandwiches, when the van arrived to take us to the airstrip.  We took off in a few minutes and were on Scenic Airlines again and were overlooking the Grand Canyon for the last time.
We has so much more respect for the place now, it is hard to fully explain.  The river has several major rapids beyond Lava (mostly 4's, 5's & 6's) but it is pretty smooth rafting to Pierce's Landing on Lake Mead for our guides.  Three days to the Lake from them, we were over it and beyond in about 10 minutes.  The trip to Las Vegas took us about 50 minutes total and I snapped a few extra pictures from the airplane window.  I was trying to get an angle shot over the shoulders of a sleepy Tom Mack, who was tightly gripping his air sickness bag.
Lake Mead on the Colorado
Beyond Lake Mead and the Hoover Dam lay Las Vegas, but below us were more boats (all motor boats, and one with a sail), ski does, and some fishing skiffs.  Here we were on a Sunday afternoon and the place was mobbed.  I am glad that we were only passing over.
In the Las Vegas airport Anthony became a man possessed.  He went from counter to counter trying to get us a better flight home.  I was amazed as he "worked the counters" but nothing was as key as his leverage with United Airlines.  As a K-1 status traveler (100,000+ miles per year), he had clout and he exercised it beautifully to get as many of us as possible on the earliest available flight to Baltimore or Philly.  Tom Bagli count not have his flight changed, but the rest of us flew to Denver, first class, and then to Baltimore.  We were really spoiled by Anthony's extra special care of us.  We felt loved, and wanted, and important.  If the trip did anything for us it was that we felt important to Anthony.  He is important to us, as we all said to him, but we wish we could demonstrate it as he did.  After a week in the Grand Canyon, where the feeling of insignificance is powerful, it is amazing to feel significant again.
Thank you, Anthony, for all of the gifts you have given us, most especially for this astonishing trip in Arizona.
Western River Expeditions