Wednesday after Palm Sunday, John Ramig specifically mentioned the story of Jesus when he was asked whether he condemned a woman caught in the act of adultery. John changed the focus of the discussion from the woman to the angry crowd of lawyers and Pharisees. Re-reading the Gospel the next day, and reading an interpretation in the Magnificat, I came across two reflective readings. For simplicity, I have combined the Gospel reading and the two reflection pieces together. One reflection is by a Spanish priest by the name of Rev. Mariano Perrón, from Madrid, and the other is by Rev. Peter Cameron, who is the publisher of Magnificat, a daily reflections book (a gift from John Ramig).
Stone a woman to death!
Sunday in mid March
Fifth Sunday of Lent: "Do Not Cling to Things of the Past…Change Tomorrow"
John 8:1-11 (Bible Translation from: Good News)
1 Then everyone went home, but Jesus went to the Mount of Olives. 2 Early the next morning he went back to the Temple. All the people gathered around him, and he sat down and began to teach them. 3 The teachers of the Law and the Pharisees brought in a woman who had been caught committing adultery, and they made her stand before them all. 4 "Teacher," they said to Jesus, "this woman was caught in the very act of committing adultery. 5 In our Law Moses commanded that such a woman must be stoned to death. Now, what do you say? " 6 They said this to trap Jesus, so that they could accuse him. But he bent over and wrote on the ground with his finger. 7 As they stood there asking him questions, he straightened up and said to them, "Whichever one of you has committed no sin may throw the first stone at her." 8 Then he bent over again and wrote on the ground. 9 When they heard this, they all left, one by one, the older ones first. Jesus was left alone, with the woman still standing there. 10 He straightened up and said to her, "Where are they? Is there no one left to condemn you?" 11 "No one, sir," she answered. "Well, then," Jesus said, "I do not condemn you either. Go, but do not sin again."
Other Readings: Isaiah 43:16-21; Psalm 126:1-2, 2-3, 4-5, 6; Philippians 3:8-14;
Lectio
The focal point of our liturgy is the fragment of John's Gospel. As you may see in any commentary on John 7:53 – 8:11, the text is more than controversial: whether the fragment was originally written by John or has another author; why it was inserted precisely here instead of being placed after Luke 21:38; whether it was an historical event or an allegoric story; whether it was written as a sign of Jesus' compassion and mercy, or an example of the treacherous way the teachers of the Law and the Pharisees tried to entangle Jesus in dangerously tricky questions and dilemmas. All these dimensions (and some others), interesting and important as they are, should be respectfully put aside right now. The fact is, both you and I are here together with a common aim, the humble task of meditating and praying on the basis of the Scriptures, a limited but vital activity.
What points of reflection and prayer can the three texts offer us? Perhaps, we could begin with the last sentence of the Gospel reading: "I do not condemn you either. Go, but do not sin again." First of all, together with the acceptance of a real sin, a word of mercy which recalls Jesus' statement about himself a few verses later, "I pass judgment on no one" (John 8:15). But, most important and comforting for any sinner, "Go…." The implication is, the future is ahead of you, start a new way of life, do not look back. As at the beginning of this Lectio, this look toward the future goes beyond a simple promise to amend one's life. It means facing reality with a new perspective of hope. Whether our situation is that of a sinner, like the adulterous woman; or that of the people of Israel in exile, who have lost all hope and the only thing they expect is to be restored; or that of a Pharisee like Paul, who could boast about his fidelity to the Law … the past is the past. It is irrelevant. "Go," instructs Jesus. "Do not cling to events of the past … Watch for the new things I am going to do" (Isaiah 43:18-19a). "Go." "I … forget what is behind me and do my best to reach what is ahead. … God's call through Christ Jesus to the life above" (Philippians 3:13b-14). "Go, set out!" So should it also be in the liturgical expression of our faith.
Too often we linger on the negative side of Lent or even of Holy Week. Our sins and repentance, Jesus' passion and death, fill most of our spiritual space. It sometimes seems we have forgotten what lies ahead: the Resurrection of the Lord, our reconciliation to the Father and our sharing in eternal life. Once again, on this Sunday, the last before celebrating the central mysteries of the Christian faith, we are reminded of the final goal, the joy of Easter and the foretaste of our salvation. [1]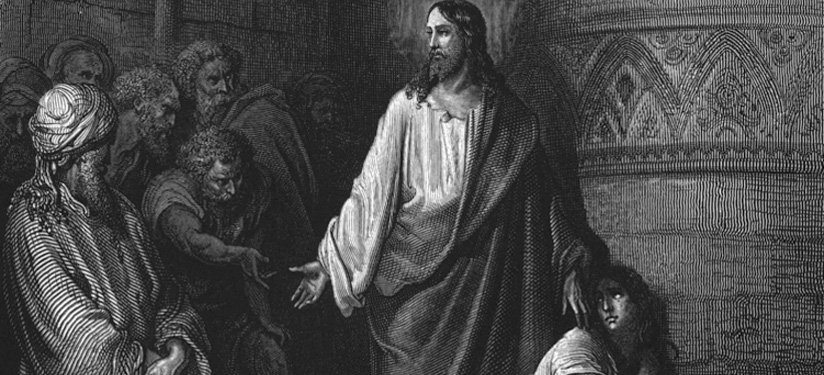 Another way to look at the Gospel reading is to consider what others have written about it. Father Cornelius a Lapide, S.J. says: "The Mount of Olives is the symbol of oil and of the mercy which Christ manifested there … Pilgrims travel to the mountain of heavenly refreshment in order to draw down grace and glory from God by prayer." St. Thomas Aquinas says, "The Teacher is present as seated, that is, going down to the level, so that his teaching would be more easily understood. His sitting down signifies the humility of his Incarnation." Blessed John Newman noticed, "Let us but know our own ignorance and weakness, and we are safe. God accepts those who thus come in faith, bringing nothing as their offering but a confession of sin…[Jesus] stands in the middle." [2]
St. Augustine says, "The Lord's enemies might be able to inflame popular feeling against him; they might incite the crowds to denounce him and demand his condemnation [along with the adulterous woman]. And St. Ambrose and others reflect on Christ's action of writing on the ground: "Jesus wrote on the ground with the finger by which he had written the Ten Commandments; sinners are written on the earth, the just in heaven." St. Jerome says, "Jesus wrote all the mortal sins on those who accused her." And St. Thomas Aquinas said, "Jesus wrote on the earth because the Old Law was written on tablets of stone, which signify harshness. But the earth is soft. And so Jesus wrote on the earth to show the sweetness and the softness of the New Law that he gave to us." [3]
Meditatio
We have left a good number of issues untouched in our Lectio. Let us consider a couple of them. To what extent do we identify with the woman? Have we ever been caught red-handed; felt ashamed for some fault? What was the main feeling, repentance for the mistake, accepting that we were not up to our own standards, our hurt pride? To what extent do we identify with the teachers of the Law and the Pharisees? Do we feel above others because of our haughtiness, our lack of criticism about our own flaws, our need to stand out? To what extent do we recognize ourselves in the behavior of the woman? [4]
Oratio
Pray for those (ourselves included) who need to have some sinner around us so we can feel their own justice: that we may recognize our common sins and our own need of forgiveness. Pray for those who feel discriminated against or despised because of their "irregular" moral or social situation (remarried divorced couples, ex-cons, abusive spouses, victims of any kind of addiction…): that they may find not only "patronizing understanding" from others, but real acceptance and the effective help they may need in their lives. [5]
Several times the Gospel writer says, "Jesus straightened up," as if to say that he moved from moments of communion with the crowd (sitting or crouching down) to a position of authority. Jesus' words at those moments are profound, as they are when he says, "Amen, Amen I say to you."  Jesus commands our attention by physically straightening, standing erect.  Even a man of average height would stand tall in a crowd of people holding rocks and intent on throwing them hard enough, and in such anger and fury, as to kill a defenseless woman.
St. Augustine says, "The Lord in his answer both observed justice and did not forego his gentleness." Rev. Peter Cameron says that perhaps Jesus was reflecting on the predicament of his own mother at his conception. As a women pregnant with a child by someone who was not her husband, Mary would have been subject to the same public scrutiny, the same transgression, the same sentence as the adulterous woman. Is it a coincidence that Jesus calls the adulterous woman the same thing he will later call his Mother, "Woman" in John 19:26? [6]
Jesus shifts the gaze of the crowd away from the adulterous and to the ground. Then He shifts the focus back toward the crowd. Fr. a Lapide says, "Deep calling upon deep, the depth of the adulteress' misery called on the depth of Christ's mercy. And so she fled not, since she had experienced the grace of Christ and hoped for more … He was left alone." [7]
Contemplatio
"They all left, one by one… I do not condemn you either" (John 8:9-11). Conscious of those facts, (our sinful condition and God's forgiveness), read again Psalms 32 and 103. No matter which dimension you prefer to choose, (conscience of your sins, acceptance of forgiveness or feelings of gratitude), pick a couple of verses to repeat as a humble prayer during the week. [8]
Jesus straightens up the second time to invite the woman into conversation and conversion. "Has no one condemned you?" "No one, sir," she replies. St. Augustine says, "She accused herself … [It is as if] the woman [were saying], 'I acknowledge both things. I know who you are; I know who I am.  It is to you I am confessing.'" And Jesus replies, "Neither do I condemn you." This truth revealed by Jesus needs to be contemplated by all of us who fall into the deathly trap of thinking, "I know God forgives me, but I cannot forgive myself." Jesus says, "Do not sin anymore," which sounds less like an ultimatum and more like a promise — the fruit of her encounter with Jesus Christ endows the woman with a divine power over evil. And so it is with us.
If we live our lives with the memory of this encounter in the streets, our love for Christ will exceed our desire to sin. St. Augustine says, "The Lord bestows on you an interval of correction, but you love the delay of judgment more than the amendment of you ways. Were you a bad person yesterday? Today be a good person. Have you gone on in your wickedness today? At any rate, change tomorrow." [9]
---