Hikes: Barranca del Cobre
Calling my friend, John Mayer, who lived in New Mexico seemed the right thing to do. It was freezing in my Maryland those early mornings in February, 1982 and John was living in balmy Albuquerque. His relative freedom, as a free-lance artist, made him an ideal accomplice on a spring break trip. We had talked about a ski trip the previous summer, but now it was getting close. Spring Break was at the end of March, just seven weeks away.
I was working at McDonogh School, and serving as wrestling coach, English teacher and Director of Development. My nerves were getting raw on the development front. The alumni wanted to pat themselves on the back for considering giving up the "Life Time Dispensation from Annual Giving" for having given a one-time $100 gift. And the headmaster wanted to gear up for a capitol fundraising campaign; however, only 20% of the alumni gave anything back to the school … Time for a break.
The financial plus was that round trip tickets to Albuquerque from BWI were only $185 on Texas International. Book it!
"Why not join me for skiing in Taos, New Mexico, at the end of March?" I suggested. "Well, I can only spend a few days up there. I've been talking with Wenda Trevathan, Arch McCallum, and Larry Barker about a trip to Mexico."
Mexico, now that sounded romantic and adventuresome. John added some additional details: driving to El Paso; heading south into the canyons of Mexico; cool mornings and hot afternoons … I was hooked.
The next telephone call, and the logistics were starting to flesh out. Time to postpone the trip to the slopes. It's Mexico, baby! The sound of the warmth and the nice neighbors to the South, what was there to gain? Montezuma's Revenge is just a myth, right? And all of the scorpions, tarantulas, Gila monsters, jalapeno peppers, chili's, blistering sun, cerveza, dust, desert … what did I have to lose? A sand dune-loving kangaroo rat like me. It would be like a trip with Edward Abbey of Desert Solitaire fame on a southern swing: "get by" and love it.
Where were we going again? "Well it is somewhere deep in the Sierra Madres, hombre," John said in his broken Spanish. Just the sound of the mountain range conjured the thought of Humphrey Bogart trammeling in the gold-laden hills in search of fame, fortune and eternal happiness. Coppery-tailed trogons and resplendant quetzals flying about, so full of color. The place we were headed was called the Barranca del Cobre. The name conjured images of a place full of reptiles and religious idols.
The name "Barranca," I came to find out, means deep cleft, sharp cliffs, a type of canyon with steep ravines and "Cobre" means the mineral copper. So it is Copper Canyon for us gringos. "What will we see there and do?" I asked. "Hike these steep canyons, as deep as the Grande Canyon, and as wide as the Salmon River Canyon, like 'the River of No Return!'" John replied. "What is the nearest town, so I can look it up?" John said, "Creel … yes, look it up."
The weeks before the trip were time to put aside thoughts of snow and skiing, and plunge into reference books on Northern Mexico. Fodors, Mexico had a good guidebook. Time/Life had some great editions dedicated to Mexico and so did Sunset Magazine. The pictures were stunning and so alluring. Spotting the Sierra Madre Occidental on the atlas, then finding the town of Chihuahua (known best for the small dogs), then by train on the famed Ferrocarril Chihuahua al Pacifica to Creel, the gateway city to the Barrancas. Got it.
I also found a great map in a book on the Sierra Madres that zeroed in on the canyons and the sparse population. This would be no typical SOUTH OF THE BORDER sojourn. The focal point was not Mazatlan, or Acapulco, Yucatan, Mexico City, Baja, or other tourist destinations. This trip promised to be an adventure into "the plunging barrancas that render some sections of the western Sierra Madre Mountain Range impassible."
The Plan
Take the Texas International connection through Dallas/Fort Worth to Albuquerque and land in time to enjoy dinner with John Mayer and other Albuquerque friends. The next day we would travel by private car to El Paso, catch a bus to Chihuahua, and the train to Creel. From there? Not sure. We would either try to hitch a ride or hike down into the Canyon and head for the town of Batopilas, a small burb on the Canyon floor.
Sounds great, right? Packing my bags, it was Batopilas or BUST!
An early departure from McDonogh, a friend from New Mexico, Peter Strickholm, who happened to be staying in Baltimore, drove me to the airport. My flight was at 3:45 pm. Checking my backpack, I went to the gate and discovered the flight was delayed. "Only about 15 minutes," said the gate attendant. With luck I would be in ABQ by 7:30 pm. Three hours later, we were still awaiting word of the plane's boarding announcement.
The past week in Baltimore had been typical for this winter: rain, snow, sleet, hail, sunshine, ice, warm, wind, and now frigid again. Time to have warmth and less winter craziness. And a day when you didn't need a sweater, umbrella and a rain jacket. Some no-overcoat weather would be great!
Missing my connection at DFW, Texas International re-routed us through Love Field in Dallas. What was I going to do now? Time to read through few more passages in the guidebook and search for recommendations on the hiking portions of the trip.
Fodors was first up: "Those who have been to both Copper Canyon and Arizona's Grande Canyon describe Mexico's Canyon as more spectacular and many times as long. It is reputed to offer the world's finest Mountain/Canyon scenery and is reached best by the Chihuahua al Pacifico Railway …
"This incredible route (dubbed as "The World's Most Scenic Railroad") was completed in 1961, after more than 70 years of digging, blasting, bridging, and building. The hardest part of the route, from Chihuahua to Los Mochis, passes through the rugged Tarahumaras Terrain, a vast complex of six huge canyons carved out by the Urique River, the Batopilas River, the Verde River and smaller tributaries of the Rio del Fuerte. The 'Impossible Feat' Railroad runs across 39 bridges, through 86 tunnels, and along 410 miles of track…"
One reason John suggested we go to Copper Canyon was his reading from a book called Land of Clear Light by Michael Jenkinson. He wrote about fantastic trips all over the Southwest, including down in Mexico. One of Jenkinson's trips included summiting Popocatepetl. For a while that was on 'The Mayer List' of summits to scale. Not any more! John saw the volcano erupting once, from out the window of a plane. Too hot to handle.
In one reference article someone was trying to figure out whether the Copper Canyon was truly deeper than the Grande Canyon. In total frustration that writer discovered "no one had ever bothered to do the measurement." So it goes in a land of mañana. There is no rush to do things in Mexico, time for siesta and relaxation. It's hot out there, especially in Tarahumara Country.
Arriving in Albuquerque about 11:30 pm, tired and feeling no pain (benefit of free drinks for the travel hassle), I was greeted at the airport by Arch McCallum, what a surprise! Arch hugged me, with his powerful bear hug, as a warm welcome to the Land of Enchantment. He had had dinner with John Mayer and joined him on the airport run.
Back at Casa Mayer, dinner had been a feast of chili and fry bread, salad and beer. Sue Trevathan, Jim Bazemore, Larry Barker and I were there with John and Arch for dessert of carrot cake and ice-cream: just what I needed to cap off the long day. John is an excellent cook and it was sumptuous. Jim Bazemore, after some cajoling with Sue Trevathan and John, had decided he was going to join us on the trip south. Arch and Larry and Sue were not.
John, Jim and I repacked our bags and we chatted away about our previous experiences in Mexico. I had little to contribute, but Jim had some great stories to tell. Before going to bed, we sang some camp songs, listened to the Go-Go's on the radio (UNM's radio station), and made bold predictions about the wonders of the trip we were about to take.
Waking us all up at 5:30, John made a hearty breakfast of onion and cheese omelettes, toast and jam, and black coffee. We showered, made final lists of things we will need handy along the way (maps, film, passport, driver's licenses, money to exchange, kool-aid). Sue Trevathan had lent us her car to drive to El Paso. The Albuquerque morning greeted us with an unusually cold rain, near ice, which was too reminiscent of the weather I had left back in Baltimore. Still it smelled like ozone, which gave it that New Mexico enchanted earth feel to it.
We hugged Arch and Sue, wished we were having four or five of us on the trip, and sped off to US Route 25 South. "Ciudad Juarez, here we come!"
Enroute we saw some great nature: rainbows, cloud formations, snow covered peaks, roadrunners, and more rain. We counted five roadrunners (and zero coyote) in about an hour near Socorro, which was more roadrunners (two) than I had seen in an entire summer before this trip. Views of the San Mateos, the Gilas, the Sandias were all snow coated and sparkling.
We commented on the change in plants as we headed south. The bushes and shrubs were changing color as we dropped in elevation and average temperature. The cottonwoods, willow, peach, cherry, poplar, creosote, sage and rabbit brush became greener and more flowery as we progressed. The rock outcroppings were pretty special too, red maroon, gold, brown, beige, and colors that defy description.
John told us about the Rio Grande aquifer which gives the valley we followed extraordinary water reserves while it lasts, and other geologic wonders which were all below ground.
Reaching Las Cruces, we looked for gas and a dust storm hit us out of nowhere. The dark clouds passed and the front was upon us…trash cans, trash, dirt, pebbles, rocks, branches, logs, hats all where whipped up in the vortex of wind. We jumped into the car for safety. Jim rushed to the station hut to pee and paid for the gas. The gas station attendant was standing in a plexiglass and metal cubical between the gas pumps and her cubical became a drum with various tones, depending on the size of the flying object that smashed her white cocoon. Not much protection from the maelstrom, which soon dissipated.
The rest of the trip to El Paso was scenic and uneventful as the terrain became flatter and drier as we headed toward the Rio Grande. Just outside of town we stopped for Texas Tourist Information and found directions to 1) the bus station, 2) the bookstores, and 3) parking lots. We bought bus tickets for Chihuahua and searched for a bookstore that might have a bird book specializing in Mexican species. Three stores later, one Bassett Burger in our bellies, and we were off to catch that bus. No bird books worth buying, I was left with my trusty North American Bird Book and would make do with that.
Parking the car in a lot below the bus station, we caught the 3:00 pm bus for Chihuahua, Mexico. After a stop for the US/Mexico border check, we were in Ciudad Juarez and switched buses for another going to Durango, Mexico, not to be confused with its namesake in Colorado.
We changed our dollars to pesos in Juarez and got 43 pesos to the dollar. The banks could have exchanged at 50 to the dollar, but we did not have time to find a local branch to make the transaction. The bus station took those 7 pesos and pocketed it – a hefty 14% surcharge.
South of the Border
On the second bus I shoehorned my backpack into a tight spot and got a fistful of unwanted grease on my hand. I wiped it on my pants and immediately regretted it: now I would have that dark spot for the rest of the trip. And it was getting steamy and hot and I smelled. We were the only US citizens of the bus. Stuffed in the rear we were with the locals, who balanced baskets, a chicken coop, and a small child on their laps. As Jim Bazemore summarized, "This is one of those times and places where no one would notice if we farted. We smell that bad already." It was cramped, the side windows curtain covered, and the air feted with human odors.
Gazing out the tinted windows we saw miles and miles of fences festooned with trash bags and tumbleweed. Along the roadside there were simple, plastic flowered graveyards, irrigated fields, shanties, pedestrians and gently rolling deserts. The occasional dust devil on the side, the area looked like Oklahoma or West Texas during the dust bowl era.
A well-dressed Mexican businessman was sitting about four rows in front of us and he did not even notice. He was glued to a cheap novelette of love, wealth and romance. Called Dinero Caliente (Hot Money), he read in steamy contentment. Looking past our fellow passengers, we could see the paint peeling from the cinder block walls, the abandoned homes, the shacks, the hovels. Things are beautiful, but life is not easy in the Sonoran desert. The landscape is part of their reality.
One Native American was wearing a Noxell t-shirt and he gave us some free advice about tipping in Mexico, "Give a little: It shows your generosity to waiters, hoteliers, cambios, grocers … they will treat you well in return." I spent the rest of the trip looking out the front window. The sun was setting (it was beautiful) and the cars coming in the other direction were frighteningly close to the bus. Not sure if one or another car would strike the bus, our bus driver kept up a fierce pace using both lanes of the two lane road. I prayed he did not intend of playing 'chicken' with the oncoming traffic.
Chihuahua
Arriving in Chihuahua, we immediately set out for a hotel that John had read about in his research. Unfortunately, it was closed for renovations; however, a hotel across the street, Hotel Apollo was open and we checked it out. An old style hotel with murals and bas relief sculptures, columns with scroll work, we found it matched our wallet and we checked in.
A nearby restaurant had some great smells wafting from the kitchen, so we hopped on that idea. It was Saturday night and the cerveza and food tasted just right. There was a party taking place in an adjacent room and the music was blaring. People were milling about, going between the room, the alley, the bathroom and the restaurant. It seemed like some sort of ritualistic courting among the party-goers. John said it was obviously a bar mitzvah. I had my doubts. We stopped an one more place for some nachos and cerveza before bed.
The hotel manager gave our room a wake-up call at 6 am local time (5 am Mountain time), and we groggily walked to breakfast at the same restaurant where the festivities had happened the night before. After packing, it was a five minute cab ride to the train station. We arrived in plenty of time for John to try out his Spanish to get us tickets to Creel. He figured out which track, train and car we would be in for the trip. We bought some fruit and drinks for the train, which seemed like it would be long and slow. Taking pictures of the locals and the shops, we settled into our car, which was mighty spacious, and got ready for Creel.
Guacamole, Ole'
There were some Californians on the trip, including a couple, Mike and Tina, from Santa Rosa. (We immediately nicknamed them 'Ike and Tina Turner.') They had been to Mexico many times and enjoyed the west coast and all of Sinaloa State as well as any place in the country. They purported it to be uncrowded, charming, visitor-friendly and a haven for birdwatchers. Besides tales of Ol' Mexico, Ike and Tina showed us a way to enjoy eating on the trip. We had purchased a few avocados from the vendors at the train station, but not much else. They suggested that we add some other staples (which they laid out on the table): limes, tomatoes, hard-boiled eggs, garlic salt, olive oil, fruit and crusts of bread to dig into the dip. With those ingredients they claimed we could stretch it into a great appetizer of even a whole meal. We took their advice and the new guacamole became a staple meal on our trip (and for parties forever after, "Hey, Henry, bring that guack!")
The other American we met on the train was Pamela Price. She was traveling alone, but open to joining others. She lived in Dallas, but grew up in Alexandria, Virginia. Her parents still lived there. Pam spoke fluent French, Spanish, Italian and English. After her brief statement of trip expectations, she agreed to travel with us and she became one of our most valuable companions in Mexico. Pam's proficiency with Spanish opened-up Mexico and the marvelous people to all of us. As we witnessed over and over again, nothing like respecting and mastering a native tongue to earn kindnesses from locals.
Photos of the rock faces were on my list, as they were massive and beautiful at each turn in the track. They lined the rolling countryside, supported the bridges, surrounded the tunnels, and loomed above the orchards. The trees, birds and landscape were constantly changing, as we moved up and into the canyons. We passed through small and smaller towns, stopping at only a few select ones to let on and off passengers. The train rose through the pine-oak forests to the Ponderosa forests. We were headed to the Continental Divide and the town of Creel. We passed by a town by a beautiful lake that was full of thousands of migrating birds. On the edge of the lake was a Mennonite village of about 75,000 people. The town specialized in cheese, fruit and lumber.
Standing on the landing between railcars, I tried to document the train trip, but the soot from the train's engines foiled my efforts. Nothing like cinder in the eye to march passengers inside.
Creel
After some cajoling, Pam decided that she would at least join us the barranca part of our trip and we were so grateful. She found us a suitable hotel in short order (Nuevo Hotel) and shunned the expensive Paradore, as she read us like a book. We went on an exploratory walk across town, down the dusty lanes and to the town graveyard. The mountain bluebirds, buntings, sparrows, finches, crows, doves and other species were all about. The real finds were a varied bunting and a committee of black vultures.
Pronounced like the fisherman's basket, Creel was a frontier logging town of dubious acclaim. The logs, piled up every-which way and everywhere, were supposed to be loaded on trains and trucks, but the equipment to do the loading was nowhere in sight. The stores were all brightly colored, the streets were dusty, and a heavy layer of smoke lingered on the horizon.
We climbed to the top of a mesa overlooking the town of Creel, took pictures, and discovered the cause for the dense haze over the town: there was a saw mill on the outskirts where workers had set fire to the saw dust. Smoke blew from the mill downwind and hung in a stationary cloud over the town.
At a local eatery, inside a neighborhood house, we consumed a great Creel meal of chicken casserole, cold enchiladas, salad and sodas. The locals came in clumps in and out of the house, checking out the food and visitors, we suppose. A group of girls at the next table got a lot of attention from the roving gents.
One thing we learned was there are no authorities on information, be it local customs or transportation. With each inquiry there were different opinions on what to do in Creel, how to get to the river, what to do in the canyons, who to vote for, where to eat, how to shop, etc. Everyone seemed entitled to give their version of the truth, or tall tales. As a case in point, we were directed to a second floor balcony as the best place for young adults "to hang out in Creel." When we arrived, there was no music, no food, no drinks, no nothing. We'd been had as gringos, even with Pam's translations guiding the way. John and I walked back to the hotel, while Pam and Jim went looking for a place to buy beer.
Like two boys in a fun house, John and I had taken a stuffed otter from our room and I put it on John's lap as he sat on a luggage dolly at the top of the stairs. I wheel-barrowed him around the corridor, dodging plants, tables and tall ashtrays. Suddenly the hotel proprietor stepped into the hallway and OOPS! He had been lighting a fire in guests' fireplaces and he caught us red-faced, as the juveniles we were! We back-peddled quickly and tried to come up with a legitimate excuse for our antics. In the nick of time, Pam and Jim arrived and we were saved by her quick smile and change of subject. Secured in our rooms, we drank Bohemian Beer (found at the Paradore) and told ghost stories by the lighted fire. The warm coals were a nice touch to the evening.
Up for breakfast, we walked to the Paradore and overpaid for a meal. Next we set out to find the best way to get to Batopilas. Larry Barker had mentioned that he had made a trek through Batopilas, while he was a student at Prescott College in Arizona. John Mayer had done his own research and decided that Batopilas was worth the slog, however we got there. Although the rest of us were not convinced of this destination, we went along with his suggestion. We picked up some items for our trip from a vendor on the edge of town: avocados, limes, tequila, onions, garlic, tomatoes, and various other food stuffs (we were only missing the hard-boiled eggs).
Tarahumara
Using the power of the thumb, we hiked and hitch-hiked on a logging road outside of town. It was dusty and mouth-coating with every truck that passed. We were eventually picked up by a logging truck that was headed for La Bufa, which was our interim destination. He dropped us off after a few miles. The road was dusty all the way into the deeper canyons and hot, yet we persisted. We walked some more, past no name towns, and stuck out our thumbs as each truck clouded by.
Before long we saw our first Tarahumara Indians on the trip. A quiet and reserved clan of native canyon dwellers, the Tarahumara have around 80,000 tribe members, who live throughout barranca country.
Pam stopped at a roadside house cluster to inquire about faster transportation and a man offered to give us a lift for a steep fee and tariff. We decided to walk, instead. That afternoon we caught a break with a ride that took us to a lake resort, about 10 miles outside of Batopilas. Another truck picked us up only moments later. As we figured it, a flatbed on an empty logging road, like mad dogs and Englishmen, was better than walking in the sweltering-hot, noonday sun.
The driver dropped us off in the middle of nowhere, and we lucked-out that yet another driver, with three companions crammed in the front, picked-up our foursome, helped us on the flatbed and agreed to drive us down a particularly steep road. They were headed to Huachachi, and promised to point us toward La Bufa. Since Pam was leading the conversation, the flatbed riders shared with her swigs of their tequila, handfuls of gorp, and small talk. John, Jim and I sipped on warm beer and watched the perimeter. Suddenly, the front wheel smashing into a rock, the truck had a flat tire. We hopped down. In a flash the truckers removed the deflated tire, volcanized a patch on the rubber, pumped up the repaired tire and off we went again. Our perch from the back of that truck took us dangerously close to the edge of one or two of the barrancas, which was only a hint of what lay ahead.
Our final ride that day did not arrive until near dusk. We had stopped at a small store to find out about the hike and met some Catholic nuns who worked among the Tarahumara. The nuns were hospitable, recommended a route, and we headed on by foot. If we were to find a place for the night, we knew time was ticking. Seven miles on and tired beyond breaking, we were about to set up camp, when a truck approached us from behind.
Pam, with her warmest smile and "Hola!", was able to coax the truck driver to cart us down into the barrancas to a camping spot past La Bufa. He was transporting some goods to Yerba Buena, deeper in the canyon. Those goods, mostly food, would be hand-carried two kilometres up a steep hill and delivered to a Tarahumara school located on the hillside. While Pam and John continued to ask questions of the driver in the cab, Jim and I rode in the back sitting on top of flour sacks, jars of strawberry jam, canisters, and egg crates. The night sky was getting dark, but oh, so slowly. We passed through the boarding school town of Kirrare and we waved to the girls as they walked by. One girl thrust her head from the side of the building and stuck out her tongue at us — universal sign of disgust. The peach trees around the school, blossoms smelling sweetly, took our attention away from that one student and towards the school dorms.
As the sunset began in earnest, the greater canyon came into view. It was gorgeous. We sat back and enjoyed the huge chasm as it opened up before us. Wow! Jim and I put our jackets on because the temperature on the flatbed dropped dramatically with the setting sun. We also put on hats and gloves, as the wind chill dropped the temperature further.
Left and right were the shadows of agave plants, as big as sheds. Some of them were blooming, with their spiked flowers shooting straight up. We spotted some organ pipe cactus as those desert species came into view. The evening gave us better and better vistas as the light retired. Grande Canyon-type scenery complemented the awesome sunset, as we switch-backed down to the river.
We had dropped over 5.000 feet and the thermometer fell about 20 degrees, before total darkness reigned. Only the trucks headlights for guidance, we kept going.
Crossing a rickety bridge at the bottom of the canyon, we saw bats diving and darting after bugs in the headlights. The bats swirled above us as well. I lay on my back and stared up at the canyon walls and the stars. It created a real physical energy rush. The driver was conscious of the bumps in the road on the switchbacks down, and we were grateful for that courtesy. In moments we were in La Bufa. It was a forgettable little town on the side of the road. We were disappointed. If La Bufa were a big town, what would Yerba Buena or Batopilas be?
Jim's night owl eyes spotted a faint light emanating from an adjacent wall. Signs of a Tarahumara home. Soon we heard a radio and saw a light on the other side of the river. It was the town of Yerba Buena. Really? It seemed more like a shack on the other side of the road.
We pitched camp on the sand by the river, cooked a freeze dried meal, drank tequila, listened to Pam play the flute, and went to bed. Jim and Pam were still full of energy, so they walked down the road to check out if other buildings were in the town. John and I admired the moonlight and hit the sleeping bags.
For eight full hours, I barely moved. Not yet awake, I luxuriated in one of the best sleeps in weeks. A woman from the village came down for water from the river at about 6 am. Starting to wake up, we noticed some pigs, goats, chickens, and children coming to the river for drinking water and clothes washing. All the town's activities took place at the river's edge. Sanitation hazards aside, the river appeared cold and clear. We protected ourselves by treating our drinking water with Clorox, 3 drops of bleach per litre, and we boiled it for extra measure.
A leisurely eaten breakfast, we cleaned-up, packed our bags, and prepared to head out. The truck driver who delivered us to this spot had gone on, but his goods were stacked neatly in a pile. The kids from the school came by and gawked at the crazy campers in the sand. Soon enough they carried the piles back up the hillside to the school building.
Pam entertained the students and the straggling porters by jumping rope, playing hop-scotch and singing. They spoke three languages: Tarahumara, Spanish and Sign Language. Not knowing any of these, all of us watched Pam. She engaged the kids in games of Blind Man's Bluff and tag. The kids were all laughing. Dressed so colorfully, they proved very photogenic. I took an entire roll of pictures, trying to get fewer staged shots and more candids.
Once the kids carried the last of the goods uphill, we started on our hike, which we projected would take a few hours. We soon learned that when a Mexican tells you how long a trip will take, they walk really, really fast (close to 5 miles/hour), and they carry nothing (not even water) with them. Our slow pace and heavy packs made all time calculations off the mark.
Up and down along the south side of the river, we spotted a green kingfisher, an oriole, a zone-tailed hawk, a pyrrhuloxia and hundreds of exotic birds that were not in my book. The plants and geologic formations were fascinating, but having no guides, we had to relax and enjoy them. I was taking pictures of hummingbirds and found my pace left me far behind my co-hikers. We passed by some Tarahumara farm houses that seemed more like lean-to's with gardens. It was a marvel imagining how these families scrape out a subsistence-living in these canyons.
Stopping by a bend in the river, we had lunch and felt assured that the next city was just around the bend. As we sat, however, the beckoning of the water was too much for us and we took a swim. On this lunch stop/dip I learned several key things to tuck away in my memory bank: 1) Rehydrated blueberries are horrible, even when you are starving for fruit, and the stains are equally telling. 2) No matter how much you feel you have lathered-up and protected your fair skin from the sun, it will find that open spot and nail you. Same goes for bug spray and blisters. 3) Pam looked fantastic in the water, and she looked even better as she stood, wringing water from her blond hair. Her clothes, clinging ever-so tightly on her body, adorned this goddess as she rose from the river. A frumpy, chambray shirt can be more revealing than I imagined. Hence, wet t-shirt contests get men's attention.
Batopilas
Back on the trail again, fair-skinned Pamela was covered from head-to-toe with sunscreen and dry clothing. We ran into a Tarahumara man wearing brightly-colored clothes, who said that it was only a "very short distance" to Batopilas. Following a narrow gorge, we went up into a large drainage area with organ pipe cactus and century plants and then back down to river's edge. Trudging along slowly, I felt my flesh searing in the hot, unforgiving sun. My hat and sun screen were no match for this glowing celestial orb.
The river soon took a fork in two directions, one heading toward an ancient aqueduct and the other leading along its meander. The aqueduct had been built over a century ago by the Spanish. It carried water to the townspeople a few miles away. Several school children skipped by us, each holding a brightly colored nylon bag. We kept walking and walking, slow and steady, and knew that sunset would soon envelop us. Other school children skipped by, one group carrying a near-drowned puppy in their collective grasps. They lived several miles away in the hills and walked the hot, dusty road every day, occasionally taking a dip in the river.
There was a bridge up ahead that crossed to the other side of the meandering Batopilas River. The occasional ruin was on the side of the road, as were remnants of a bygone civilization. Batopilas had once thrived as a mining town, as prospectors sought gold and silver, mainly silver in the hills. According to urban legends an American, named Ben Shepard, had built a private empire here, shunning the protections of the US Government. With his smelters burning hot, Shepard created a large stockpile of raw silver.
We crossed the bridge, passing a tiny store and several abandoned buildings. The questions arose, had we just walked all this way, suffered from bug bites, sunburn, and blisters for this town? Was this all that we could find in Batopilas? We confirmed our fear, when we passed a group of college boys from Indiana University, who said, "There is a hotel up over there, but no beer. This town is DRY!" The thought of zero cold beer and no tequila was almost more than we could handle at that moment. Jim Bazemore joined me in some apoplectic ranting about how unfair the ads were for this town, this no cerveza burb, this god-forsaken place. In grief we lamented, "No cold ones!" and forlornly whimpered to ourselves.
Finding our way to Hotel Clarita, it was the town's eating and sleeping center. Two boys greeted us, playing guitars on their way home from supper. Jim and I sat in weary silence, while John and Pam made arrangements for the night. The town of Batopilas was shaped in a long, skinny line on the west side of the river. Stretching out over three blocks, the homes extended from the bridge to just past the hotel. Our lucky day, we were staying in ciudad central for a mere 50 pesos per night.
The rooms were dark, starkly minimal, and close by. We walked up the stairs and found a place to rest our bones. The dark-green slip-washed walls gave the kerosene lanterns an eerie reflection. Our accommodations consisted of four cots and a back hallway, which led to a sink and toilets.
Sanitation: Water Hazardous to Your Health
The sewer pipes all drained from the city into the river, which sounds like a cholera epidemic about to explode. The toilets in our hotel consisted of a tiny room, built out and away from the building. Inside was a plank with two round, butt-shaped holes cut in it. The view down the hole was of the Batopilas River. It emptied directly into the water, no pipe, no slough. A Baño is a plank and kerplop, splash, right into the water. Indoor plumbing is centuries old, right? Amazing to see zero sanitation in a North American town today.
John noted that one of the best uses the residents had for the aqueduct effluent was the filled tank in the plaza. "In early evening the men watered down the narrow dirt road that was Main Street, to make it less dusty. There were no cars and no street lights. It was dark, but not too dark to see. A few residents played guitar on their porches while the locals walked by on promenade.  It seemed like we'd been transported to a place and time that existed only in the imagination—but this was real."
With reservations made at Restaurant Clarita, we wandered down the cobblestone streets in search of the best food staples in town. Most were closed for the night or boarded-up. Finding one, it was full of odds and ends — tires, dog food and fruit. Somehow John and Pam figured out that we would save a bundle by having two kilos of corn flower made into tortillas for our Batopilas stay. The store owner claimed that a friend of his might be willing to make our bread for the next few days. Pam and I knocked on a door, waited, and after about a minute, were greeted by a pleasant woman who was willing to roll and cook our flour for us. Pam asked if she could watch for tonight, and she said that it was boring, but sure.
She welcomed us into her kitchen, one bare room with flower murals, a crucifix and no furniture. The woman invited us in and we walked back into the house, descended some back steps, and looked at her garden. It was resplendent with fruit trees, orioles, chickens, piglets, children and lots of garbage. A whole other world appeared on this side of the house; one we would never have imagined it from the street. The family had some shy girls among the children who wore uniforms like those worn by Notre Dame Prep in Baltimore, with sandals in place of saddle shoes. Pam spoke freely with them about their everyday life in Batopilas, in school, and at home. She even made arrangements to meet with the girls' teacher to lead a class in English instruction, if the teacher were up to it. A bold plan, indeed, for her trip.
Back in the kitchen, the baking took about an hour and we had to hurry back to the boys with the tortillas, wrapped in one of the baker's tablecloths, so we wouldn't miss Clarita's dinner. We got back and found John and Jim enjoying being off their feet and smelling the scents of picked flowers and clean bodies. They rested against a white-washed wall across from the hotel and were falling asleep. Jim, eyes closed, recited the scents that came to his senses: the aroma of pigs, the scent of cooking beans, the nectar of bougainvillea; tortillas baking, coffee brewing, lips smacking; boys sweating, perfumed women passing, evening approaching. The combination of animal, mineral, vegetable were awash in the streets. Jim found the aromas a paradox, "It is both attractive and repulsive at the same time." Whatever the sensation, it made for a "head rush" for sure.
The dinner, which was served to us by Clarita herself, was set on a table in her living room, one of the three small rooms in her house. Part of the hotel, Clarita's quarters consisted of a bedroom, a kitchen and a living room. The kitchen was already crowded with about eight guests, crowded around a long table. She insisted that we sit and eat: beans, potatoes, tortillas, fanta, and chilies. Jim challenged me eat one of the chili peppers in a jar in the middle of our table. Although he never actually forced me to take it, I immediately knew it was a big mistake: my lips became like a hot poker, a flame on my tongue and my throat searing in agony. I touched my eye and it could not water enough to help me see straight. The heat had to be smothered, but with what? Water and fanta di limon. The pain persisted for the entire meal.
Rule # 1: Do not lick your lips or touch your face, when eating a hot chili pepper. They will be on fire along with your mouth.
Rule # 2: Do not swallow a pepper hotter than you can stand. You better know your limit and the Scoville heat scale of the Jalepeno before taking a bite, or you will regret that one all the way through your system.
The other guests paraded around the three rooms, watching people as they ate and conversed. The flow of people from Batopilas kept circulating for a couple hours, before they left for the night. Old, young, hungry, full, wandering, attached, ugly, beautiful, the parade was like life, full of differences.
Awake with hot flashes and sweating spells all night, it was a long darkness. Opening the window for some fresh air, a bat flew in our room and dropped its guano on Jim's face. He jumped up, wanted to know what it was, and nearly wet himself. I was dozing off, when something about the size of a centipede started crawling up my leg, so creepy.
I was already awake with stomach cramps, when the birds started their pre-dawn chatter. I felt terrible and found my stomach in revolt. Running to the bathroom, I sat down and felt the final effects of the hot pepper on my system. It was a long, sad, end-run. After that episode, I developed a new consciousness of the expression — "flaming asshole!"
John and Jim made some huevos rancheros for breakfast, but I declined. Pam said it was the best breakfast ever, but my stomach told me to wait until later. Liquids and light eating only today.
The day's activities centered around our exploration of an old fort across the river and down about a mile from the heart of town. It looked less like a fort and more like an old stable and barn that had fallen into disrepair. Our lunch supplies fit perfectly in the tortillas we had from yesterday and we wandered across the footbridge. Pam did her Nadia Comaneche imitation, showing her flexibility and grace.
Taking pictures of the trees and their Mordor-esque root systems, they were growing out of the town walls, literally. The roots scrambled all over the ruins. Jim and I walked to the far end of the ruins and tried to find a place above the scene to get the best birds' eye view. A native resident woman suddenly appeared and gave us "the look" (an evil eye), and we knew immediately we were not welcomed, so we returned to the more hospitable part of the ruins for lunch. Our standard lunch fixings came to be tortillas, guacamole, and water. While we ate, a vermillion flycatcher was swooping over our heads, darting in and out of the trees. It was magnificent.
Searching for a place to swim, we headed north along the river and found just the spot. In Batopilas all of the pigs, goats, chickens, children and adults bath together, so we felt it was a good idea to avoid drinking the water and to move deftly upstream. Just out of sight of the village, we carefully crept along the rocky shores and found the perfect place for a river plunge. Pam brought with her a turquoise bathing suit which she dug from the bottom of her pack. It had been a year since any of us had dressed in summer attire and Pam set the perfect tone. She looked fabulous: transformed as a mermaid in our imagination. Fun reverie for men, whether single or not.
Returning to town, Pam bartered with a farmer for a papaya and we walked ever-so-slowly eating bites, telling stories, and watching the residence of Batopilas walk by. The experience was just the tonic I needed to get Baltimore out of my brain and experience something completely different. My everyday hassles melted away in the warmth of the barrancas and the coolness of the river.
The town church was old and decrepit, just the place for some more photos. Pictures of us getting water, stopping in tourist traps, Pam getting into a deep conversation with a shop keeper, Jim taking in the town square, John birdwatching. It was a relaxing morning and early afternoon.
Pam made arrangements to teach that English class to young students at the local school, while I lamented about the chili-pepper caper, the missed huevos rancheros, and my still-sensitive stomach. John and Jim took on the task of figuring out the best way for us to return to Creel.
Dinner consisted of fried chicken, enchiladas with peas, sharp cheese, and a custard/raisin pie for dessert. My appetite was returning. A German couple shared the table and they had three months of stories in Mexico, as did a math teacher from Chihuahua. The math teacher was in Batopilas to study the architecture and the signage on the houses (again, I wished I spoke Spanish, so I could participate in the conversations). Apparently the signage was a code used by the public health ministers to point out which houses had been fumigated and the residents treated with the polio vaccine. Here we were decades after the Salk Vaccine and the cure was just getting to the Barrancas. Next round of treatment? Cholera, no doubt.
The night life for Batopilas seemed all about walking, gazing, talking and preening. People strolled arm-in-arm and would sit and watch as others paraded about. The women were expected to leave the scene early to allow room for the adolescents to have 'their time' on the square. The men soon wandered off to play pool.
Satibo
Going to bed early tonight, we wanted to rest up for a hike to Satibo' tomorrow. It is a church about two-hours walk (reference earlier difficulty predicting times of trips in Mexico) from Batopilas. The mission is still used by the Tarahumara for their Easter celebrations. The instructions were to get up early, hike in the coolness of the dawn, because, as the math teacher advised, "it is a bitch of a hike in the heat of mid-day."
Next morning we were up early and several children passed us on their way to school, walking with their nylon bags and bright clothes. The fall of the river, the rise of the stark cliffs, the coolness of the shadows, the cooing of the mourning doves, the whiz of the hummingbirds, the mystery of this church … kept my mind racing and wondering. I felt goose bumps.
Several hours later, we arrived at a point where, between several cacti, we spotted the spires of the church. It blended into the hills, a fleeting memory of the adobe from a time long ago. Crossing a rickety bridge, we skirted past a terraced farm, but stayed on the lowest terrace-level. Adjacent were other buildings and yards full of goats, lizards, snakes and turkeys. We also saw lots children, miners, flowers, shacks and the community members who made up this congregation.
Pam asked a local man how we might get into the church and he said he could arrange it. His name was Hector and he got a key from the church curator. Unlocking the door, he immediately gave us a tour of the stark, musty-smelling chapel. The church had crumbling timbers, sagging with the weight of aging adobe. Inside many of the paintings and murals were obliterated by weather. There were no tapestries. The religious relics, wooden cross, adobe floor, fading paint set the scene. The Tarahumara, the Mexican residents, the visitors all honored the space out of respect for our mutual humanity and our yearning for divinity. Even John, Pam and Jim were impressed. The overall effect was awe.
Hector also was kind enough to tell Pam his story, which she translated. He was a local farmer and was raising his family and following traditions to the best of his ability. Telling Pam he had never seen binoculars, we showed him how to adjust and focus on distant images. Hector saw heat waves rising on the mesa and spontaneously insisted that, since it was now quite hot outside, we must come to his house for siesta.
Instead of siesta, though, it was more of a fiddle-off music event. Hector had five sons, all under the age of 15. Three of them, he mentioned, were musicians. They played violin, flute, guitar, castanets, and percussion. The three sons were versatile musicians, picking up and playing all of the instruments. Before the festive nature died down, one of the other sons was invited to dance a traditional dance for us. The young dancer was in full dress: his legs were covered with "shells" that rattled like maracas with every step he took. His bare feet stomped rhythmically on the clay floor. Pam and John translated that the shells were butterfly chrysalises, with the dried, mummified caterpillars inside. The dancer maintained fluid motion, strong and steady. I was clapping ever-so lightly, which I thought might add to the dancing steps, but John put his hand on my arm to stop. The dancer and musicians had their own rhythm — straight forward and simple. No need to interrupt their purity with syncopation.
The wife of the household sat stoically embroidering a blouse the entire time we were there. The men and boys were singing a few ritualistic songs, and the house cooled with the breeze. John and I agreed to play guitar and sing a few Trek songs. Jim sang along, joining us as a thank-you to this kind-hearted family. We felt so fortunate for Hector's tour and were privileged to be invited to siesta. He firmly refused our tip. A short few songs of thanks later, we were glad Pam was there to give Hector's family the sincere Spanish words of gratitude.
The trip back was hot and sweaty, which made us think of cool dips. Stopping briefly, we saw a man with a burrow. The back of the animal was stacked about four feet high with wood. Pam and I chatted about teaching English and she said she longed to teach in Mexico some day. She proved so invaluable to our trip. Off to the left by the river, a young girl dove into the water, dress and all. We left her to her cool, private oasis and we sipped our canteen and trekked on.
Spotting a belted kingfisher, John talked aloud about his dreams of chicken for dinner. He was hallucinating again: time for more food. We hurried back to town, while Pam hustled to go teach her class. Jim and I decided to sneak off for a swim, while John took a nap. Aaahhhh!
That evening we ate at Tina's, which even the natives said was the best dining experience in Batopilas. Since there were only two public dining spots, it seemed faint praise. We ate enchiladas and talked with our table partners (three young guns and two older English gents) about life in Batopilas and outside of Mexico. The town, which had seen a lot of political and economic turmoil over the years, was a complex one, despite the small population. We enjoyed the conversation more as it steered around to talking about the politics of the barrancas. (Pam and I cozied up to a long-time visitor and asked where we could buy a cold beer. He said, "Gringo, only those IN THE KNOW can do such things. And you are not 'in the know.' For you, this is a DRY town!" Oh, well. It was worth a try.)
Arriving again in the town square, we were in for a surprise. All of the school children, who had been in Pam's class that afternoon had taught their older and younger siblings the songs that she had recited in class. They proceeded to shout out the lyrics of the songs loudly and march around us. I was nervous, but Pam was thrilled! The kids surrounded us and hand-slapped our heads, shoulders and backs. I was not sure if I liked the treatment, but as long as Pam was pleased, it was worth it. Just one day in their classroom and Pam had made an indelible impression. She's a born teacher.
That night we packed our bags for the next day's travel and relaxed on the cots in our sleeping bags. We were serenaded to sleep by neighbors who quietly played accordion and guitar and sang ballads. We drifted off to sleep, knowing we had an early morning again.
Truckin' to Creel
Up at 4:30 for a 5 am departure, John and Jim had made arrangements for us to hitch a ride with a local trucker departing for Creel. We secured the final pack pockets of our backpacks with toiletries, knickknacks and ointment. We breathed in the lingering scent of the kerosene lantern and walked out to meet our ride. Two neighbors of Clarita's, Avril and Richardo, joined us, which along with the driver and his mates, made for 11 passengers with seven cramped with packs in the rear of the truck.
Wrapped in winter clothes, we shivered. The early morning constellations and moon were still dominating the sky above the canyons. Sitting on our own packs, we farted away with aplomb, as the backfiring of the truck obscured any offensive sounds or smells. Jostling around the back of the truck, without falling off our packs or the flatbed was a challenge. The town of Yerba Buena came and went in no time, which made our foot traveling much shorter. The trip, end to end, took nine (9) hours, so our progress up from the valley floor was great that day.
One of the most vivid images was that of Ricardo, striking a wooden match and lighting his filter-less cigarette. The wrinkles in his face, the intermittent glow of the red-tipped fire, the scent of the burning tobacco all made for a memorable image and aroma. The tobacco smell helped shield me from the truck exhaust, which wafted around us all of those nine hours. Feeling nauseated, it was hard to enjoy the rosy fingers of dawn that day, as light spread across the copper cliffs. We were bumping around so much in the back, we had to constantly check our balance. Taking pictures was futile. It was time to cover my nose and enjoy the scenery: press the beauty into my mind's eye.
Breakfast at a small farm house about four hours out from Batopilas, we were again guests at a local table. The proprietor had not anticipated that there would be 11 diners, so she had to water down the meal to stretch it for all of us to have a share: luke-warm soup, tortillas and pork strips. It did not sit well with me, after a morning of smoke and exhaust, so I ran to the outhouse and lost my tortillas and all. The outhouse was into a deep hole in the ground, and the stench did not help my nausea. If anything it gave me a reason to shed a few pounds.
Feeling "green and punk" for the rest of the trip to Creel, it was time for a nap. However, John was in a chipper mood. Pam asked John, "What is the meaning of the lyrics to the song Afternoon Delight?" I cracked up as John tried to delicately put into words what the skyrockets were all about. Time to laugh, despite feeling terrible. A good chuckle can temporarily banish misery.
About 2 pm we rolled into Creel and all made a dash to the package store: cold beer, tequila, salsa, avocados, tomatoes, and chips. Our foursome had enjoyed sips from a bottle of mezcal on the trip, and we were now believers that we should "drink life to the worm," At least that is what John remembers the locals saying about the tequila. "Buy a good bottle with a worm in it and drink it all the way down."
Jim and I settled for the cerveza and let the other "supplies" ferment in John's backpack. Our plan had been to arrive in Divisadero by train that evening. If we got lucky and caught a "milk run, local" we could arrive before nightfall. Catching our breath, we contemplated our situation: 1) we had a case of cold beer, 2) it was early afternoon in the hot sun. After our morning, all I could think about was #1. Pam and John quietly sliced up a bowlful of fresh guacamole dip and passed around the beer and mezcal. Things were looking up!
One of our fellow travelers on the truck from Batopilas was about to catch a train to Chihuahua, so we gave him a few cerveza for his journey, "Adios, amigo!" Meanwhile, we camped out in front of Hotel Nuevo, wrote, drank, talked, took pictures, drank, lied, laughed and thought.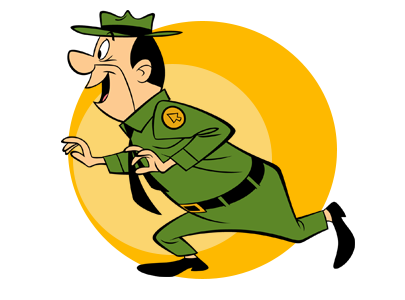 Ranger Smith
Next came a tourist intrusion from that ugly neighbor to the north, an AHA (asshole American). A wise-guy, we called Ranger Smith. He claimed to be a former ranger from Yellowstone National Park, as he barreled into our quartet. Ranger Smith was a self-proclaimed expert at technical climbing, hiking, dieting, photography, fishing, teaching, land-managing, and bullshitting. In short order John, Jim and I each found reasons to walk away, even before our guacamole was finished. We left the ordeal of handling Ranger Smith to our silver-tongued goddess, Pamela Priceless.
Ranger Smith was still regaling his life-story to Pam, when we returned an hour later. It was then that we knew for sure why he was traveling solo: no one could take this guy and themselves walking in tandem, much less face-to-face. He did tell me a story of the value of Kodak Ektachrome, so I bought a roll of film from him for the last few days of our trip.
At 6:30 pm we left the plaza and looked for a place to eat for dinner. Finding a convenient place, we were appalled at the poor service, nonetheless proceeded to consume re-fried beans, chili, Spanish rice, beef, salad, bread, and beer. We waddled to the train station to catch "the milk-run, local."
Two hours later, we had not moved an inch. We were still sitting at the station, this time surrounded by a teacher and students from Chihuahua, who were with her on a field trip. It was quite a scene: pensive Tarahumarans, lazy Americans, cardiac-arrest prone Mexicans, bellicose teenagers and roving troubadours…we were all there…waiting for the train.
Delirious in Divisadero
When the smelly, hissing, clunking train finally arrived, we were exhausted. The heat, aroma, perspiration heavy seats, noises, jolts, and the stop-and-start interludes, made for a less-than-restful ride. Still feeling the effects of lunch and dinner, to my amazement, I found some sleep. When we arrived in Divisadero, I was in a near-coma.
Jostled awake by John and Jim, they helped me picked up my gear and we jumped off the train. Pitch black, and sandman weary, there was no view, just darkness. With my stomach still in a gymnastics class, I would not have appreciated a gorgeous view, even in the daylight. One of the men who was drinking a beer at the station in Divisadero seemed kind enough. He led us to a bus parking area that could serve as our camping spot until the morning. John, Jim and I pitched a tent beside a bus and Pam followed him to the nearest hotel. The man claimed he was a hotel employee and Pam wanted a bath, bed and some shut-eye.
The next morning John, Jim and I caved-in and decided to pay for a shower. Our plan: each of us would pitch-in and rent a room in the same hotel as Pam. The Prairie Trek had taught us to approve of hot showers in the most obscure places — they were always worth it. As much as I may complain about the smell of the locals, my own stench level was much higher on the unbearable scale. My sleeping bag was proof positive that a lot of toe cheese and shredded flesh was living there. The beer helped mask my senses and put me into a deep reverie, at least for a few hours until dawn.
Opening our eyes at first light, we were camping out on the brink of a spectacular gorge. The barrancas were for real, even here! And the camera lens and Ektachrome were ready. An elderly couple was in a camper on the barranca edge and the smell of their bacon and eggs got my stomach rumbling. Plus that shower would feel mighty fine today. Then I noticed that John and Pam were very upset.
Checking in with my hiking mates, Pam told the story of the previous night. The Mexican who escorted Pam to the hotel, was not an employee of the hotel, as he claimed. He handed Pam a key to his room and trapped her by the front door. He tried to plant a slobbery kiss on her lips. She dodged his beer-soaked lunge and resisted, moving quickly. His wet kiss landed on the wall and his teeth hit his lip. Pam smartly unlocked the door, bolted into the room and locked the door. Shocked but unhurt, Pam didn't sleep much and she was up early for her own silent walk along the barranca's edge.
Not sure how to handle the Mexican man, we all put in some money to pay the hotel for Pam's room. We did not get those showers, but we felt that the hotelier could take our 200 pesos and call it even.
Each of us took some time to look out over the copper canyons, and were they beautiful! This is a magical place full of tricksters. To top it off, as I was watching the black and turkey vultures swirling on thermal updrafts, a mother coyote an her kit steathily slinked by … echos of Carlos Castaneda.
Pam, John and Jim met me on the rim and we sat looking at the deep canyons. For about an hour we were checking our feelings, telling jokes, mentioning best parts of the trip, taking pictures and trying to bury the image of the man's aggressive assault of Pam the night before. Lots of lessons on sexual aggression for all of us from Divisadero. Returning to our packs we prepared another round of guacamole, alternating shots of tequila, lime, and deep exhales, which brought down our heart rates.
Psyching ourselves for the train trip back to Chihuahua, we only had a few more minutes to put everything away.
Back to Chihuahua
At the station on the car platforms, the enterprising Tarahumaras were selling their colorful wares to the hundreds of tourists who streamed off and on the trains. The train trip from Los Mochis to Chihuahua made periodic stops along the way, so that travelers could experience the full grandeur of the Barrancas.
Deja View
On one of the scenic stops, I had a powerful deja vu moment from a former camping life: Forrest Berkley, Bill Yedor and I were hiking Mt. Washington in the White Mountains of New Hampshire. After two days of snow, higher than my hiking gators, it was raining and cloudy, but felt like the weather was going to break. We had scaled the full height of the third highest mountain on the east coast and were feeling pretty proud. We hiked a few hundred yards on the top of the peak and there in front of us was a parking lot. It was a mad house of families in sneakers and bathrobes and sandals. People were jumping in and out of cars and trailers, buying sodas and chips, taking pictures and gawking. As soon as they had taken a few key photos off they went in their vehicles to the next site…
Moral of the story, whether climbing the most spectacular mountains in New Hampshire or trekking the least explored barrancas of Mexico, there will always be stupid tourists there to spoil the view. Yet, the snobbery of my comments is self-evident. Why call their experience a charade, a farce, an ersatz interlude? We chose to hike and sweat and blister and swim. We chose to be of the people, to explore the ruins, to share their food and drink. They made other choices. These explorers will have their own versions of the experience, no matter where it is — the White Mountains or the Copper Canyons. So be it.
Catching the next train and zooming through the countryside, none of which we saw the night before, the trip was in a word disappointing. The rest of the barrancas were less than spectacular. Divisadero has the "South Rim of the Grande Canyon" quality. Nonetheless the photos from the caboose of the train were fun to take, as were candids of the locals. By the time we arrived back in Creel, my lungs were full again of soot, smoke and grime. I had to lie down, as to not be overcome with nausea. My head was spinning, my lungs hurt, my eyes stung and I was coughing. After some particularly powerful hacks, I coughed up some clods of dark material. Not fun.
When the train reached La Junta, the young boys were there hawking fresh fruit (1 peso) and freshly made bean burritos (10 pesos). They jumped on the back of the train and walked through the train selling their wares until the conductors shooed them away. They were fast and enterprising; a stark contrast to the Tarahumara in Divisadero, waiting in the train station. The La Junta boys had hot burritos and came to you, like vendors at Memorial Stadium (Baltimore) selling hot dogs, ready to eat and smelling great. To test it out, I bought one burrito and it was great in my mouth and on the way down. A beer would taste good as a chaser, but I settled for water.
Sleeping most of the rest of the way to Chihuahua, we caught a taxi and stuffed all of us in, backpacks and all, and headed to town. The shocks on the Toyota taxi were taxed alright, scraping the bottom of most bumps and nearly every intersection. Once again we landed at Hotel Apollo. The palatial rooms were nice, the beds were soft but the best part was the showers!
We had a brief, late dinner of fondue with a mild cheese. Drinking seven-ups, I did not venture further gastronomically. The others had meat, soup, chops, salads, beer and fresh bread. They were hungry. I was ready for bed and took some Lomotil for precautionary reasons.
Fly or Bus
Not feeling perky the next day, I played Switzerland and gave up my vote to Pam, John and Jim, as to next plans. Should we take the long bus ride back to Ciudad Juarez/El Paso, or catch a plane. The votes cast, we decided to travel by plane. The AeroMexico ticket was very reasonable. How do you spell RELIEF?
Flagging a taxi early on Sunday morning, the ride was about 20 minutes to the airport. The population of Chihuahua at the time was 1.2 million, larger than most US cities, but I had not realized it was so populated. The gorgeous, dry countryside was so different from the deserts around Juarez. Families seem to take pride in their landscaping, flowers, roads, fences … it was nice. We arrived at the airport with time to spare.
The birds along the ride were beautiful and varied, making me wish we had more time here to take in the sights. Even the irrigation ditches were full of avocets, gallinules and blackbirds, rails, willets and egrets. All the way to the airport, we spotted more birds than we had seen all those days at the bottom of the Barrancas in Batopilas.
Tickets and boarding passes in hand, there were incidental charges at the counter for everything; i.e. AeroMexico had lots of hidden fees that we did not know from the original quotation. The view from the plane? The Chihuahua desert, the Sierra Madres, the city, the highway, the drainage basins, the cinder cones, and the myriad of colors. It was magical indeed. I fell asleep quickly as we took off and missed some of the finer views to dreamland.
Ciudad Juarez landing was uneventful. Picking up our bags, we said our heartfelt "farewells" to Pam Price, who was a fabulous travel companion. We said goodbye in as many languages as we could muster and promised to reach out again, sometime. The boys caught a bus to El Paso, while Prim and Proper Pam took a taxi to parts yonder. The wind blew the dust up into clouds that obscured our view of the fields and the city.
At the Mexico/US border I took a picture of the Rio Grande and the border guard wanted to confiscate my camera and my film. He was about 60 and angry-eyed. After our bag check, the boarder guy checked the taxi, the wheels, our alcohol bottles and patted us down. We owed some tariffs on the booze and we paid some pesos to a man who helped us convert our remaining pesos to dollars.
Back in El Paso, we packed up Sue Trevathan's car at the bus station and headed north to John Mayer's house in Albuquerque. We wrote a group "thank you" letter to Pamela, that we calculated she would get when she arrived home.
We called Larry Barker, Rick and Molly Madden, and other trekkers to see if they wanted to join us for a final meal. While we waited, I admired John's paintings (large modern acrylics) and his photos (black and white and magnificent). Not everyone could come see us, so John and I drove about. We saw Rick and Molly and their first born, Jennifer, who was so dear and struggling, and for the first time I met their second child, Melissa, just three months. After the Madden visit, we returned to John's house for bed.
John and I drove to Santa Fe the next day, enjoying the view of the Sandias, Jemez, Mt. Taylor, and the Sangra de Cristos. Stopping at an old mining town, Madrid, off highway 14, we had a "ghost town tour" of the mine. John took me to La Fonda and three other places looking for a decent bird book of the region, but never found one. The tourists in Santa Fe are relevant, hip, chic, and opinionated: just ask them! Snobbery aside, it is a perpetually beautiful Georgia O'Keeffe landscape and a treasure for the senses.
John drove me to the airport for a 4:15 pm flight back to BWI. I bought the book, Fly on the Wall, Tony Hillerman's latest. After a transfer at DFW, we arrived in Baltimore at 11:00 pm on the mark. (I tried, to no avail, to call Pamela from our stopover in Dallas, but left a message.) Laurie picked me up and we drove to his house in Dickeyville.
My mind stayed in Mexico and the Barrancas for many weeks after the trip ended, which was a great sign that I had needed that spring break. McDonogh was still there and still strong. And perhaps Montezuma had the last snicker of revenge. For now I felt stronger and more capable of helping with perspective and focus on the parts of the school that really mattered.
References:
[1] Fontana, Bernard (1979). Tarahumara: Where Night is the Day of the Moon. Flagstaff: Northland Press.