Plaque of John K. Eareckson at US National Wrestling Hall of Fame
Johnny Eareckson
The downtown Baltimore YMCA was a hotbed for good wrestling in the 1950's and early 1960's. Wrestlers like Ernie Fischer could be spotted practicing with Larry Kelly. Fischer was a member of the 1956 Olympic team and a runner up at the NCAA's from Maryland, and Kelly was an outstanding collegiate and Amateur Athletic Union (AAU) wrestler. His brother, Ed Kelly, went on to be the head of the Maryland Wrestling Officials Association and head referee at the NCAA level. My dad had watched Brad Glass, NCAA champ and outstanding wrestler at Princeton, grapple on rough canvas mats versus Doug Lee, 5x National AAU Champion. Dad reveled in the memories of those matches.
By the time I came along in the late '60's, there were more STORIES of great wrestling meets than live meets themselves. Still, it was a good place for a kid to get a good workout and learn a few moves from the veterans of foreign battles on the mat. The trick was to find someone ready, willing and able to pair up with you.
It was 1967 and I had entered an AAU wrestling tournament. At 5'4″ and 130 pounds, I needed to lose seven pounds to make weight. There was no one my size at the Y, so Dad suggested that I ask the "grey haired guy" sitting on the edge to wrestle. He was about my height. He said his name was "Johnny" and he agreed to show me a few moves. I don't remember any moves in particular, but I did a lot of sweating and grunting. When I was on bottom, Johnny grabbed me tight. I struggled to get away but couldn't move. He had six-pack abs, a barrel chest and arms like a wiry snakes. No matter what I tried, sit out, stand up or switch, he had a counter to that escape. I spent a lot of time looking up at the rafters, bridging, and trying to get wrist control, to no avail. When I finally dragged my butt off the mat, Dad asked, "So how old do you think that guy is?" "I don't know," I said, "But he's like wrestling a brick wall."
Johnny and I finished our work out, and he limped off the mat, grabbed his wooden cane, and hit the showers. Using a cane? The cane added insult to my already bruised ego.
After showers, I asked about the cane. Johnny mentioned that he had sanded wood floors for so many years his knees were killing him. He needed the cane to keep steady. Yet to me his legs were stronger than anyone's I had ever met. He claimed his leg strength was from a lifetime of riding horses. How can a guy with bad legs ride a horse? He suffered from decades of intense physical labor: "I have a case of 'early onset author-itis,'" he said, which sounded like a strange writer's disease.
His name was Johnny K. Eareckson.
My dad, Laurie Hooper, was 43 years old at the time and he had given up rolling around on the mats with his sons, because of two bad shoulders and a slipped disc in his back. Eareckson was 67. How could a guy 24 years older than my dad have the stamina to go a round on the mat with anyone? Johnny said he liked doing mat work, because it was not as punishing on his knees as takedowns were.
Johnny proved to be one of my few consistent partners at the Downtown Y. He help me make weight and practice a few of his best tricks. In wrestling lingo, he had a great "tight waist," which means he would grab his opponent around the waist, lever his shoulder into their back and never let go. Johnny would laugh loudly when he had the other guy in trouble, which for me, was all the time.
At the end of that spring, I was at my fighting weight (123#) and, thanks to those practices with Johnny, placed third at the AAU tournament in my weight class (out of 7 wrestlers).
A few years later, Johnny's fight with arthritis kicked up a notch and he stopped wrestling at the Y. He went from his single cane to a pair of crutches. I later learned that Johnny was inducted into both the Maryland Wrestling Hall of Fame and the National Wrestling Hall of Fame in Stillwater, Oklahoma. My dad would deadpan his highest praise, "He was no slouch!"
Eareckson Back Story
John King Eareckson was born in 1900. In his youth he learned to be a master swimmer, horseback rider, and wrestler. Always handy with a knife, he became a good wood carver. He dropped out of school at 17 and started a hardwood flooring business. He put all of his physical strength to the test in that business. Early on, Eareckson married Margaret Johanna. Farmers at heart, Johnny and Margaret bought a modest home in Carroll County, west of Baltimore. It gave them land for horses and other farm animals.
During the Depression the young Earecksons' needed some extra money. Johnny became a vaudeville performer, working for cash at circuses and fairs. He patented a few tricks to wow the crowds. He said one of his favorites was the "water in the bucket trick." After chasing a clown through the stands with a mop, Johnny grabbed a bucket. The audience believed that it was full of water. People thought they would be doused. Instead of water, the bucket was full of sparkling confetti. When he flung the contents of the bucket at the clown, everyone ducked. To their delight and applause, the confetti drifted softly on their heads and the people cheered for the surprisingly fun act.
After WWII, when the economy improved, Eareckson's flooring business took off. Johnny built a reputation as the best hardwood floor contractor in Maryland. Johnny Eareckson's self-deprecating humor came through with his company motto: "After all, you are walking on our reputation!" He could lay wood flooring in traditional or intricate patterns, sand it, stain it and finish it better than anyone else in the state.
J.K. Eareckson & Company flooring
On their family farm the Earecksons raised four girls: Linda, Jay Kay, Kathleen, and Joni. From the stories it is clear that Johnny loved his daughters. On the other hand, from two of their given names, it is also clear that Johnny would have preferred a boy: Jay Kay (his first and middle initials) and Joni (homonym of his nick name).
From Left to Right: Joni, Kathleen, Jay Kay, and Linda
Throughout the post war boom, J.K. Eareckson & Co's business thrived, especially for high end flooring. My parents hired the company for several flooring projects in our Ruxton home. And, when my wife and I had a botched flooring job by a cheap contractor, we hired Eareckson & Co to come and "save the day" and our oak floors. They were a life saver and a flooring wonder.
Eareckson's company reputation proved flawless.
Johnny and Joni on the beach in Delaware
Describing her father, Joni, said, "Daddy had a winsome smile, sparkling blue eyes, and a booming laugh … His homespun wisdom were guiding forces in his life." He lived it fully.
Picture of Johnny carving a piece of wood
Johnny Eareckson died at the age of 90, shortly after the picture above.
Johnny Eareckson Carving, by Joni Eareckson Tada.
Joni Eareckson
Joni is Margaret & Johnny Eareckson's youngest daughter. She enjoyed many challenging sports, like lacrosse and horseback riding, but most of all she loved to learn. She was a talented scholar-athlete at Woodlawn High School in West Baltimore.
After graduation, she attended Western Maryland College (now McDaniel College) in Westminster.
One sultry weekend she went with some friends to a popular swimming hole at Beaver Dam, a water-filled quarry in Hunt Valley, Maryland. (The stone from that quarry, before it flooded with water, was famously used to build half of the Washington Monument in DC.) Joni dove head first into the water from a raft. Her head hit a submerged rock and she floated motionlessly to the surface. She couldn't move. Her friends pulled Joni from the shallows and rushed her to the hospital. She survived, but her neck injuries were so severe that they left her a quadriplegic.
Lying in the hospital for months, Joni felt that her father understood her situation best. "After my diving accident, I could always tell when my father was coming for a visit. I'd hear 'Click-click-click-click' his crutches would echo on the hospital hallway tile. 'Oh boy, Daddy's here!' I'd think to myself. It's why that clicking sound, for me, was such a welcome sound."
Johnny was a carrier of hope to his daughter. "My daddy taught me such an important lesson: May we always be heralds of God's hope, of encouragement and mercy and grace, heralds of God's Good News wherever we go."
As to her faith, Joni challenged her friends when she wrote, "You know, the Bible talks about the beauty of feet that bring good news, news of hope and encouragement. And if I were to paraphrase that Bible verse, I'd talk about the beauty of Daddy's crutches bringing good news. It's an important lesson for [all of us]. Think about it, what do people think of when they hear the sound of your feet coming? Have you sown the seeds of friendship, of faithfulness and love and acceptance? Have you sown the seeds among your family members, your neighbors, and friends?"
Joni Eareckson Tada
The Eareckson – Tada Wedding
Joni Eareckson came to McDonogh School in the mid-1980's to tell her story at a student assembly in Edwards Gym. I was a middle school English teacher and wrestling coach at the time. At the suggestion of the Barbara Bagli in the Guidance Office, I had asked my students to do some creative writing around what they would do, if they suddenly couldn't use their arms and legs. When Joni told her story, I suddenly realized that her father, Johnny, was the man who had wrestled, coached and throttled me at the YMCA 15 years before.
Joni's life story was full of love and admiration for her parents and for her Creator. She was not bitter or angry. She did not want our pity. She defied pity. Instead she was joyful. Joni read the Bible daily and she picked up a pencil with her mouth and started drawing. Over those next few years, she read the daily devotions and honed her craft. And what astonishing images she created!
Joni showed the McDonogh students examples of her artwork, which were extraordinary for their painstaking detail and beauty. Her image of a Bald Eagle, McDonogh's mascot, was particularly effective.
None of us could imagine replicating her creativity, much less her patience and fortitude. Joni praised God for her disability, which had opened her up to the generosity of others and the heart of what we are on this earth to do. It had never occurred to many of us to be thankful for our conditions, no matter how dark and debilitating. And here was a smart quadriplegic reminding us that we had no excuses. What a powerful reminder of what we need to do to give back to God for what He has given us.
Thanks to her faith in God, Joni Eareckson Tada has led many people to profound places of hope. Today, she is an accomplished painter, radio show host, writer and a renowned public speaker. Her story is powerful and uplifting. See her website: http://www.joniandfriends.org/
What an inspirational woman she was then …
And she is now!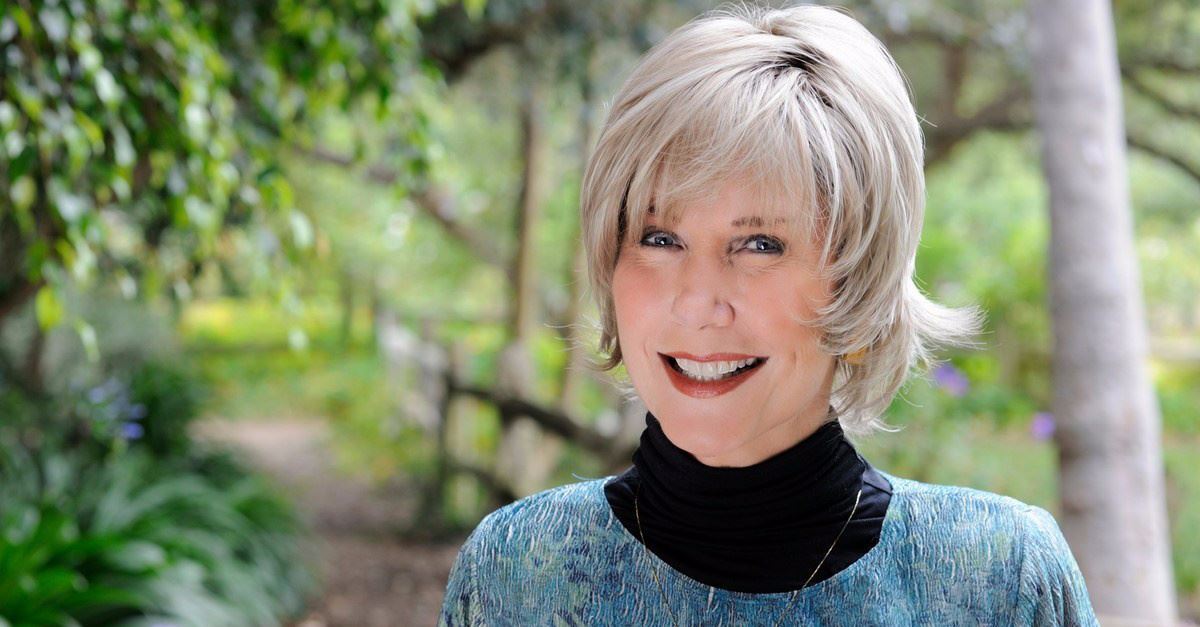 ===========================================
Post Script (January 20, 2017):
Joni Eareckson Tada was the featured guest speaker at a conference, known as Mission ConneXion, which was held in Beaverton, Oregon, at Sunset Presbyterian Church. It was a packed house. Joni gave her key note talk on Friday night and a two-hour workshop on Saturday.
Joni's scriptural references were vast (Samuel, Isaiah, Matthew, Paul), but often came back to the Gospel of Luke, Chapter 14 to emphasize the value of the disabled to the Body of Christ:
Jesus said to the Pharisee host who invited him, "When you hold a lunch or a dinner, do not invite your friends or your brothers or your relatives or your wealthy neighbors, in case they may invite you back and you have repayment. Rather, when you hold a banquet, invite the poor, the crippled, the lame, the blind; blessed indeed will you be because of their inability to repay you. For you will be repaid at the resurrection of the righteous."
I took some brief notes of her message which was powerful and inspiring. The bullets of her key note are below, each is full of its own story, which she tells in compelling and accessible ways. She is a prolific writer and speaker. Be sure to search the internet for yourself and find these 'pearls of wisdom' fully explained.
How weak and broken we are!
Yet, it is in the "breaking of the bread," that is where our power comes from
Turn up the wattage on your glory
Just show up. Take courage
It rises in the hearts of Gods strength
Breaking of my life … that is when the spirit moves
Revel in your weakness
Bless them with your brokenness
I am encouraged when I tell my problem that I have a big God
What are your splash-overs of heaven
Find Jesus in your splash-overs of hell
Die to yourself
Seek the Living water
Imagine yourself in Year 33, standing before the cross, Christ is thirsty, what can you offer him?
Matthew 25
Philippians 1:21
Fight every day to have trust in Christ, it is worth it
Persevere. Show strength through living. Never give up
Blessing so many more beyond belief
Admit your inability do do it alone
God walks with a limp, dare to show your brokenness
Go out into the streets. Bring in the weak and lame
Apply that holy tourniquet to save a life
Don't proclaim the Gospel, instead become the Gospel for the disabled
In the Body of Christ, the disabled are the lungs, pancreas and liver of the church
She is a warm, generous and enthusiastic woman. She has a lovely countenance, even when she is tired of signing books and ready for a nap. Joni waited around to sign everyone's books and capture all of the selfies they wanted. People of all ages from all over the world, who have been inspired by her example and her faith, showed up to offer personal testimony to her influence in their faith journey. It made for a powerful weekend.
Rev. Billy Graham with Joni Eareckson Tada
One of her parting comments Joni made was to a young woman who wanted to know how Joni wrote those books so long ago, before the internet. The 'gray hairs' in the crowd all laughed. Yet it was a good question for us all to ponder. Joni said. "I had a secretary who could type 130 words per minute, so she often sat by me and typed while I spoke. And when she was not there, I used my Dictaphone. Do you remember the Dictaphone machines? I clicked the device on and off with my tongue and I made tapes for my secretary to transcribe the next day."
Is our message worth transcribing? And to what lengths do we go to get that message out to the world?
Joni signs a book. She claims to be 'left mouthed'
Ken Tada, Joni Eareckson Tada & Henry Hooper at Mission ConneXions, 2017