Witness Post: Fuller Brush
In the 1950's the Hooper Family lived outside of Philadelphia and were enjoying life as a young, white family "on the Main Line." Although most of the best shopping was at Wannamaker's and other fancy stores downtown, we live in the suburbs and shopped closer to home. In that post-war era there was also the advent of door-to-door sales calls from Stanley Steamer, World Book Encyclopedia and the Fuller Brush man. Two parents and six kids made for challenging trips to Philly's urban center, so we hunkered down in the burbs and welcomed traveling salesmen.
One of the items from my youth in Pennsylvania that my parent's allowed me to pick was a plastic handled hair brush for my personal grooming. I was six or seven at the time. The salesman had a full complement of the most popular brushes in his briefcase and car and he showed our mom the latest brooms and brushes from the catalog. The one I really wanted was on back-order and 6 weeks out, so I selected a bright pink hair brush. Pink? You ask. Yes, pink. My wild side. I decided to go with the Junior edition from his brief case and save the wait time. The salesman had a full complement of the most popular brushes in his car and he showed our mom the latest brooms and brushes from the Fuller catalog. I do not recall what my family bought that day, but I clearly remember my Junior "Bristlecomb" Fuller Brush.
That brush has withstood 60+ years of hair brushing, three episodes of lice-prevention boiling, and thousands of miles of dopp kit smashing on travel trips through airports. But somehow the brush has survived the abuse and comb envy to survive in my upper washroom drawer. A treasure from yesteryear.
The Fuller Brush Company
Founded in 1906 by Alfred C. Fuller, the Fuller Brush Company was one of the more prominent door to door companies spreading across the country. Founded in Connecticut, Fuller developed both its original products and its iconic sales force before WWI and WWII. In his first year, Alfred Fuller moved his one-man shop from his sister's basement to Hartford and started to make brushes. Manufacturing Equipment Included: Hand operated wire-twisting machine, spools of wire, horse hair, fibers and hog bristles. Initial Labor: Just Fuller for the first few months. [1]
Now that Fuller had made the brushes, he had to figure out how to sell them. That proves to be the best part of the story.
The hard part of Fuller's journey was the creation of a sales force to "get the word out," and sell some brushes. After a bumpy start, the notion of a traveling, door-to-door salesman seemed to be the distinct advantage to the Fuller story.
Alfred C. Fuller
Alfred Carl Fuller, the first Fuller Brush man, was born in 1885 on a poor farm in Nova Scotia. He was the eleventh child in a family with a dozen children and had no hope of inheriting the family farm. By 1903, several of his brothers, sisters and he escaped what Alfred called the "ox-team culture of the Annapolis Valley." They took the train from Berwick to Yarmouth, Nova Scotia, and then the night boat to Boston and the T to Somerville, Mass.
As a country bumpkin from Canada, Fuller had a hard time keeping a job. He had several jobs as a train conductor, a handyman and a wagon driver, none of which suited him well. Then in 1905 he found his calling as a salesman for the Somerville Brush & Mop Company. He would close his sales calls by helping the housewife with her cleaning chores. He wrote, "I washed babies with a back brush, swept stairs, cleaned radiators and milk bottles, dusted floors—anything that would prove the worth of what I had to sell."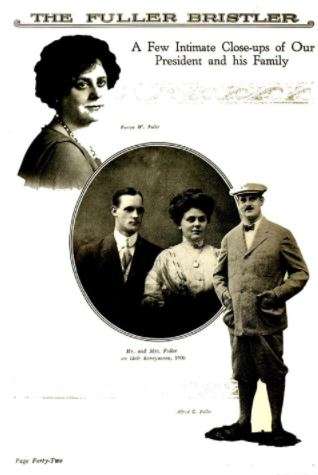 Fuller saved $375 and set up a workbench in his sister's basement with a hand-operated wire-twisting machine. By night he made brushes from wire, horsehair and hog bristles. By day he sold them door-to-door.
Hartford, HDQ.
In 1906, Fuller moved his production to Hartford, Conn., a city with special meaning for him. His wire-twisting machine was made in Hartford and his family Bible back in Nova Scotia was printed there. Fuller also noted Hartford's Victorian houses filled with bric-a-brac, fancy radiator grills and decorative woodwork, all collecting dust.
By 1908 he had earned, and saved, enough money to marry a young lady from Nova Scotia, Evelyn Ellis. She was an expert saleswoman in her own right. She worked behind a glove counter at Jordan Marsh in Hartford and could outsell her husband, before they started a family. They later had two sons, Avard and Howard.
In 1909, Fuller put a $10 ad for salesmen in a national magazine. "Why not get out of the rut you're in? Take advantage of the opportunity which The Fuller Brush Company now offers you!"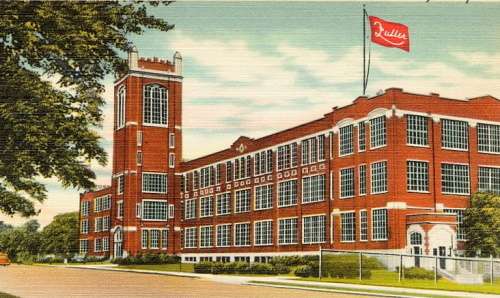 That little ad transformed the Fuller Company. By the end of the month, Fuller claimed that he had a national business with over 260 eager salesmen. That year, 1909, the Fuller Brush Co. sold $1 million worth of brushes, mops and combs.
Folklore has it that one industrious salesman talked his way into President Franklin D. Roosevelt's home in Hyde Park, N.Y., and sold him $13 worth of matched brushes.
In 1936, Billy Graham worked as a Fuller Brush man and learned that sincerity sells. He prayed for sales success before every house call. It worked; he was the top Fuller Brush salesman in both North and South Carolina. "I believed in the product," he wrote. "Selling those little brushes became a cause to me. I felt that every family ought to have a Fuller Brush as a matter of principle."
With pluck and perseverance, thousands of Fuller Brush Men would lift themselves from dead-end jobs to middle-class respectability. Following in the footsteps of the founder, they had signed a pledge to be courteous, kind, sincere and helpful.
The Sales Pitch
The salesmen were trained to be perseverant and diligent, working their territory carefully and completely. The average Fuller Brush salesman called on 2,000 to 6,000 families a year and rang 60 doorbells a day.
When a housewife answered the door, the Fuller Brush Man greeted her politely and said, "I'm your Fuller Brush Man, and I have a gift for you." If allowed in the house the gift was a "Handy Brush" which had hundreds of uses around the house. The Fuller Brush Man would ask to go into the living room "for a moment." (If it were raining, he'd step out of his rubbers, a size too large so he could get out of them quickly with no interruption to his sales patter.) Before the housewife could say "no," he would demonstrate the free Handy Brush. Two out of three times, the Fuller Brush Man would finish his pitch and leave with an order of from three to seven dollars.
Alfred Fuller had come up with the idea of the free gift. He also developed the 'big five' method of selling.
Name the brush
Explain how it's used
Tell what it's made of
State the price
Explain why it's worth that much.
All five delivered with a Smile.
But Husbands…
Fuller once told a story about a housewife who, he realized, was more interested in him than in his brushes. 'Do not lead me into temptation,' she said coyly.
"I replied, 'Madam, I am not leading you into temptation, but delivering you from evil.' She laughed and bought three brushes.
Jokes about the Fuller Brush Man and Mrs. Housewife became standard at Rotary and Kiwanis dinners. A mythical Fuller Brush man appeared in a Tijuana Bible, which was a dirty comic book popular during the Great Depression.
The company fought the perception that the Fuller Brush Man preyed on lonely housewives. It advertised and reported that "every Fuller salesman is a gentleman….After Mrs. Housekeeper had placed an order for Fuller Brushes, it used to be not unusual to find that the orders would not stick on delivery day." That was because the man of the house objected to her spending money on a salesman calling at the house while he was gone. The decision to advertise in the Saturday Evening Post, the company reported, seemed to solve that perception problem. The Saturday Evening Post was the first national publication to talk about the Fuller Brush Man, which is what it called him in 1921, when it coined the expression.
"Fine & Dandy"
In 1923, a Pittsburgh theater usher named Albert Teetsel joined the company. A crackerjack salesman, he soon won a promotion to district manager. Teetsel motivated the sales force by forming "Fine and Dandy" clubs. Every salesman had to answer the question, "How are you?" with "Find and dandy, how are you?" The company sold $15 million in 1923, the year it opened its huge new factory in Hartford.
During the Great Depression, local merchants objected to competition from door-to-door salesmen, and cities and towns began passing ordinances forbidding the practice. In 1931, for example, police in the tiny town of Green River, Wyo., arrested a Fuller Brush Man for violating such an ordinance. The company fought the case in court, arguing its salesmen were not employees, but independent businessmen who bought their products from the manufacturer. They worked solely on commission, and the company paid no unemployment insurance workers' compensation or Social Security taxes.
Fuller Brush won the case, but lost on appeal. The Supreme Court declined to hear it. The company then had to get around the legal requirement that its salesmen be invited into a house. So it came up with a catalog, which the salesmen slipped under the door. He promised to return at the housewife's request to fill the order. It worked like a charm.
Fuller Brush thrived financially over the next few decades. It weathered World War II by making brushes for the war effort, 40 million of them. In 1946, Fuller Brush had $41 million in sales. By 1960, it hit $100 million, with an expanded repertoire of cleaning and skin care products.
Fuller Brush Man & Popular Culture
The Fuller Brush Man also appeared in comic strips like Blondie and in Disney cartoons, with Donald Duck going door-to-door selling brushes. In 1948, Columbia Pictures made a movie called The Fuller Brush Man, starring Red Skelton and Janet Blair. It opened in Hartford, and it did well enough to inspire a sequel, The Fuller Brush Girl, starring Lucille Ball.
In real life, the Rev. Norman Vincent Peale worked as a Fuller Brush Man, which may be where he learned the power of positive thinking. Real life characters like Pee-Wee Herman (Paul Reubens), Dennis Quaid, Vince DiMaggio, and Dick Clark, at one time or another, said they had worked as a Fuller Brush Man.
Avon Calling
In the early 1950s, the Avon Lady came hard on the heels of the Fuller Brush Man. Between 1953 and 1967, Avon sales rose 900 percent, Fuller's rose only 47 percent. The company had tried to match the Avon flurry by hiring "Fullerettes," but it didn't work too well.
By the 1960s, high wages and low unemployment made it hard to recruit men, and two-earner families meant fewer housewives at home. In 1965, Fuller Brush brought back the saleswoman. The food conglomerate Sara Lee bought the company in 1968 and moved manufacturing to Great Bend, Kansas. By 1986 three-quarters of the sales force consisted of part-time saleswomen looking to ride "Mr. Fuller's Opportunity Special."
Finally, Wall Street got its talons into the Fuller Brush Company. After a series of ill-advised acquisitions, the company declared bankruptcy in 2012. Six years later, Galaxy Brush bought the name, patents and trademarks of the Fuller Brush Company. Today you can buy Fuller products online.
---
Footnotes
[1] https://fuller.com/pages/fuller-brush-history
[2] Much of the history and text of this Witness Post is copied from an article in the New England Historical Society Archives … https://www.newenglandhistoricalsociety.com/the-fuller-brush-man-gets-his-foot-in-the-door/