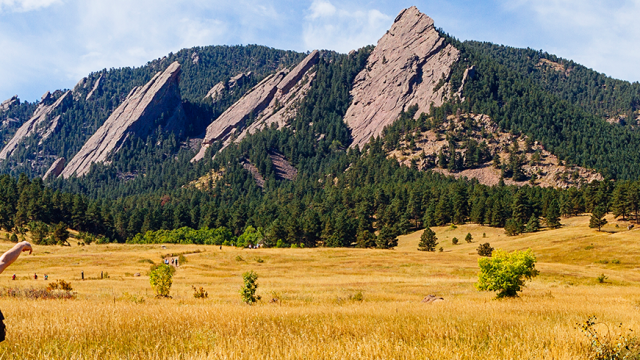 Meadow in front of the Flatirons, Boulder, CO
Tales from the Chautauqua: Alluvial Fan
The rain water has hit the slanted surfaces of the rock and rushed down the Flatirons for centuries, taking with it all of the boulders, large and small, in its path. The powerful water action and resulting grinding have created some fine sand and loose pebbles that spread out across the meadows and plains that lie east of the front range. The sand, earth and pebbles are all part of the vast alluvial fan on the sloped plain at the Chautauqua Park in Boulder, Colorado.
According to wikipedia, "an alluvial plain is a largely flat landform created by the deposition of sediment over a long period of time by one or more rivers coming from highland regions, from which alluvial soil forms."
Seeing the vistas created by the centuries of elements hitting the rocks on the land formations is a source of perpetual interest to geologists, hydrologists, and everyday observers of the landscape.
No wonder the Chautauqua movement chose this place as an outpost in 1898. One hundred and twenty-one years later it is even more admired.
The local garden club of the Chautauqua has created an Alluvial Fan Garden at the entrance along Baseline and Kinnikinnick Road. It is a perpetually pruned reminder to the forces of nature, which have created this magnificent backdrop to Boulder's beauty.