Witness Post: Rick Sanders
Rick Sanders was a wrestling phenom in the era of great U.S. wrestlers. Single handedly, Sanders put the city of Portland and the state of Oregon on the international wrestling map. Over the course of 10 years he won two national titles, a pair of Olympic silver medals, and six other international medals before dying tragically in a car accident at the age of 27.[1]
Background
Born in 1945, Sanders attended Lincoln High School in downtown Portland, Oregon. In three years of varsity competition he finished with a high school record of 80-1 and three state titles. He won at 98 pounds in 1961, 108 pounds in 1962, and 115 pounds in 1963. After graduating from Lincoln, Sanders trained for the US Olympic team at a camp that included entries such as legendary Iowa State wrestler, Dan Gable.[2]
After that intensive training camp, Sanders enrolled at Portland State University and went on to win national wrestling titles at every level: the NAIA, NCAA Div. II and NCAA Div. I Championships. Sanders was a true champion, earning the Outstanding Wrestler award at each level of collegiate competition.
Sanders qualified for the US Olympic teams in 1968 and 1972 and won silver medals in each. In between those Olympics, Sanders became the first American to win a wrestling title at the world championships, taking the 52kg title in 1969. This feat was just hours before another American, Fred Fozzard, won the US's second world championship medal; this one at 82kg weight category.
Fred Fozzard, OSU,  world champion, photo by Larry Slater
Over the course of his wrestling career Sanders won five US freestyle titles and six international medals.[3]
Following the 1972 Olympic games in Munich, Germany, Sanders was killed in an auto accident in Yugoslavia.
Sanders was inducted into the Oregon Sports Hall of Fame in 1983, and into the Portland State Athletic Hall of Fame as part of its inaugural class of 1997 – along with the 1967 national championship team. Sanders is a distinguished member of the National Wrestling Hall of Fame, class of 1987.[4]
Wait. What Weight?
Anyone who has wrestled knows the challenges of making weight, and it is not just for the little guys. Even the big guys have to watch their weight. A Yale wrestler, Neil Brendel, tipped the scales at 220 at the start of his junior and senior years, yet each of those years he sucked down to wrestle 190. That is thirty pounds or 13.6% of his body weight.
Tommy Evans, the coach of the US wrestling team at the 1968 Olympics in Mexico City, tells two stories about Rick Sanders:
On the flight from the U.S. to Mexico City, Sanders, in his ever-frantic manner, ran up and down the aisle of the aircraft with his sweats on to lose weight.
At the end of one of his matches in the Olympics, Sanders was declared the loser. Sanders told Coach Evans, "I won this match and I am not leaving until they change the call." Sanders said he didn't care if he had to sit there until hell froze over, or words that effect. After about 30 minutes of discussions the referees changed the call and Sanders was declared the winner. That summer he wound up with his first silver medal.
Olympic wrestler, Stan Dziedzic tells an interesting story about Rick Sanders and his constant battles to make weight.[5]
In 1969, when Sanders was having a tough time making 114.5 lbs. Larry Kristoff, the Olympic wrestler at 236 lbs (107kg), locked Sanders in the sauna, using a screwdriver to jam the door shut. Kristoff forgot about Sanders and went to the movies. Coming out of the theatre Kristoff finally remembered that Sanders was still in the sauna and he went to rescue him. Sanders was not amused; he had enough energy to chase after Kristoff with the screwdriver, but not enough to catch him.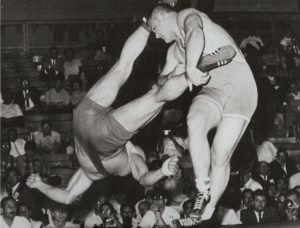 236 Pounder, Larry Kristoff, Illinois wrestling
Just as in high school Sanders wrestled at various weights: for awhile he competed at 114.5 lbs and then, losing at the next weight up, he competed at 136.5. He moved back down to 125.5 for the 1972 Olympics and won a second silver medal.
More Sanders Stories
Morris Johnson's favorite Rick Sanders story came from his college coach, Buck Deadrich. Apparently Sanders was wrestling in the finals of the AAU nationals, which were being held in Oklahoma. Deadrich said that back then, Oklahoma was "the last and tightest notch in the bible belt" and people who looked like Sanders with their long hair, shaggy beard, peace buttons on his jacket, etc, were not "fully appreciated" in the Sooner State. Rick Sander's opponent in the finals match was Gene Davis, who was both an OK State alumnus, as well as a clean-cut member of Athletes-in-Action's Campus Crusade for Christ wrestling club. From the raucous crowd reaction, Davis was clearly coming in to the finals as the fan favorite.
Sanders using unorthodox move on Eduardo Maggiolo in 1972 Olympics
When it was time for their match, Davis walked out into the spot-light, and the PA announcer said something to the effect of "Now competing in the 136 lb final, wrestling for the Lord … Mr. Gene Davis!" The crowd cheered long and loudly. As the noise died down a bit, but before the PA announcer could say anything else, Sanders ran out onto the mat, slid onto his knees in the spotlight and shouted "…AND WRESTLING FOR THE DEVIL … RICK SANDERS!" Buck Deadrich said there was a slight, stunned pause, before the crowd rained booo's down on Sanders. Not wasting time, Sanders promptly took down Davis and pinned him in the 1st period!
Gene Davis, Olympian
Another Sanders story comes from Keith Lowrance, former Granby High School, Virginia, and Michigan State great wrestler. "At the Federation Nationals, I was in the same weight class with Gene Davis and Rick Sanders, and the 3 of us made it to the last round robin. In those days we wrestled under the 'blackmark system.' If you collected 6 blackmarks, you were out of the tournament. When Rich and I met, I had 4 blackmarks, 3 from an earlier 7-4 loss to Davis. Sanders also had 3. Ties were allowed, but cost you 2 blackmarks. There were no stalling calls in freestyle, so Sander's strategy was to wrestle for a tie, knocking me out and wrestling Davis in the finals. It worked, except at the end I made a desperation shot and Rich scored on a counter. Rich was by no means a little guy. He had to cut weight to make 136.5. Gene, however, was a very big 136.5 pounder. I do not recall the announcing, but I do recall that Sanders wrestled well and beat Davis in the finals."
Another Keith Lowrance story recalls Sander's legendary weight cutting practices. "At the trials for the Pan American team in Minnesota a couple of us were running when we came across Sanders. He was hiding something in the bushes. I asked him what he was doing and he said, 'Keith, you always need a plan for weight cutting.' He went on to say that he was driving around his running route hiding cans of beer every 2 miles. He said that those beers could keep him going for 10 to 12 miles, and at that distance he could lose the 10 plus pounds he needed to make weight the next day. Sanders jumped in his car and went to his next hiding spot."
Keith Lowrance
Driving to the Moon
Some other Rick Sanders stories come from an odd couple — Oregonian Larry Nugent and Erie (PA) native Tom Canavan, Jr. Rick Sanders was teaching at a wrestling clinic in northwestern PA. One night Sanders was hitch-hiking through Erie County when a local sheriff stopped his car to question Sanders. The story goes that Sanders quickly grappled the sheriff to the ground, disarmed him, left him at the side of the road and drove off in the police car.
Canavan said another member of the Erie police force saw Sanders driving the car "very, very slowly down the middle of the road" and pulled him over, without further incident. Sanders was taken to the Erie County jail. According to the booking officer, Sanders explained that he was a famous amateur wrestler and that he had taken the police car so he could "drive to the moon."[6] The police called Canavan and asked him to please drive Mr. Sanders out of Erie County and the state of Pennsylvania, which he did the next day.
US Olympic Medalists from Wrestling 1972 Team, Sanders on the right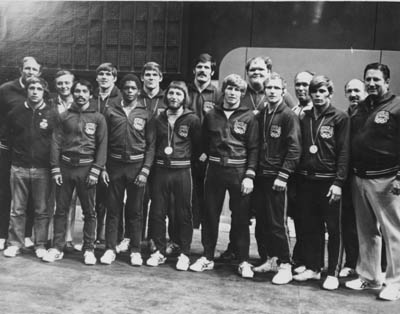 US Olympic 1972 Team, Sanders is the fourth on the left in the front row
—————————————–
[1] Notes taken from the Oregon Athletic Hall of Fame in the induction class of 1983.
[2] Undefeated in high school, Gable credits Sanders with teaching him specific wrestling moves that helped Gable finish his college career at Iowa State of 117-1. That one loss was to another Sanders-style wrestler, Larry Owings, then a sophomore from Univ. of Washington.
 Larry Owings vs. Dan Gable
[3] Back to Dan Gable, Rick Sanders is credited with having beaten Dan Gable 6-0 at an international tournament. That loss stands as the lone shutout that Gable suffered in his wrestling career.
[4] A scrapbook of Rick Sanders wrestling memorabilia was collected by Rick's half-brother. A link to the story of the Sanders collection is in the attached website:
http://www.flowrestling.org/video/148626-rick-sanders-scrap-book
[5] Stan Dziedzic, Slippery Rock wrestler and Olympian, calls this weight loss plan — the Randy Lewis School of "losing it all in the last few hours."
[6] Hey, remember this was Rick Sanders. He is from Portland. They are always trying to "keep it weird" there.