Witness Post: Larry Owings
"Girls are saving the sport of wrestling," says Larry Owings, NCAA wrestling champion and longtime coach. He then asked, "Were all of our wrestlers polite and nice after the match?" I said yes they were all good wrestlers and nice to our wrestlers, girls and boys, after their matches. "They are tough on the mat, AND it is important to me & to them that they are respectful and nice afterwards, whether they get their hand raised or not."
We have a girls team at Lincoln High School and Owings is right. Many male wrestlers feared the death of wrestling due to 1972 Title IX legislation, giving girls equal access to sports. With the power of numbers and great athleticism, many schools have formed teams to be reckoned with in their metro areas.
Lincoln High School, Portland, OR. Girls Wrestling Team
Those sentiments about girls in a formerly male-dominated sport were not what one would expect to hear from a world-class wrestler, but then again, Owings is not an attention-seeking, ego-driven wrestler. He is a man who reflects the realities of a coach who cares deeply about the personal growth of his athletes as quality citizens. And he wants the sport of wrestling to thrive for generations to come.
It was Dec., 2019 and Owings and I met again after 48 years. This time we were at a wrestling tournament called "The Larry Owings Invitational." It is very much like this coach to be humble about his accomplishments. "Have you met my brothers? They are the real wrestlers in the family."
Standing in the hospitality room with Larry and chatting with him about the past, present and future of our sport was a rare treat for me.
Not a state powerhouse yet, Lincoln's girls wrestling team has some individuals who are vying for top honors in the sport this spring in Oregon. One of them, junior Sophie Keefer, won the outstanding wrestler at the Owings Invitational tournament in December.
Dan Gable
In the 1970's, long before the onset of Title IX matters, all the talk in wrestling circles was about Dan Gable, the NCAA champion. He had dominated the conversation with his intense training, his killer instincts and his record. At the time college freshmen were not allowed to compete at the NCAA tournament finals. Going into his senior season (1970) Gable was a two-time defending champion. He was on the cover of the Official NCAA Wrestling Guide, as seen above.
My mom, dad, brother, Ned, and I saw Gable in the 1968 NCAA matches as a sophomore at Iowa State. The tournament was at Penn State that year. Gable was wrestling in a "pig-tail match" on the far side of the pavilion against the defending Eastern (EIWA) champion, Steve Comisky from Navy. We thought Comisky had a decent shot at All American. Gable had other plans: he beat up the Navy captain 16 – 2. Comisky's only points came from the times Gable let him up to take him down again. Gable dominated the match his weight class (130#) that year. We all became believers and thought he was invincible.
Over the next two years Gable wrestled up and down the weight classes from 152# to 136# often pitted by his coach to compete against the opponent's strongest middle weight wrestler. He was pitted at University of Maryland's against 152# captain Callahan and he destroyed him, grinding away on his shoulders until he was pinned!
Before the finals in 1970 NCAA's, Dan Gable had a college and high school record of 181-0. Few opponents had scored a point on him.
Lock Haven State College
The last time I had spent extended time with Larry Owings was in July, 1970, four months after he won his NCAA championship. That summer Owings was a celebrity clinician at a wrestling camp at Lock Haven State College in central Pennsylvania. He had been the winner of an historic match with Dan Gable. I was a sophomore in high school and wrestled in the 145# weight class.
At Lock Haven Owings picked me as his practice partner from among the 100 high school wrestlers. He did his demonstrations on me. Owings was a rising junior at the University of Washington and he threw me around the room like a rag doll. My body was thrown through the air, filleted and flattened, like the gangly wrestler I was.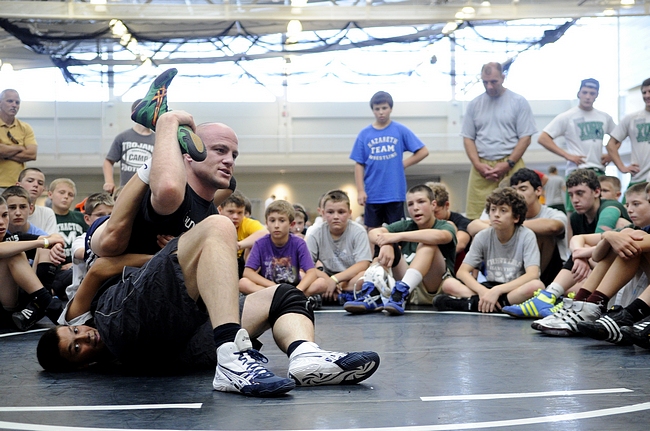 At the Lock Haven State clinic, I spent much of the time, as uncomfortable as a wrestler can be. Take a look at the demonstration victim in the picture above. The kid is being sat upon by Cael Sanderson,[2] also an Iowa State NCAA champion. I felt more constricted than this kid, because Owings kept me off balance and crunched the whole time. He demonstrated some of the wildest "clinic moves" I have ever experienced. And his flurry of pinning combinations were powerful and painful.
Four months earlier at the 1970 NCAA's, Owings capped off a 36-1 win/loss record and won as a college sophomore. The victory both heralded and branded him for life. Normally a reserved, soft-spoken athlete, Owings prefers staying out of the kleig lights. That day in March he was David vs. Goliath. Owings was the giant slayer in the NCAA championship finals.
By beating Gable, and handing him his only defeat in 8 years of wrestling, Owings became an icon. The victory also put a target on his back.
The next season Owings was featured on the cover of the Official NCAA Wrestling Guide to rules and regulations in the sport.
The Background Story – A Warm-up Match
Born in Oregon City, Oregon on June 12, 1950, Owings was raised on a farm. His four older brothers introduced Larry to the sport of wrestling. According to one source, Larry failed to get his athletic career off to a great start; nicknamed Porky, Owings lost all eight of his matches in his first year as a junior varsity competitor at Canby High School. [1] From Sophomore year on, though, he did not lose many matches.
As Sports Illustrated reported in its coverage of the 1970 NCAA's, "Larry Owings was far more accomplished than most people realized." After a slow start, "He had won more than 200 matches in high school."
Canby Coach Larry Wright encouraged Owings to continue his wrestling at the highest level. So just after graduating from Canby, Owings traveled to Ames, Iowa to compete in the 1968 U.S. Wrestling Olympic Trials. While there, he faced off against Iowa State sophomore Dan Gable, and lost to the recently-crowned 130-pound NCAA champ, 13-5. Owingw was convinced that their next meeting would be different.
Wrestling. What it takes
More than any other sport, wrestling is rooted in self-belief and personal desire: being big, strong, fast and talented can take you only so far in the sport. Big, fast and strong wrestlers lose all the time. It takes more than those tangible ingredients. In the end, it often comes down to endurance, stamina and conviction. The winner out-survives the opponents.
Before the finals in 1970, Larry Owings was interviewed by an ABC reporter. During the weigh-in, the reporter had asked, "Larry, why, particularly with such a successful sophomore season, would you drop a weight class that will be impossible to win because of Gable's presence?" Owings glared at the interviewer and said, "I'll beat him."[2] Owings' natural weight was 173# and he had in fact dropped two weight classes to have another shot at Gable. He reminded the interviewer, "Wrestling is just two people out there — anyone can be beat, anything can happen." Therefore, no competition is a foregone conclusion. Let the match begin.
The Gable-Owings Match
The Saturday night finals at Welch-Ryan Arena at Northwestern Univ. were packed with over 7,000 fans and the two 142# wrestlers were evenly matched. They also were in phenomenal physical condition. Right from the whistle, the score went back and forth quickly, no one getting a solid lead.
At the end of the second period, Gable was in the lead by one point, 10-9. It was exciting all the way to the end, as the two went for broke. Gable showed his dominance on top, as he earned lots of riding time. His plan of wearing down Owings, though, was faltering, as Owings seemed to have another level of endurance no one else at the 142# weight class had.
The final moments of the third period elevated the match into the realm of wrestling mythology. Gable had over two minutes of riding time on his side, so all he had to do was stall, bide his time and he would be declared the winner. At the same time Gable was a pinner: he liked putting opponents on their backs and showing them the gym lights. During the 1970 NCAA tournament he had pinned over 70 percent of his opponents entering the final match.
With about 30 seconds remaining, Gable was determined to close out his collegiate wrestling career by pinning Owings. As Sports Illustrated writer, Albert Chen, put it, "Gable attempted an arm-bar move, raising his arm over Owings's shoulder to lock him up and take him down. Owings at that moment pulled off a move that he'd never done in a match: a leg sweep that caught Gable by surprise and dropped him down to the mat — as Gable fell, he felt like he was going down in slow motion. Owings got four points for the move — two for the takedown, two for exposing Gable's shoulders to the mat." Gable earned one for an escape.
With 17 seconds left, Owings was ahead by 13-9. The Owings move was so fast that referee Pascal Peeri stopped the match and walked to the scorer's table to ensure that the proper points were awarded. The crowd was so loud Peeri had to lean in to get his voice heard by the official scorers.
They resumed wrestling and as final seconds ticked down, it was Owings who was the aggressor. He dove in for a final takedown. The match ended without takedown points awarded to either wrestler.
The Final Points and the Referee
The NCAA finals features the best wrestlers and referees for the tournament. Referees are important to keep the wrestlers safe from injury and to award points as earned. The referee, Pascal Peeri, was a Syracuse grad and Sprig Gardner protege. He had been a two time EIWA champion and a three time place winner. As a ref he was known for his sharp whistle and quick back points.
Many Iowa State fans and Cyclone's Coach, Myron Roderick, loudly protested those last two points. The other mat officials stepped in and agreed with Ref Peeri: although it was fast, the four points were earned. Peeri returned to ref the final seconds over the continued protests. Gable, with his dominant wrestling on top, had earned enough riding time for 2 additional points at the end of the match, leaving the final tally at 13 points for Owings and 11 for Gable.
Gable claimed he was more exhausted than he'd ever been at the end of a match. He said, "If we would have tied and there was an overtime, I don't think I would have won."[3]
Peeri as wrestler at Syracuse and Mepham High Awards Ceremony
My brother, Ned, and I, having watched Gable win two NCAA titles, worshiped at the wrestling altar of Dan Gable. "He's someone that no one can beat." Our parents were out of the country during the NCAA finals that year and Ned wrote a note to them saying simple: "I can't believe it: Gable LOST!"
Post NCAA Script
Larry Owings admitted, "I'd beaten the best in the world — it was the pinnacle of my career, and would be, no matter what." He wondered aloud, "Where do you go from there?" Owings remained one of the top wrestlers in the country for the next few years, but a second NCAA title eluded him. He finished second in the NCAA championships in 1971 and again in 1972, which proved he was no fluke. He was a three time All-American and a heralded NCAA champion. He had truly been at his best, when the occasions presented themselves.
The record shows that Owings faced Gable one more time on the mat in his career. The last match was at the 1972 Olympic trials in Anoka, Minnesota. As Sports Illustrated put it: "Owings was wrestling best at 136.5 that year, but he struggled to keep his weight under 138 … Owings thought to himself, 'I'm not going to the Olympics, Why am I cutting weight? So I went up to 149,' he says, 'and I told myself that he'd beat me, and then everybody will leave me alone.'"
It was not a good outcome for Owings: Gable won the rematch 7-1. After that point, for the most part, people left Larry Owings alone.
Back at Woodburn
Larry Owings acknowledges that there is "life after Gable." He is a grateful coach and a solid mentor. He gets on the mat with his Woodburn High School wrestlers nearly everyday to compete with his boys. "I like wrestling the heavier guys, because I don't seem as slow to them. Sometimes the lighter wrestlers are so quick, they are lightning in a bottle … If I can catch them, though, they are often overwhelmed by my 69 year-old strength."
Owings shows up to practices at Woodburn and says to the teenagers, "If you can score on me, you can win the state title." Some of the wrestlers think he's joking. Larry's not. Up close and personal, he looks like he's one sweaty workout away from his wrestling weight at Washington. No high school kid comes close to scoring on Owings. I never could either.
When I shared this Witness Post with him, Larry said, "My only wish at this point in my career is that my body holds together for a few more years, so that I can help more kids!" We wish for that outcome too.
—————————————————————————–
References:
[1] https://intermatwrestle.com/articles/6839/InterMat-Wrestling-InterMat-Rewind-Gable-Owings?
[2] Cael Sanderson, a revered clinician, was a four-time NCAA champion and an Olympic Gold Metalist. He is now the heralded coach of the Penn State University team, which has won a string of eight nationals titles in the past decade.
[2] https://www.si.com/more-sports/2014/07/10/dan-gable-larry-owings
[3] https://www.si.com/more-sports/2014/07/10/dan-gable-larry-owings 
[3] Great Recount of the "match of the century" as it was called and the interview of the years since then: https://intermatwrestle.com/articles/6839/InterMat-Wrestling-InterMat-Rewind-Gable-Owings?