Jim Bair began coaching at Pomeroy High School in south-central Washington in 1967 (photo 1988)
Witness Post: Jim Bair
The Jim Bair Invitational Wrestling Tournament is an annual clash in Castle Rock for some of the best wrestlers in South-Central Washington. The tournament is named after a baseball coach, of all things, who reluctantly agreed to coach wrestling.
Bair Background
James Richard Bair was born on May 25, 1943 in Superior, Montana. He was from a large family. His parents were Vernie Elvira and William Bair. Jim was the youngest of eight children. After graduating from Wallace High School and the University of Idaho, he started his teaching and coaching career in 1967 at Pomeroy High in south-central Washington. He taught history and coached baseball.
He loved baseball, having worked in the Babe Ruth Little Leagues for years. Bair built the annual Don Rhoads Memorial Baseball Tournament into one of the largest in-season Babe Ruth events in the Pacific Northwest. At one time the tournament drew between 30-40 teams from across the region, with games held concurrently at Castle Rock High School, Roy Morse Park, Mark Morris High School and Kelso's Tam O'Shanter Park.
When Bair became Pomeroy's first-ever wrestling coach, he had never seen a wrestling match, much less coached a team. "We didn't have wrestling where I went to high school," Bair said.
I had a wrestling coach in high school who never wrestled and it was an extra-burden on the assistant coaches and the athletes. We made up for it by attending clinics at the Naval Academy and Virginia Beach, VA.
Bair recalled being asked by the AD to add wrestling to his coaching duties, "The athletic director at Pomeroy had a book. We studied that [book], and I started going to clinics and watching practices and matches at other schools to learn the fundamentals." He eventually got a grip on the sport, but knew he needed help beyond the fundamentals.
Bair moved from Pomeroy to Republic, Wash., where he also started a prep wrestling program. In 1973, he moved to Castle Rock, where he coached wrestling at the high school and took the team to the next level using his skills in psychology, motivation and fairness.
Beyond a doubt, Bair got a grip on wrestling. He established a dynasty that few coaches could ever match. In his 15 years of coaching at Castle Rock, the Rockets' wrestlers won 13 league titles and two state championships, while compiling a 234-37-4 record. They won 12 straight Tri-County championships, went undefeated in league competition and reeled off a 53-match regular-season winning streak, topping opponents in 85 of 89 dual meets.
While a ton of the credit goes to the Head Coach, Bair was quick to defer accolades on his assistants, particularly Wayne Heuett. "When Wayne came into the program in 1979, it made a huge difference," Bair said. "We were a real good combination. I could teach fundamentals, conditioning and discipline. Wayne could teach the technique that took kids to the next level."
The Rockets won state titles in 1984 and '85, were second at state in '81 and '82, third in '83, sixth in '86, eighth in '78 and '80 and tenth in '88. From 1973 to '88, Joe Godinho, Mickey Seidl and Kris Morgan won two state championships apiece, and Bobby Kirkpatrick won three times.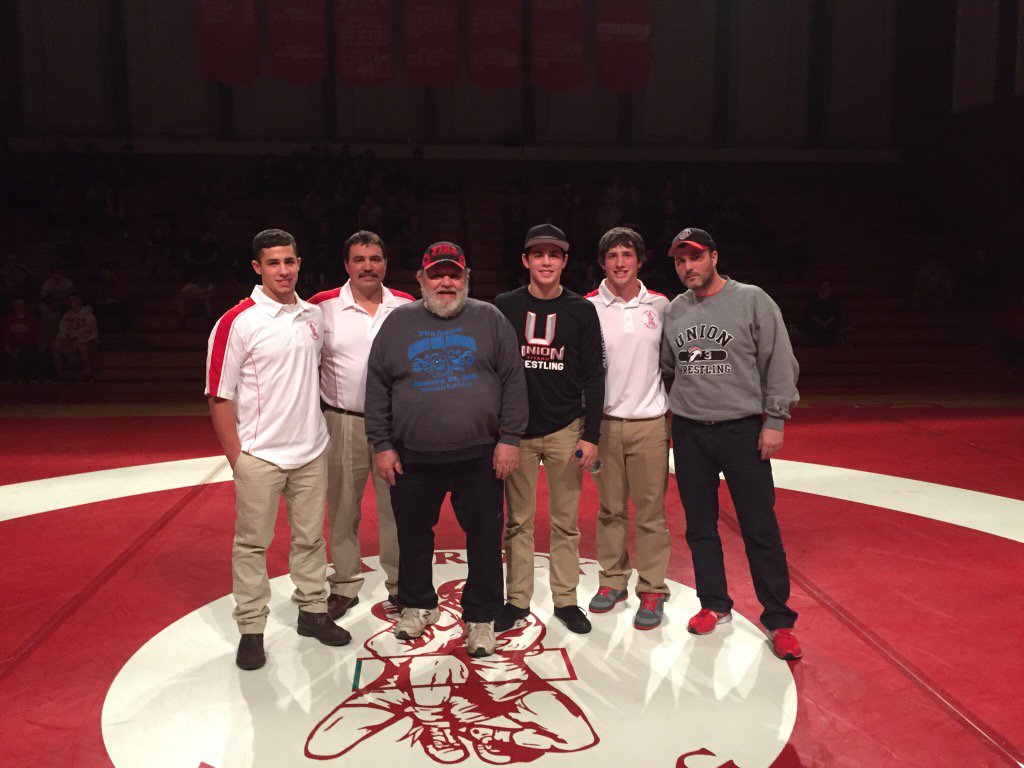 Joe Godinho has been the long-time head wrestling coach at Castle Rock, and his brother, John Godinho, has been coach at Union High School in Camas, Washington, a perennial powerhouse. Joe Godinho reflects, "I wrestled under Jim's philosophy in high school and did well coaching the first few years from what I learned from him. But there were a few things I began to forget and he would bring them to my attention and emphasize their importance. He was precise on the little things and made sure we didn't make mistakes, which he really emphasized along with mental toughness."
"As a teacher, there were kids who didn't like Bair, but there weren't many who could say they didn't learn from him," Godinho said. "When you were in his class, you didn't miss it because Bair held students to a higher standard. The makeup tests were tougher than the regular tests, and there were no bending of the rules, regardless of who you were."
Joe Godinho characterized Bair as an instructor who would do everything in his power to get students through the class. "Coach Bair held high standards as a coach and an instructor, and a lot of students didn't like him because they thought he was too hard and didn't perceive him as fair," he said. "He would have tests if 2-3 students didn't show up, and you didn't play the game of not showing up. He never failed anyone who tried and gave everything they had, but it was a different story for those who gave up."
After his tenure with high school wrestlers, which lasted until 1988, Coach Bair took over the wrestling program at Castle Rock Middle School to develop grapplers for the high school team. He continued teaching history at Castle Rock until 1990. He was inducted into the Washington State Wrestling Coaches Hall of Fame in 2004.
Before his death in 2008, Coach Bair had been married to his wife, Judy, for 33 years. Together they had two daughters, Bonnie Bair (Scott) of Portland and Sydney Larsen of Seattle, and two sons, Joe Bair (Kami) of Longview and Andy Bair of Firestone, Colorado. They also had a grandson and two granddaughters. In his spare time, when he was not coaching or teaching, Bair loved to renovate old buildings. One of his prize renovations was their unique 1910 Victorian home.
In keeping with the work ethic and love of the Rockets, Coach Bair felt his greatest accomplishment was helping establish a scholarship fund for Castle Rock wrestlers. "We've provided more than $25,000 for kids to attend college," Bair said in a 2004, at his Hall of Fame induction. "We've had great kids who worked real hard in the wrestling program. They deserve the financial help."